Volunteers at The Mental Health Association of Westchester play a critical role in improving the lives of children and families served by the child welfare system. Through two unique programs that rely on trained, supervised community volunteers, we advocate for the well-being of youth in family court and support families who are on the road to reunification through supervised visits. Giving of themselves – both of their time and their heart – volunteers in our Court Appointed Special Advocate (CASA) and Host Visitation programs support children and youth who have experienced abuse or neglect, helping to ensure that each child is well cared for and, ultimately, that they are reunified with their parents and/or placed in a loving, permanent home.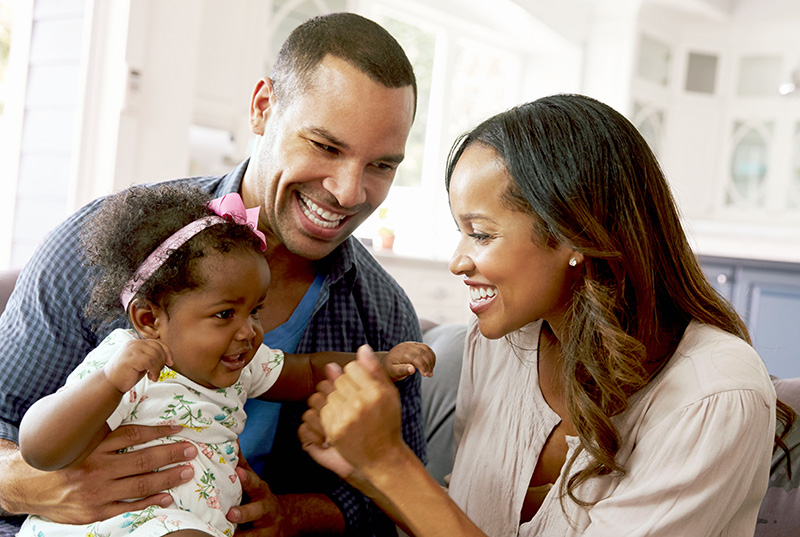 Established in 1989, CASA is a professionally supervised volunteer advocacy service that supports children ages 0-21 who are in foster care or at risk of placement. CASA Volunteer Advocates (CASAs) participate in 30 hours of training and are sworn in by a family court judge before being assigned by court order to a case to monitor and report on a child's health, education, mental health, and general well-being. Working alongside case managers, therapists, doctors, teachers, family members, and other service providers, CASAs provide a written summary of their findings and concerns, if any, to the family court judge, attorneys, and the Department of Social Services (DSS) prior to each court hearing. This information is critical for permanency planning for the most at-risk youth and to support the judge in determining the best interests of the child. CASA is the only program of its kind in Westchester County, and we are proud to announce recent approval to expand and provide this vital support in Putnam County, as well.
Also working in the best interest of children in foster care, volunteers in MHA's Host Visitation program – also known as visit hosts – help strengthen family connections for parents and children served by the child welfare system who are living apart. Visit hosts, who participate in a 15-hour training and are assigned to one family at a time, facilitate frequent and ongoing contact among family members. Under New York law, DSS only needs to provide parents with one hour of supervised visitation every other week; Host Visitation enhances visitation plans, allowing for both longer and more frequent visits. It also enables siblings in separate homes to see each other more often.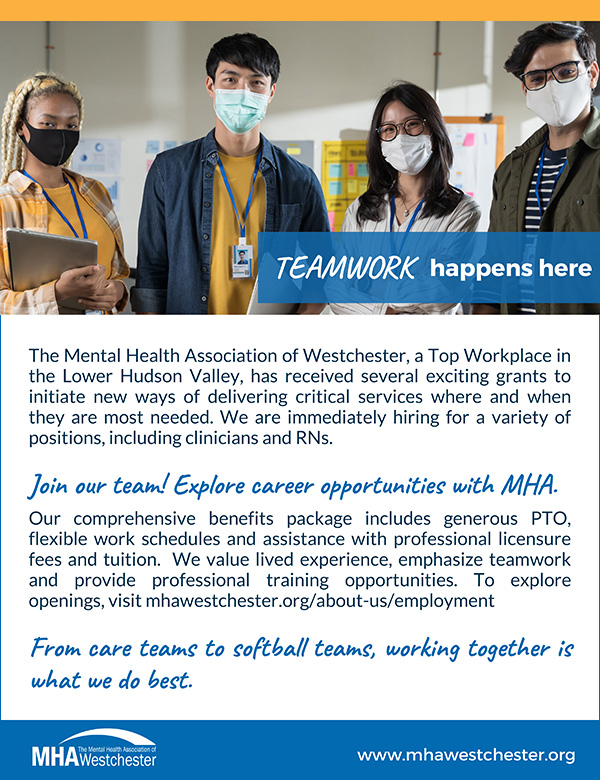 The children and youth served by the Host Visitation Program, which is a contract service through the Westchester County Department of Social Services, range in age from 0-21 and often come from fragile homes with multiple stressors including poverty, homelessness, domestic violence, substance abuse, mental health needs, lack of appropriate medical care, lack of education and inadequate support services.
Using Coached Visitation, a model developed by Marty Beyer, Ph.D., and in-depth and ongoing training and support, visit hosts guide parents as they cope with their feelings, respond to the unique needs of their children and build on the strengths in each family. Evidence suggests that visitation is linked to improved permanency and well-being. Benefits of frequent visitation include strengthening the parent-child relationship; easing the pain of separation and loss for the child and parent; enhancing a parent's motivation to do well; increasing a parent's involvement in their child's everyday activities, which builds confidence and allows parents to practice new skills; and helping with the transition to reunification.
Coached visitation helps parents plan for each visit, making visits meaningful to families. Whenever possible, visits are made to the communities where the families live. The program is designed to serve families in a variety of settings, including but not limited to the Westchester County Department of Social Services (DSS) offices, parks, libraries, malls, restaurants, community centers, and homes.
Each visit host submits a visit observation form after each meeting. The information captured includes details of what transpired, observations, and evaluations. Case managers input the information obtained into a database that can be viewed by DSS staff and council and used to determine the next steps in visitation and permanency planning. The primary goal of Host Visitation is to increase parental capacity and skills to move the family from coached visitation to unsupervised visits or permanency.
"My recent work with a mother and her children has been both gratifying and heartbreaking," shares Sheila Yossem, a visit host volunteer since December 2019. "Our initial visits were in person, sometimes at DSS and sometimes in a park, but when COVID-19 hit, we moved to Zoom visits and returned to in-person visits when it was safe to do so."
The family Yossem worked with became involved in the child welfare system due to family violence, child abuse, substance use, and other challenges. "Despite the trauma and hurdles, the mother remains fiercely devoted to her children and is fighting tooth and nail to try and get her children back home," says Yossem. "Equally, the children love their mother, even though fear and anxiety about past experiences manifest in different ways during their visits with her."
The mother, who has remained employed, has never missed a visit and comes prepared each time with dinner, drinks, and treats. With her volunteer visit host, she is coached on creating nurturing interactions.
"The children are remarkable – each in their own way. While they are saddled with sadness, hurt, separation, and trauma, they are resilient and tough as well," says Yossem. "Even though these children are split up from each other day to day, week to week, and year to year, I have watched, during my time with them, their devotion to each other grow and strengthen. I have witnessed the beauty of the power and warmth they draw from each other, and the generosity of spirit they give to each other and others they interact with, including me, their case manager, and the security officer at DSS, for example."
Volunteers like Yossem play a vital role in the reunification and/or permanency journeys of children and families involved in the child welfare system. Their work is supported by professional staff at MHA, who train and supervise volunteers, as well as act as the main point of contact with DSS.
It is understandably difficult to receive corrective feedback on parenting, and as such, visit hosts frequently strategize with their MHA staff supervisor to discuss communication styles and opportunities for positive reinforcement. Such partnership within the program has helped the mother with whom Yossem has worked improve her ability to carve out time for one-on-one interaction and attention with each child during visits. While this family's journey is still a work in progress, the team has witnessed positive growth.
"I could not do this work without the supervision and camaraderie of the professional staff and volunteers in this program, who provide me with their infinite wisdom, guidance, and counsel," Yossem says.
Randi Menchel, the Supervisor of the Host Visitation program, is in frequent communication with both the DSS case managers and visit hosts, coordinating and updating scheduling changes, and discussing the ever-fluid family circumstances.
"Very often, a visit host will call from a visit, asking how to handle a situation, or afterward to share what transpired. I offer both guidance and support in many instances," says Menchel. "This work is rewarding and fulfilling in so many ways. I enjoy working with the DSS case managers, discussing the progress of each family, and sharing this with our volunteers. Working with volunteers that are thoughtful, caring, and willing to give of themselves to help another is quite gratifying."
"Our volunteers play a vital role for these parents who desperately want to be reunited with their children, and the children who they get to know and grow to care for. Host Visitation volunteers become cheerleaders for these parents and a consistent trusted person in their lives to help with their journey of reunification."
To learn more about CASA and Host Visitation programs, please contact Michaele McIlnay, Program Director of Children's Advocacy Services, at mcilnaym@mhawestchester.org.