When a call for support goes out at the onset of a disaster, we commonly recognize the basic needs: shelter, food, water, clothing. Behavioral health needs – mental, emotional, and spiritual care – have been an afterthought, if included in the response plan at all. This is beginning to shift. Behavioral health volunteers, who are trained specifically in crisis intervention and equipped with Psychological First Aid training, have become critical players in the coordination of disaster response. These early behavioral health interventions, coupled with psychoeducation, creative collaboration, and resource networking can change the trajectory of a victim's long-term recovery and resilience.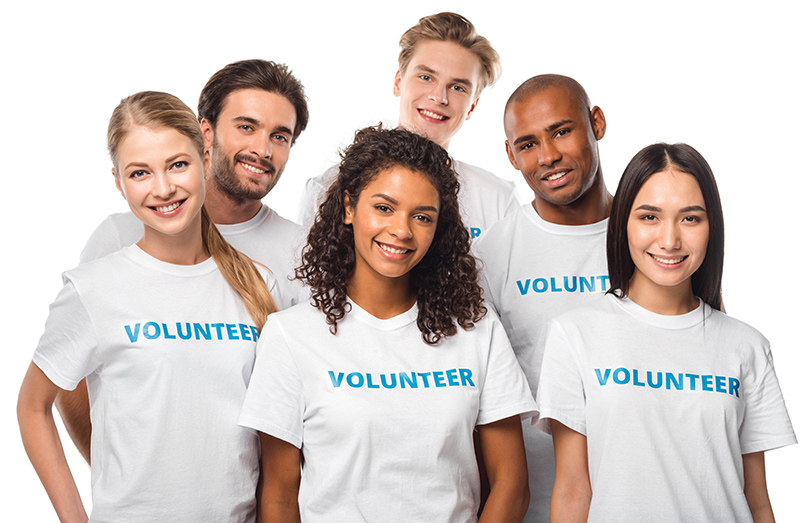 Over the last two years, we've been faced with a pandemic that has severely limited our ability to connect with one another. The pandemic grounded planes, canceled plans, closed critical social support for communities and it still continues. But the pandemic did not cancel hurricanes, earthquakes, incidents of mass violence, suicide, and refugee crises. These life-altering events remain a part of our lives, increasing the individual's and community's need for behavioral health support.
Through the past year, Vibrant's Crisis Emotional Care Team has been providing emotional and behavioral health support to federal, state, and local agencies in the face of disasters, incidents of mass violence, and community crises. Our team, composed of nearly 600 volunteers, has provided thousands of hours of free behavioral health support in the face of a variety of disasters and crises. In this article, we will share best practices for those considering stepping into the disaster volunteer space. We'll also provide a unique view of a volunteer's work to provide safety and security to a child who has faced significant trauma.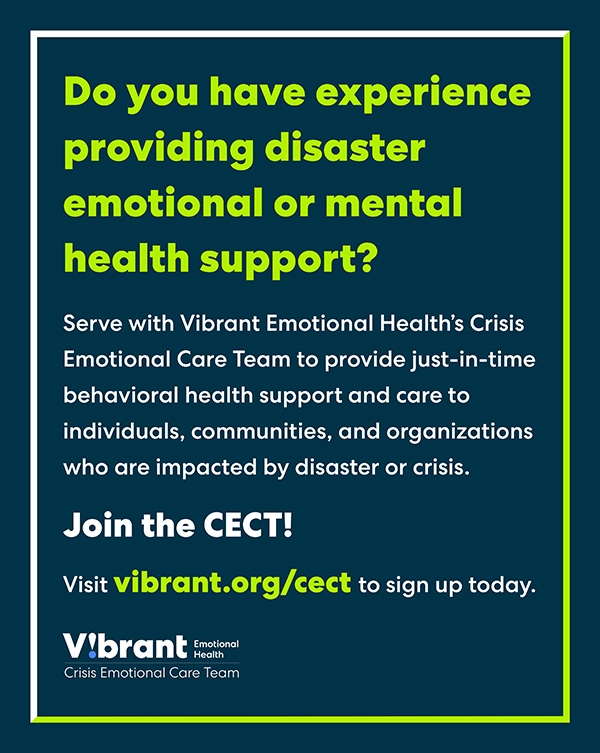 Getting Ready to Deploy
Every day, our team receives inquiries from incredible individuals who are raising their hand to volunteer for others, creating a multi-disciplinary cadre with psychiatrists, psychologists, social workers, therapists, counselors, chaplains, and so many others. As a part of our volunteers' preparation, we provide baseline training that orients new members on important concepts in disaster behavioral health.
First and foremost, determine if this is the right time for you to respond. While it is a natural (and important) response to want to help when disaster strikes, volunteers are encouraged to pause and assess their current life and personal situations prior to confirming their involvement.
Once a team is vetted and ready to deploy, we hold a just-in-time training that orients people to the critical contextual elements of the response. We review some of the basics: the assignment, incident command, environmental awareness, how to provide services, population demographics, logistics, team make-up, and any other nuanced or specific details of the deployment. This conversation is one of the most important for our team. While the pandemic has required most of these trainings to be virtual, they still provide an important point of connection and alignment to the mission. Emails and documents with relevant information don't build a sense of confidence or offer an important opportunity to ask questions and engage in dialogue to help prepare for the mission.
An important step in preparing to volunteer is to establish individualized and anchoring self-care practices. For some, this could mean starting the day with meditation. For others, it could be as simple as bringing favorite tea bags, a photo from home, or a blanket that brings comfort. As well, the team initiates practices, such as establishing a steady schedule of communication and support when done for the day. Whatever the plan, all volunteers are encouraged to practice the same level of self-care they encourage their clients to practice. Vibrant developed a helpful guideline for this that is available for use.
On the Field – Effectiveness When Deployed
At Vibrant, we wait to be invited into a disaster response and then we depend on the local leadership and community to direct how we support. This cooperation requires authentic humility and slow intentionality that listens first and responds second. It can be tempting to act quickly. But we have found that giving in to instinct results in chaos, confusion and, most importantly, causes a distraction from the main point: providing care to those impacted by disaster.
Disaster response efforts often involve numerous agencies, both public and private, and the coordination of these partners is no small effort. We ask people to listen and honor what is requested of them. When all else is unclear, the incident command structure rules the day.
Behavioral health support in disaster looks remarkably different than providing care within one's full-time work or private practice. Often, clinical volunteers focus on being human first, clinicians second. Most of the work done at disaster sites is evaluation of acute stress response and helping someone identify specifically what they can do to begin to feel even just slightly better. It is not diagnosing or prescribing. It is often helping someone find their equilibrium and re-establish their breath, and even connecting them to the right people to help them. Initially, this can feel "insignificant" or "not doing enough," but patience and listening often give way to life-changing creativity and support.
Dr. Laurel Blackman, one of Vibrant's Crisis Emotional Care Team volunteers, shares her experience and learnings after several deployments.
From Dr. Laurel Blackman
In my three deployments for a history-making, humanitarian mission to support new citizenship, I learned the following. Everyone associated with calls to action has something to give and receive. The task of facilitating resilience in the human spirit is a reciprocal process that unfolds in waves.
The story of a young schoolgirl who witnessed the execution of her teacher, and then started fainting at school, was well known across camp. At first, in an attempt to help her, she was sent home on the days when a less familiar teacher was teaching the class. This intervention inadvertently restricted the child from classes, a resource that required her to make a long trek to access. The child's fainting attacks continued. Clamors for medication ensued.
Instead of jumping right to pharmaceutical prescription, I recommended trialing a self-care kit using the resources at hand. It went like this, "Teacher,…I bring my dog to school every day to help me stay safe. I have other tools in my backpack to use so I can stay calm. When I start to get upset, I need my backpack. I get upset when: It gets too noisy. I am scared. I have a new teacher. When my heart starts to beat fast, I need my backpack. When I feel safer, I can go back to my schoolwork."
I received feedback that peers wanting to take the self-care items from her was a safety concern to camp officials. Through collaboration we transcended to a third idea. We agreed that a drawing or photograph of the transitional object could represent the item at school, be readily reproduced if needed, and sustain the intervention while mitigating risk. My clinical training and expertise told me that pathologizing a specific acute stress response could do more harm than help. I focused on self-regulation tools and strategies for any situation or triggered circumstance.
After this intervention was introduced, the child resumed school daily without panic. The Crisis Emotional Care Team support was creative and re-imagined. Solution-finding to promote increased access to opportunity rather than retreat was immensely satisfying.
Conclusion
Dr. Blackman's story echoes so many other volunteers who have made an impact by using their training in this unique capacity. There is remarkable, tangible power in listening through the lens of expertise, anchored in compassion and care. It takes a disaster-specific focus, additional training, a posture of humility, and a willingness to let go of your ego. And while this is most certainly the case for all individuals engaged in volunteer disaster response, it is exceptionally so for those who are willing and able to help guide people through the unseen reactions to crises. We are commissioned to create a safe space for people to share their psychological trauma and give them the tools they need to carefully, intentionally, and resiliently rebuild.
Amy Carol Dominguez serves as the Program Director for the Crisis Emotional Care Team at Vibrant. She has been working in Disaster Mental Health since 2007. Amy's international development career has taken her around the world to countries like Ethiopia, Liberia, Colombia, Argentina, Canada, and Mexico and she has coordinated international disaster mental health responses in Haiti, Nepal, Puerto Rico, and across the United States. She is a writer and speaker, focusing on best practices in volunteer engagement and leadership. Amy is actively involved in strategic program development for youth in Latin American countries and leads the Board of Directors for the Hands Offering Hope Foundation. She holds her Masters in Public Affairs from Indiana University and splits her time between Mexico and Connecticut with her husband, Adiel, and daughter, Sofia.
Dr. Laurel Blackman has spent years creatively leading busy and diverse treatment settings serving a variety of patients through person-centered care and culture change efforts. She currently leads a cadre of advanced practice nurses increasing access to long-term mental health care online and provides on-demand psychiatric assessment for a network of mostly rural community crisis centers. Before that Dr. Blackman worked for over a decade successfully facilitating community re-entry for institutionalized persons with serious mental illness. Licensed to practice psychiatry in multiple states and working as a certified special education teacher PreK-12, she has devoted her career to excellence in patient care, access to treatment, and finding purpose through curiosity, connection, hope, and humanness. She is a champion of recovery and the underserved. Dr. Blackman defines recovery as "doing the most you can with what you have right now while also simultaneously paving the way for greater access, opportunity, and choice so options for life and living are ever-expanding." As she sees it, there exists no greater disservice to humankind than not realizing one's potential. She seeks novelty and adventure, utilizes FAARTS (Food, Activity, and ARTS) to bring about personal then clinical recovery, and has a passion for sharing her lived experiences as a person-centered, recovery-oriented psychiatrist and innovative practitioner.