As New York State faces another wave of COVID-19, the need for access to mental health care in our communities has never been more urgent. Unfortunately, healthcare delivery systems across the nation are overwhelmed and understaffed. And while this workforce shortage presents many challenges, it also presents opportunities for dedicated, qualified, and caring individuals to make a difference in people's lives while furthering their own career goals.
A common response among mental health professionals, when asked why they went into the field, is: "I wanted to help people." Working in this field is extremely rewarding and fulfilling; and helping others can dramatically increase employee motivation and overall job satisfaction.
Certainly, a career in mental health can be challenging. There are some difficult days. But few professions offer the ability to literally transform lives for the better. There's no greater feeling of accomplishment for a mental health professional than seeing a patient or client reach a goal or overcome a significant challenge. We do truly share in their joy.
With a workforce of more than 13,000 people statewide, the New York State Office of Mental Health (OMH) operates the largest state mental health system in the nation, with 22 psychiatric centers, two world-class research insti­tutes, one secure treatment and rehabilitation center, and 90 clinics. Our agency also oversees community-based mental health services throughout the state.
OMH offers career opportunities in many diverse occupational areas. We have a continuing need for psychiatrists and other medical doctors, nurse practitioners, registered nurses, psychologists, social workers, and direct care staff to work with adults, children and youth, and forensic populations in a variety of inpatient and community settings.
OMH is addressing the national workforce shortage by expanding our recruitment efforts and implementing both long and short term strategies. In the short term, OMH is using funding from the Mental Health Block Grant (MHBG) and Federal Medical Assistance Percentages (FMAP) to enhance, expand and sustain these services by providing a combination of targeted rate increases to eligible programs and flexible workforce recruitment and retention funds to support a wide range of activities to build capacity.
Federal funds from the enhanced FMAP enable OMH to invest in strengthening and expanding capacity to address increases in demand, adjust to the realities of post-pandemic service delivery, and build workforce capacity for long-term sustainability of the community mental health system.
As part of system transformation, OMH has prioritized the development of a comprehensive array of rehabilitation services to promote access to prevention and recovery-oriented supports for adults and children. While the enhanced FMAP resources are one-time, OMH will be advancing strategies to use the funds to enhance, expand and sustain these services by increasing rates, providing workforce recruitment and retention funds to allow providers to build capacity, and targeting funds for infrastructure investments including training in evidence-based practices and resources to improve the quality and efficiency of services in the more immediate term. The rate increases for rehabilitative services will be continued with support from reinvestment savings.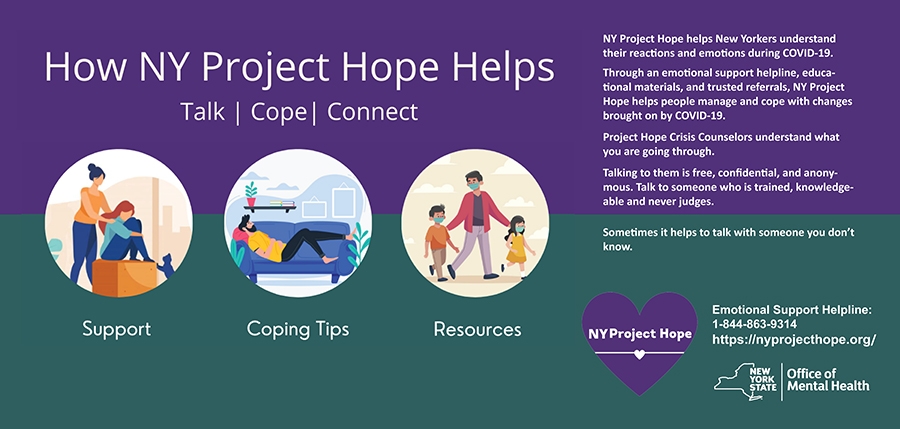 Long-range planning includes recruitment strategies such as working with schools on behavioral health curriculums and formalizing and enhancing the vocation of community mental health workers. We have partnered with university schools and departments of Social Work across the state on the Schools of Social Work Project for Evidence Based Practice (SSW EBP Project). Through the project, second-year master's in social work (MSW) students receive training and education in recovery oriented, evidence-based practices for adults living with mental illness. This collaboration began with five Schools of Social Work but has since expanded to include fourteen universities and colleges in NYS.
We are also working to enhance the housing workforce through the development of a training curriculum for all housing types that can be implemented statewide. Recruiting residential staff from the community in which they live and providing them with training and a potential career ladder is a step towards strengthening and building a more diverse and sustainable workforce.
OMH has worked with the NYS Department of Civil Service to establish a new Licensed Mental Health Counselor (LMHC) title in state service. LMHCs provide clinical mental health counseling and psychotherapeutic services to individuals in State facilities, programs, and community settings. They apply professional counseling theory, principles, and methods to assess, evaluate, identify, and treat individuals with mental, emotional, and behavioral disorders, including addiction and problem gambling, and prevent, alleviate, or eliminate symptomatic, maladaptive, and undesired behavior.
Another critical element of strengthening the workforce is investing in peers. One of our workforce priorities is to expand certified and credentialed peer workforce (inclusive of adult, youth and family) including resources for recruitment, retention, education/training and career pipeline investments.
Establishing competitive salaries and benefits is also an important recruitment tool. OMH recently received approval of new, enhanced Geographic Pay Differentials (GPDs) for a wide variety of Registered Nurse (RNs) titles. RNs at all downstate facilities now receive a GPD of $18,000 (replacing the longstanding $12,871) and RNs at all upstate facilities now receive a GPD of $12,000 (previous amounts vary).
To encourage psychiatrists to join the OMH team, OMH administers a Psychiatrist Loan Repayment Program that provides awards of up to $150,000 for newly recruited psychiatrists who meet eligibility requirements and commit to working at OMH facilities for five years.
In addition to competitive salaries, OMH offers many other benefits as well, including:
Generous medical, dental, and vision insurance options with competitive employee contribution rates
Defined-benefit pension and deferred-compensation (457b) retirement plans
Paid vacations, holidays, personal days, and sick leave
Flexible scheduling
Access to tuition assistance programs
Full- and Part-Time positions – full benefits available for those working 20 hours or more per week
Flexible Spending Accounts for healthcare and depen­dent care
Supplemental income through the physicians' extra service program
OMH-sponsored Continuing Medical Education (CME) Pro­gram
Professional leave for additional learning activities
Academic affiliations with several prestigious institutions
First-time Certification and Licensure Exam Fee Reimburse­ment
Additional compensation for board certification in Child and Ado­lescent or Forensic Psychiatry
For information on applying or to learn more about these career opportunities, please visit the OMH website at Careers with New York State Office of Mental Health (OMH)/