View the Slide Deck
View the Word Cloud
The 2023 Mental Health Stigma Roundtable Discussion Series
•  Roundtable 1: Understanding the Experience of Mental Health Stigma
•  Roundtable 2: The Experience of Mental Health Stigma Among Diverse Groups
•  Roundtable 3: The Role of the Media in Reducing Stigma
•  Roundtable 4: Paths to Reduce Stigma and Promote Positive Attitudes, Beliefs, and Behavior

Roundtable 3 Overview
This 90-minute virtual roundtable discussion will focus on the role of the media's impact on mental health stigma with a focus on the ways the media can promote positive contact and social inclusion to mitigate the effects of mental health stigma. This roundtable, facilitated by a psychologist, will improve attendees' understanding of the media's impact on mental health stigma and address common misconceptions and facts about those diagnosed with a mental illness.
Roundtable Facilitator – James Rodriguez, LCSW, PhD
Dr. James Rodriguez is a New York State Licensed Clinical Social Worker and Psychologist in private practice with over 25 years of experience as a direct practitioner, trainer, and researcher in mental health services to children, youth, adults, and families. He is the Senior Director of Clinical Initiatives at the McSilver Institute for Poverty Policy and Research and Adjunct Faculty at the NYU Silver School of Social Work.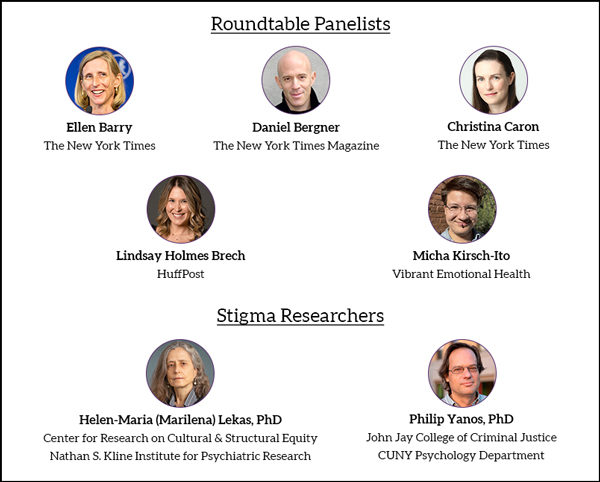 Roundtable Panelists  (click for details)
Contact the Media Panelists – Send In Your Questions, Comments, or a Story Idea!
Stigma Researchers  (click for details)