As one of the largest providers of community-based human services and housing in the state, the Services for the Underserved (S:US) team of over 1,800 dedicated staff serve over 38,000 New Yorkers each year. For more than four decades, S:US has served individuals and communities who face many complex and intersectional issues compounding with poverty and socioeconomic needs such as people who have lost their homes, people with mental illnesses and substance use disorders, people living with HIV/AIDS, people with autism and other developmental disabilities, survivors of domestic violence and veterans. Most of the persons served are people of color and come from diverse cultural backgrounds from predominantly black and brown communities and neighborhoods disproportionately impacted by social and health inequities.
S:US' core mission of driving scalable solutions to transform the lives of people with disabilities, people in poverty and people facing homelessness is predicated on embracing the solutions that contribute to righting societal imbalances and ultimately creating opportunities for all. At the heart of what we do is a firm commitment to righting the disparities caused by racial discrimination, bias and health inequity and eradicating these within our practices and programs to help us move towards true social justice.
Since starting in this role as President and CEO six months ago, I have come to better understand that S:US must fully and intentionally engage in social justice actions in ways that extend beyond the more traditional actions of a community-based social services organization. My goal is to develop a clear social justice action framework for the work we do and organize S:US to be a leader in the sector and truly deliver on our mission of transforming the lives of the people we serve and the communities we are in.
It is imperative to first define what is meant by social justice from the perspective of a not-for-profit social service provider. According to the American Public Health Association,1 social justice is the view that everyone deserves equal rights and opportunities  –  this includes the right to good health. We also need to call out the systemic and racial inequities that exist, especially health inequities that negatively and disproportionality impact black and brown communities. A widely used definition of health equity is the one developed and used by the Robert Wood Johnson Foundation: "Health equity means that everyone has a fair and just opportunity to be as healthy as possible. This requires removing obstacles to health such as poverty, discrimination, and their consequences, including powerlessness and lack of access to good jobs with fair pay, quality education and housing, safe environments, and health care."2 With these definitions as context, at S:US we are currently expanding our social justice action framework of what we are doing and need to do in order to eradicate these societal imbalances, starting with the following four action areas.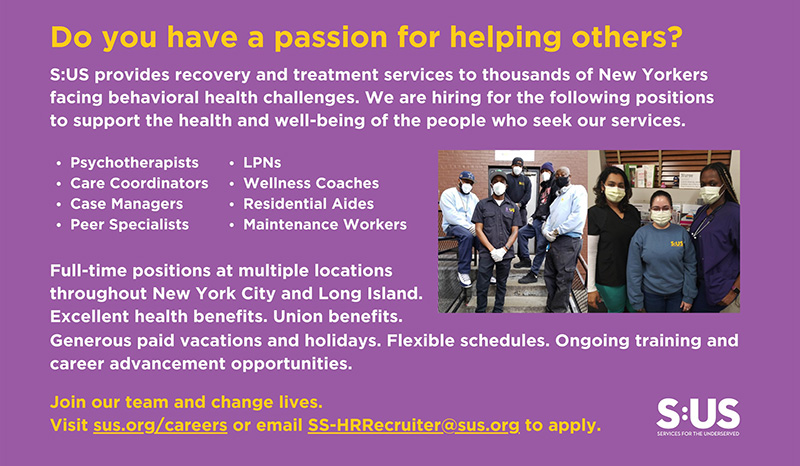 Access to Health/Behavioral Health Care
As a community-based health and human services organization, we need to offer timely and high quality medical, dental, pharmacy, mental health and substance use disorder supports, treatment, rehabilitation, and recovery services. At S:US we offer an array of supports and services on a continuum from care coordination and outreach to intensive community-based programming like ACT, SOS, and Pathway Home™ Teams as well as rehabilitation/habilitation programming, in order to meet an individual where they are at while providing the needed person-centered care and stability on their road to recovery. Based on recent data, the use of mental health services is very low; approximately a third of individuals with serious mental illness are not receiving mental health services (within the past year). According to SAMHSA, as a whole and specifically in NYC, non-Hispanic White individuals are more likely to use mental health services than non-Hispanic Black or Hispanic individuals and these inequities have been further exacerbated by COVID-19.3
Relatedly, in a recent RAND publication,4 providers surveyed reported serious challenges in offering integrated services for individuals with serious mental illness given the current fragmentation in care that exists when people are receiving services from multiple sources, lack of bidirectional communication among systems of care, and barriers to navigating these complex systems. Additionally, recipients of services reported challenges connecting with a provider who they felt would understand them as well as difficulties in finding information on how to seek services. S:US is embarking on a transformative reorganization by launching a Total Quality Roadmap Initiative as well as embracing an Integrated Service Delivery of Care Model in order to provide a seamless, no-wrong door access to all needed health and behavioral health services as well as all the social determinants of health offerings within our portfolio.
Access to Affordable Housing
As a provider of choice for so many vulnerable New Yorkers, we need to continue to provide a roof over one's head and foster safe communities with access to green spaces and needed community amenities. Housing is at the core of everything we do. Without the stability of a home, it's harder for families to stay together, harder for people to find employment, challenges can completely overwhelm, and life can quickly spiral out of control. At S:US, we envision a city where everyone has a roof over their head and has an equal opportunity for a healthy, productive life within a vibrant community. Most importantly, our vision mandates we deliver services of equal quality, whether it be to one individual or to thousands. By addressing the complex circumstances of each individual, we change lives, improve neighborhoods, and help break the cycle of poverty for future generations of New Yorkers.
As part of the effort to house our most vulnerable citizens and decrease the homeless census, S:US develops and operates both supportive housing and affordable housing for low-income individuals. Our housing is especially intended for those whose circumstances have left them in need of a stable home. Each night, S:US provides housing and shelter to more than 4,500 people. S:US' Housing Portfolio consists of 120 buildings owned, managed, or leased in New York City. S:US has developed 19 Low Income Housing Tax Credit (LIHTC) buildings with 1,139 units of supportive and low-income housing owned and operated by the organization, and currently has 1000+ units under construction. We also currently have an additional 800+ units in our LIHTC development pipeline. We are committed to continuing to grow our housing portfolio equitably and ensure that housing is a basic right.
Education/Employment/Workforce
Developing educational, vocational, and meaningful employment opportunities for persons served as well as recruiting, retaining, and nurturing a diverse, qualified, and committed workforce is another major pillar in our social justice action framework. Establishing a diverse, equitable, inclusive organization where the voice of a person served is factored in and prominent at all levels, creating space for belonging, is mission-critical. S:US is committed to maintaining a racially diverse and culturally inclusive workforce throughout the agency from leadership to maintenance staff. S:US prioritizes hiring individuals from the communities we serve. We do this by posting new positions with trade associations and networking groups for BIPOC (Black, Indigenous, People of Color), such as the Association of Black Social Workers, to recruit a more racially diverse staff. The majority (91%) of our staff identify as BIPOC. We value this diversity among our agency leadership and Board.
Food Security
S:US is also deeply committed to ensuring an equitable, participatory food system by supporting the food security of the people we serve and elevating their voices and power within food system work. By food security, we mean universal access to adequate nutritious, affordable, and culturally/personally appropriate food. Food security encompasses more than just access. Being food secure means having food available, having access to that available food, having that access and availability be stable over time, and having the tools and knowledge to use the food to meet nutritional, dietary, cultural, and personal or household needs. Our social justice action framework is anchored in our commitment to address food insecurity and hunger. S:US Urban Farms functions as an innovative supplement to the supports we offer to the individuals and families we serve, using horticulture as a tool in improving wellness outcomes and in helping our clients to achieve their personal and professional goals. Urban Farms provides therapeutic horticulture, nutritional programming, and employment opportunities through workshops, field experiences, and stewardship for our network of more than 70 community farms and garden spaces throughout New York City. Urban Farms programming also includes distribution of farm and garden harvests. The 2021 seasonal yield included 8,700 lbs. of fruit, vegetables, and culinary herbs (the equivalent of 7,250 meals) with an estimated market value of $43,500 provided free-of-charge to program participants and S:US housing residents.
All individuals served by S:US earn less than the median income in NYC. The vast majority of individuals and families are dependent upon some form of public assistance, including Social Security Disability Insurance, Medicare/Medicaid, Temporary Assistance for Needy Families and rental assistance, and SNAP benefits. During a 2018 program assessment that surveyed 224 residents from S:US supportive housing, many persons served at S:US indicated some degree of food insecurity. See Table 1: Health Outcomes Demonstration Project Above.
To further our efforts at eradicating food insecurity, S:US staff – responding to the needs of the people we serve, their families and the larger community – undertook the development of Community Fridges and Lending Libraries. This year, we launched community fridges in Brooklyn and Bronx communities in need where we work and live in. We plan to open more of these valuable resources as we continue to find other locations where we know there is a need.
We also launched an internal Food Security Resource Hub to assist our staff and the people we serve on how to find and access food security resources.
These are just a few of the critical areas – access to quality, timely health and behavioral health supports, services, and treatment; employment opportunities for all as well as having a diverse, equitable and inclusive workplace of choice; safe, dignified, beautiful affordable and supportive housing; and food security – that we must impact and ultimately eradicate as we address social injustices and other systemic barriers that have negatively impacted our communities. Truly, our purpose is to transform lives, improve neighborhoods, and boost future generations. Because no New Yorker should struggle alone when we can all stand together.
Jorge R. Petit, MD, is a community psychiatrist and the President and CEO for Services for the UnderServed (S:US). S:US drives scalable solutions to transform the lives of people with disabilities, people in poverty, and people facing homelessness: solutions that contribute to righting societal imbalances. Founded in 1978, S:US works with more than 37,000 individuals and their families every year to create pathways to rich and productive lives by offering housing, employment, skills-building, treatment, and recovery services.
Prior to joining S:US, Dr. Petit was the President and CEO for Coordinated Behavioral Care (CBC), a not-for-profit organization dedicated to improving the quality of care for individuals with serious mental illness, chronic health conditions and/or substance use disorders, through a Health Home, an Independent Practice Association (IPA) and an Innovations Hub.
Dr. Petit was the Regional Senior Vice President for New York State for Beacon Health Options and before that was the Founder and President of Quality Healthcare Solutions, a consulting firm that provided training and consulting services for healthcare systems including community-based behavioral health agencies, hospital systems, and local and state regulatory entities. He was the former Associate Commissioner for the Division of Mental Hygiene in the New York City Department of Health and Mental Hygiene.
Dr. Petit has been the primary lead on several large-scale grant-funded implementation projects including: Integrated Care Models to Improve Health Outcomes and Reduce Poverty funded by the Robin Hood Foundation; the Depression Care Management in Primary Care funded by Forest Laboratories; the Behavioral Health Care Collaborative (BHCC) funded by NYS OMH and the BHCC expansion grant funded by NYS OASAS.
Dr. Petit sits on the board of Primary Care Development Corporation (PCDC) and Mental Health News Education (MHNE); is a Distinguished Fellow in the American Psychiatric Association (APA) and a member of the Committee on Psychiatric Administration & Leadership in the Group or the Advancement of Psychiatry (GAP) as well as a member of the National Council for Mental Wellbeing's Medical Director Institute.
Dr. Petit is the author of Handbook of Emergency Psychiatry and The Seven Beliefs: A Step-by-Step Guide to Help Latinas Recognize and Overcome Depression and the recipient of the Schiff Community Impact Award from The Jewish Board, the 2017 Greater Good Honoree, Corporate Social Responsibility Award, 2018 Heritage Healthcare Organizational Leadership Award and the Community Partnerships Award, Virtual Community Partners Award from Federation of Organizations (FOO), Crain's New York Business 2022 Notable LGBTQ Leader, and City & State 2022 Nonprofit Power 100.
Footnotes