Health equity is a fundamental principle that aims to ensure that all individuals have an equal opportunity to achieve optimal health, regardless of their social or economic circumstances. Behavioral health equity refers to the fair and just distribution of behavioral health resources, supports, services, and opportunities to achieve optimal well-being for all individuals, regardless of their socioeconomic status, race, ethnicity, gender, sexual orientation, or other social determinants of health.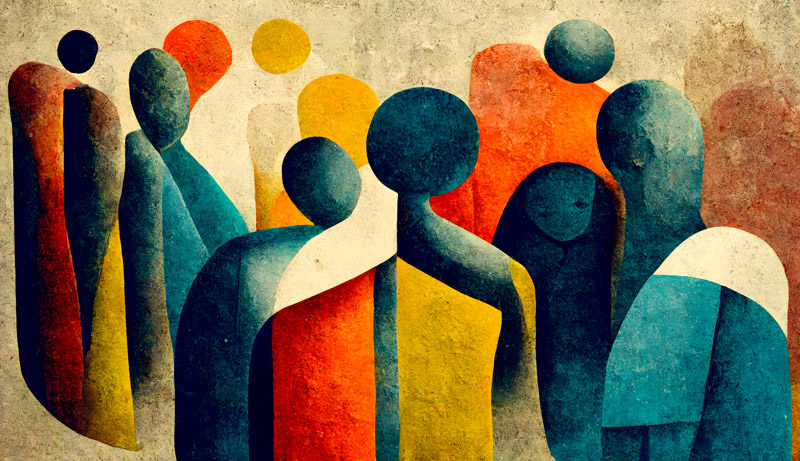 When it comes to serious mental illness (SMI), behavioral health equity is particularly crucial. All too often individuals with SMI face numerous and at times insurmountable barriers to accessing timely, affordable and quality behavioral health care, exacerbating health disparities and perpetuating inequities. Behavioral health equity encompasses equal access to prevention, early intervention, diagnosis, treatment, psychosocial rehabilitation and ongoing support services, ensuring that everyone has an equal opportunity to attain and maintain good mental health. Achieving behavioral health equity involves addressing systemic inequities, promoting inclusivity, and creating a supportive environment that values and respects the diverse health needs and experiences of all individuals.
In my last BHN article, entitled: Creating a Social Justice Action Framework for a NYC Social Service Provider, I laid out the critical importance of the non-profit, community-based health and human services sector to embrace social justice intentionally and make concerted efforts at ensuring equitable behavioral health care to those most in need. In my experience as a public sector behavioral healthcare leader, I am certain that the foundational underpinnings of behavioral health equity are all readily available and in front of us. It is my estimation that we can achieve equity if we coordinate efforts and planning across our systems of care: government (local, state and federal levels), private sector, hospital based, non-profit sector, community/grass-roots organizations and most importantly, the people served.
The needed components are knowable and within our reach, but we must—whether through system-wide payment reform (for example the NYS Health Equity Reform (NYHER) 1115 Waiver Amendment), or regulatory reform and more targeted oversight of evidence-based interventions, or the collective adherence to true data collection and analytics with meaningful quality measure and outcomes that are transparent and readily available to all—collectively act in concert if we are to truly achieve behavioral health equity.
In my 30+ years of public sector healthcare leadership, I can attest to many of the approaches that are necessary for achieving equity. The latest evidence on the integration of mental health and substance use disorder services highlights the importance and effectiveness of a comprehensive, integrated approach to addressing these interrelated issues. Research consistently shows that integrating mental health and substance use disorder services leads to improved outcomes for individuals with co-occurring conditions with higher rates of engagement and retention in treatment.
Studies have demonstrated that integrated care models, such as co-location of services or integrated treatment teams, result in higher rates of engagement and retention in treatment. By providing coordinated and simultaneous care for mental health and substance use disorders, individuals experience better continuity of care, reduced fragmentation, and improved treatment adherence.
The current federal and state investment in Certified Community Behavioral Health Clinics (CCBHCs) is another critical piece in achieving equity. CCBHCs are a specialized model of care designed to provide comprehensive and integrated mental health and substance use disorder services to individuals in the community. CCBHCs offer a wide range of services, including outpatient treatment, crisis intervention, case management, peer support, and 24/7 access to care. These clinics adhere to rigorous certification requirements and quality standards set by the Substance Abuse and Mental Health Services Administration (SAMHSA).
CCBHCs focus on delivering person-centered, recovery-oriented care that is coordinated and evidence-based. They strive to address the unique needs of individuals through a holistic approach that incorporates physical health, behavioral health, and social determinants of health. This model emphasizes collaboration with community partners, such as primary care providers and social service agencies, to ensure continuity of care and support for individuals.
Studies and evaluations of CCBHCs have demonstrated positive outcomes. These include improved access to care, reduced hospitalization rates, decreased emergency department visits, increased engagement in treatment, and enhanced overall well-being for individuals receiving services. CCBHCs have shown effectiveness in reaching underserved populations, reducing health disparities, and promoting recovery and resilience. We can (and must) further the impact of CCBHCs in addressing health equity by enhancing the delivery of basic primary care services, such as health promotion, preventive services, health maintenance and education, and basic diagnosis and treatment of certain co-morbid medical conditions.
It is also very apparent that we need the current system of care to be more person-centered and culturally responsive by tailoring services to the individual's unique needs, preferences, and cultural background. Additionally, involving individuals with lived experience in the design and delivery of behavioral health services is paramount and can further enhance engagement and outcomes. Behavioral health consumers, peers, individuals with lived experience, play a crucial role in the workforce with their unique perspectives and insights contributing to the development of more effective health services, policies, and programs.
By actively involving behavioral health consumers/peers in the planning, decision-making, evaluation, and monitoring, as well as being key members of our workforce, organizations can create a more inclusive and empathetic environment that better meets the needs of individuals facing behavioral health difficulties.
The inclusion of consumers/peers in the workforce promotes destigmatization and can help reduce discrimination surrounding behavioral health. When consumers/peers openly disclose their experiences, it challenges stereotypes and misconceptions, leading to a more accepting and supportive workplace culture. By recognizing the value and contributions of behavioral health consumers/peers, we can foster a more inclusive, supportive, and effective approach to mental health and well-being.
There are many more well validated approaches that we can and must deploy across our current fragmented system if we can all agree on coordinating efforts and building a more encompassing and holistic, person-centered system of care. Everyone is entitled to timely, quality and affordable proven behavioral health interventions (by eliminating all external barriers, such as cost, transportation, language, etc.), everyone should have a roof over their heads, everyone should be able to access the needed educational and vocational supports in order to achieve meaningful activities and/or gainful employment, everyone should have access to sufficient, nutritious, and culturally appropriate food. These are but a few of the many ways that we can achieve behavioral health equity in our system of care…the pieces of this complex puzzle are all there, we just need to work collaboratively to put them all in their right places.
Jorge R. Petit, MD, is a community psychiatrist and healthcare executive leader. He was most recently the President and CEO for Services for the UnderServed (S:US); a community-based nonprofit that drives scalable solutions to transform the lives of people with disabilities, people in poverty, and people facing homelessness: solutions that contribute to righting societal imbalances.
Dr. Petit is extensively published as an expert in health and behavioral health. Prior to S:US, Dr. Petit was the President and CEO for Coordinated Behavioral Care (CBC), a not-for-profit organization dedicated to improving the quality of care for individuals with serious mental illness, chronic health conditions and/or substance use disorders, through a Health Home, an Independent Practice Association (IPA) and an Innovations Hub.
Dr. Petit was the Regional Senior Vice President for New York State for Beacon Health Options and before that was the Founder and President of Quality Healthcare Solutions, a consulting firm that provided training and consulting services for healthcare systems including community-based behavioral health agencies, hospital systems, and local and state regulatory entities. He was the former Associate Commissioner for the Division of Mental Hygiene in the New York City Department of Health and Mental Hygiene.
Dr. Petit sits on the board of Primary Care Development Corporation (PCDC) and Mental Health News Education (MHNE); is a Distinguished Fellow in the American Psychiatric Association (APA) and a member of the Committee on Psychiatric Administration & Leadership in the Group for the Advancement of Psychiatry (GAP), United Hospital Fund (UHF) Health Policy Forum, as well as a member of the National Council for Mental Wellbeing's Medical Director Institute (MDI).
Dr. Petit is the author of Handbook of Emergency Psychiatry and The Seven Beliefs: A Step-by-Step Guide to Help Latinas Recognize and Overcome Depression and the recipient of the Schiff Community Impact Award from The Jewish Board, the 2017 Greater Good Honoree, Corporate Social Responsibility Award, 2018 Heritage Healthcare Organizational Leadership Award and the Community Partnerships Award, Virtual Community Partners Award from Federation of Organizations (FOO), Crain's New York Business 2022 Notable LGBTQ Leader, City & State New York 2022 Nonprofit Power 100, and City & State New York 2022 Responsible 100.
For more information, email drjpetit@yahoo.com and visit www.drjpetit.org.