In today's world, individuals experiencing severe mental illness (SMI) face numerous challenges. Safe and nurturing residential services are crucial components for successful well-being, along with essential support structures necessary for recovery. WellLife Network's highly acclaimed housing programs create exceptional living experiences, helping those struggling with SMI attain independence and live with dignity in the community. This article highlights the pivotal role WellLife plays in providing transformative care and support for individuals with severe mental illness.
As one of the largest regional providers of supportive housing, WellLife operates over 1,175 residential housing beds, offering varying degrees of supervision across Queens, Brooklyn, the Bronx, New York City, and Long Island, including Congregate Housing, Community Residences/Single Room Occupancy (CR/SRO) across Queens and Brooklyn, Supported SRO (SP/SRO) in Brooklyn and the Bronx, Apartment Treatment Programs, Mixed-Use Housing complexes, and over 600 Supportive Housing beds throughout New York City and Long Island.
An Organization Dedicated to Empowering Individuals
WellLife Network is a New York-based health and human services agency dedicated to empowering individuals and families with diverse needs to realize their full potential. With over 42 years of experience, WellLife has developed a wide range of recovery-based housing options serving over 1,100 people with severe mental illness and formerly homeless individuals across New York City and Long Island. WellLife works with people diagnosed with complex and severe mental health conditions, including personality disorder, psychosis, and trauma. Since its inception, supportive housing has provided residents with job placement, family reunification, appointment and medication management, housing accommodations, and other related housing assistance that promotes general health and well-being.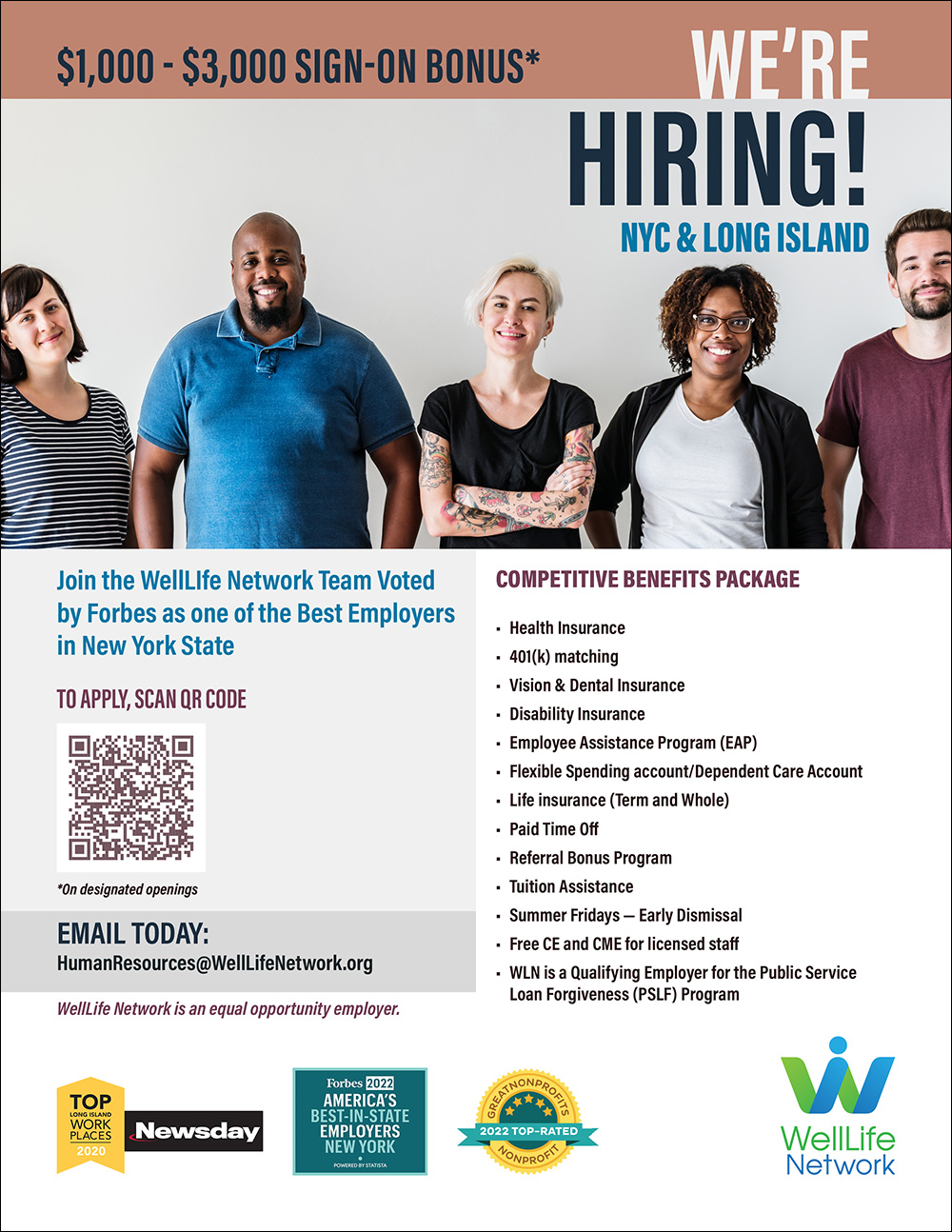 Compassion Promotes Independence
Through compassionate care and innovative housing programs, the WellLife Network residential team effectively addresses the many challenges individuals with severe mental illness face. The organization's person-centered approach to housing embraces a vast array of alternatives – with ongoing support for those able to live more independently. Case managers receive backing from peer specialists who provide essential assistance in helping clients address basic daily living activities. By offering diverse residential services supported by specialized staff, the organization fosters progress toward independence and helps cultivate dignity among society's most vulnerable members.
Serving a Diverse Population with a Broad Range of Services
WellLife's holistic approach tailors residential solutions to individual preferences and strengths. These solutions promote wellness, self-determination, and recovery. A variety of housing options within a diverse client base demonstrates WellLife's commitment to diversity and inclusivity. Reporting an overall success rate of 85%, WellLife serves clients from various ethnic backgrounds – 60% African American, 20% Caucasian, 15% Hispanic, and 5% Asian and other.
The challenging nature of SMI presents barriers to effective housing assistance. Individuals may experience a lack of medication compliance, emotional outbursts, loneliness, severe depression, or indifference to their well-being. To combat these issues, WellLife employs specialized staff with the expertise necessary to encourage engagement and ensure medication compliance. Specialized housing is available for individuals with SMI requiring wheelchair accessibility.
Innovative Programming Supports Independent Living
Tailored programs and activities encourage residents to engage in meaningful interactions, fostering a supportive social network. Case managers and peers promote medication compliance and psychiatric treatment, while daily living skills training helps develop proficiency in essential tasks like personal hygiene, meal preparation, and household management.
Mixed-Use Residences Foster Whole-Person Wellness
WellLife Network is implementing a new model housing program in each of its mixed-use residences that adopts a whole-person approach to wellness. This innovative initiative connects individuals needing additional support, or those living with chronic illnesses, to vital resources, services, and healthcare. The primary goal is to maintain sustainable housing for all residents while fostering overall well-being and stability in their lives.
WellLife's mixed-use residential buildings also provide various recreational activities to nurture community spirit and a sense of belonging among residents. The organization employs a recreational/creative arts specialist who designs engaging experiences for residents and their children. For example, Mother's Day festivities included a special luncheon, hair and face makeovers, and handmade gifts for all attending mothers.
The activities, emphasizing inclusivity, encompass holiday celebrations such as Veterans Day, July 4th, and Thanksgiving, alongside collaborative ventures such as painting uplifting murals in shared spaces. This strategy strengthens community bonds by creating connections and shared experiences for everyone involved. Furthermore, residents regularly participate in field trips to museums, local events, and community attractions. These combined efforts empower residents to lead fulfilling lives while managing their mental health challenges effectively. This innovative initiative connects individuals needing additional support, or those living with chronic illnesses, to vital resources, services, and healthcare.
A Recovery Story Through Nature
Since 2013, Angelo R. has resided in a WellLife Network-supported housing residence. His struggle with sadness began six decades ago, eventually evolving into depression. Despite this, Angelo excelled in school and pursued a prosperous car dealership business. However, four stressful events in his 40s led to hospitalization and therapy. Post-release, he joined WellLife Network and has been thriving ever since.
Now known as the "Mayor" of his apartment complex, Angelo offers advice and guidance to his neighbors. He embraces positivity through gardening, sharing his bountiful flowers and vegetables with his neighbors. This journey towards healthy living has brought happiness to Angelo and his community.
A Network of Housing Alternatives
WellLife's range of housing alternatives underscores its commitment to addressing diverse needs within its client base. Its housing portfolio includes:
Congregate Housing offers supervised living arrangements in Queens and Brooklyn for people with mental illness leaving hospital care but not yet prepared for independent living. Along with medication management and access to external rehabilitation and vocational activities, round-the-clock guidance with personal and community living skills is available.
Community Residences/Single Room Occupancy (CR/SRO) delivers a 24/7 supervised living solution in Queens and Long Island, featuring individually inhabited studio apartments complete with efficiency kitchens and private bathrooms.
Supported SRO (SP/SRO) focuses on permanent housing in Brooklyn and the Bronx, providing on-site case management within private studio apartments equipped with efficiency kitchens and bathrooms.
Apartment Treatment Programs bridge the gap between supervised residences and independent living situations by offering residents shared apartment spaces in Brooklyn and Queens. With the aid of Network staff, residents receive guidance on improving their living skills and building community connections.
Supported Housing – Scatter Site promotes community living in shared apartments across Manhattan, Brooklyn, the Bronx, Queens, Nassau, and Suffolk Counties. WellLife Network staff offer living skills training and case management services as required by individual needs.
Mixed-Use Housing includes beautifully appointed studio, one- and two-bedroom apartments for special needs SMI residents, low-income individuals, and families.
WellLife's Residential Services serve as a beacon of hope for individuals struggling with severe mental illness as they navigate the path to long-term recovery. With a compassionate approach to care and innovative housing programs, WellLife Network effectively tackles the numerous challenges faced by those with severe mental illness. These programs are sustained through a strong partnership with The New York State Office of Mental Health and The New York City Department of Health and Mental Hygiene.
Offering a wide range of residential services supported by specialized staff, WellLife Network promotes progress towards independence and nurtures dignity among society's most vulnerable members.
Crystal John is Vice President of Behavioral Health Residential Services at WellLife Network. To inquire about referrals to Behavioral Health Residential Programs, contact Behavioral Health Residential Intake at (917) 757-5686.