There are many factors contributing to the need for mobile technology applications among Certified Community Behavioral Health Centers (CCBHCs) and other behavioral health providers. First, and perhaps most important, is the vital role that Mobile Crisis Response Teams play in communities. This is a need that continues to grow in many areas of our country. Mobile Crisis Response Teams provide crucial services in many communities, particularly those with increasing unhoused populations and people with serious mental health concerns that are not receiving regular treatment or support. This is a common way for clients to get engaged in treatment and provides an opportunity to meet clients in their most vulnerable states—when they are receptive to help and beginning their recovery journey. Crisis services typically have 24/7 care teams available by telephone and out in the communities.
Mobile Crisis Response Teams need mobile applications that provide both online and offline access to clinical workflows since internet connectivity can be spotty or unavailable in rural areas, jails, schools, or even under both proverbial and literal bridges. Teams need solutions that allow them to review prior clinical notes and documentation for existing clients, review medications, and provide the ability to complete assessments and add new clients and clinical notes in the field. The application must then fully synchronize with the EHR when it is next connected to internet service.
A "Wrap-Around" for Success
Another common program that needs mobile support is intensive outpatient services for clients struggling with severe mental health concerns. These programs are commonly referred to as "wrap-around programs" or "intensive case management" and provide an interdisciplinary team, which can include a therapist, psychiatrist, nurse, case manager, and peer support specialist to "wrap" around the client with the right level of expertise and services. These programs also meet clients where they are—in this case in their homes. Sometimes, for example, clients need help adhering to their medication regimen and need medications dispensed on a daily or weekly basis. Other times clients need help developing social support and skills to stabilize.
These programs, much like crisis response teams, require a mobile solution that is easy to use and allows them to quickly access information and document services while in the community. Some states require a mobile solution that includes Electronic Visit Verification that includes a date, time, and geolocation stamp for providers to "prove" that they were providing a service in the community. This requirement is a method for reducing Medicaid fraud.
The pandemic accelerated the need for CCBHCs and other behavioral health providers to offer telehealth capabilities and begin virtualizing care delivery in many outpatient programs. Behavioral health services are some of the best suited for telehealth, as they can be less likely to require a physical examination by a practitioner or require laboratory tests that need specimen collection. Research shows that "telehealth is just as effective as in-person care for certain behavioral health conditions."1
The increasing need for CCBHCs to provide virtual care is also being driven by client demand for convenience. Many CCBHC clients experience challenges related to transportation, childcare, and work schedules that make it difficult to receive regular in-office care. Access to a provider via a mobile device from any location helps ensure more consistency of care and reduces the rate of no-shows for appointments, which also improves the CCBHCs' financial outlook. There are programs available that provide mobile phones and mobile services to people who might not otherwise be able to afford them, which also enables more virtual care. For clients to be active participants in their care remotely, it is critical for communication and engagement to be facilitated through technology. Mobile tools, including those for patient engagement, have become essential in engaging clients in their care—such as tools to help people manage their symptoms, communicate with their care team, fill out evidence-based assessments, etc.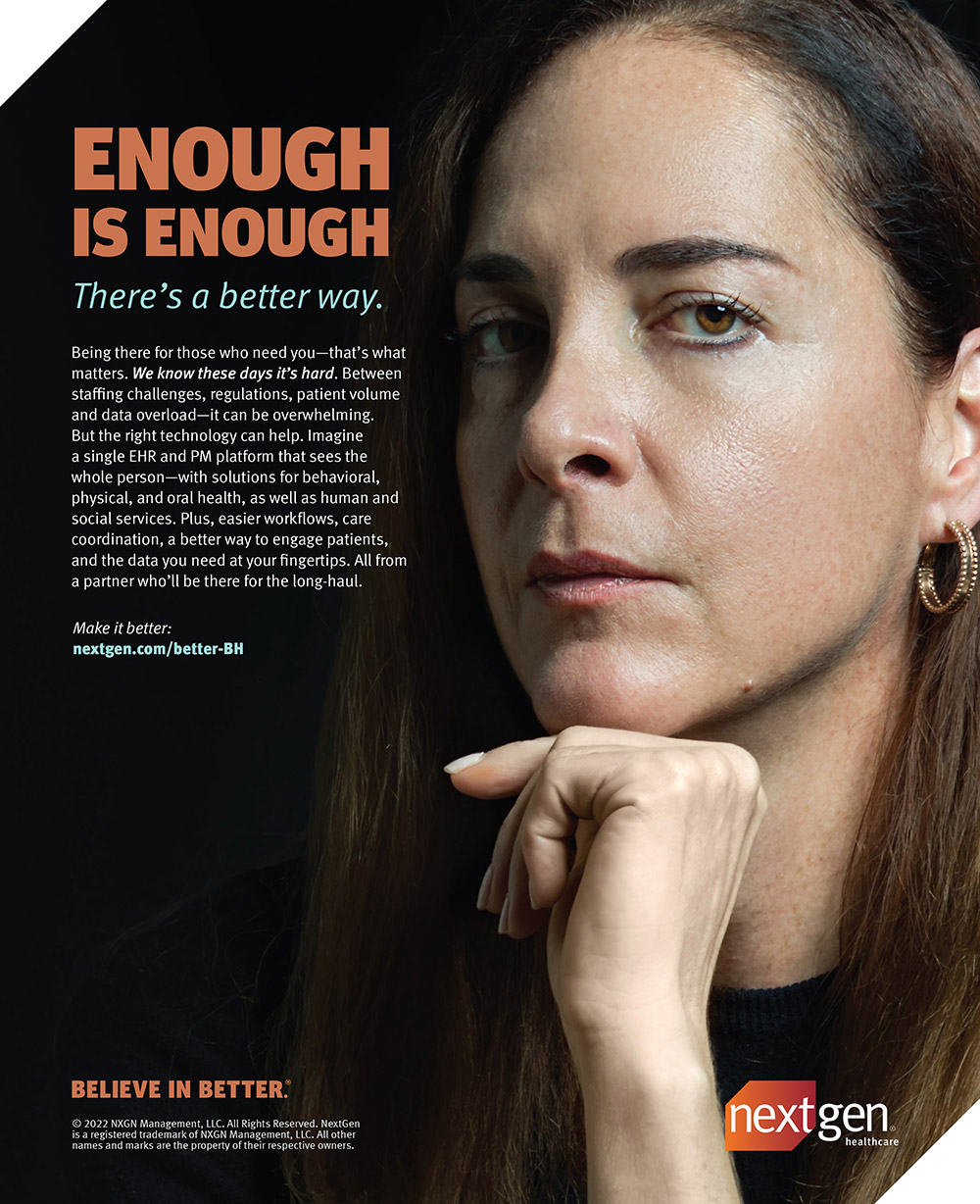 Selecting the Right CCBHC Mobile Technology Applications and Capabilities
There are plenty of mobile applications available for CCBHCs and other behavioral health providers—and certain capabilities are critical to virtual care success. First, ensure that the mobile solution supports both individual sessions and group therapy. It must also include capabilities to engage clients including a portal that enables clients to:
Complete new patient or other in-take paperwork, including consent forms
Fill out outcome measures such as the Patient Health Questionnaire (PHQ-9)
Receive a cost estimate for any out-of-pocket expenses the client will be responsible to pay
Check-in for a virtual session
Pay any co-pay
Communicate with their care team
Request a prescription refill
The technology must also support the full CCBHC workflow, including the collection of all data required for the organization to be reimbursed for the session.
In addition, the mobile application should include capabilities to host educational materials and tools such as how to better manage specific symptoms, conduct mood screening and journaling capabilities, and provide medication adherence reminders, among other important educational content and videos.
The Bottom Line
CCBHCs need technology that supports their client-centered approach to care and their goals of better outcomes for their clients. Value-based care initiatives also mean that CCBHCs must successfully help clients get and stay healthy faster, need fewer services over time, and reduce the incidence of relapse. The right mobile technology application aligns with these goals and enables them.
Mobile applications help CCBHCs meet clients where they are both in terms of their need for services and their physical location. As a result, clients can receive more consistent care. Some CCBHCs can even reduce their operating costs by needing less physical office space. CCBHCs and clients alike can benefit from the right mobile technology solutions. Clients can have better access to care and CCBHCs can have the tools they need to make a bigger impact on their communities.
About NextGen Healthcare, Inc.
NextGen Healthcare, Inc. (Nasdaq: NXGN) is a leading provider of innovative healthcare technology solutions. We are reimagining ambulatory healthcare with award-winning solutions that enable high-performing practices to create healthier communities. We partner with medical, behavioral and oral health providers in their journey toward whole person health and value-based care. Our highly integrated, intelligent and interoperable solutions go beyond EHR and Practice Management to increase clinical quality and productivity, enrich the patient experience and drive superior financial performance. We are on a quest to achieve better healthcare outcomes for all. Learn more at nextgen.com, and follow us on Facebook, Twitter, LinkedIn, YouTube and Instagram.
Javier Favela is VP, Solutions Behavioral Health & Integrated Care at NextGen Healthcare. For more information, please visit www.nextgen.com/1-bh.
Footnotes
1. Brittany Lazur, Lily Sobolik, Valerie King, "Telebehavioral Health: An Effective Alternative to In-Person Care", Milbank Memorial Fund Issue Brief, October 15, 2020, accessed October 7, 2022.