The Office of Behavioral Health Equity (OBHE) coordinates with SAMHSA's efforts to reduce disparities in mental and/or substance use disorders across populations. These efforts are focused on the promotion of behavioral health equity for underserved racial and ethnic minority, as well as lesbian, gay, bisexual and transgender (LGBT) populations. The OBHE utilizes several key strategies to impact policy and initiatives, such as sharing data-informed quality improvement approaches to assist in addressing racial and ethnic disparities in SAMHSA programs and ensuring that SAMHSA policy, funding initiatives and collaborations include emphasis on decreasing disparities. As a result of said efforts, grant opportunities are made available to community mental health providers, to assist in addressing disparities. The Mental Health Association of Westchester (MHA) has been privileged to be awarded a SAMHSA grant which supports our innovative approach to the aforementioned populations, making available equitable, easily accessible preventative behavioral health care within their communities.
The mission of The Mental Health Association of Westchester (MHA) is to promote mental health through advocacy, community education and direct services. MHA facilitates recovery by providing services that reflect our deeply held values that include the recognition of individual rights of self-determination, choice, shared decision-making and collaborative work. Our highly trained staff utilize evidence-based practices throughout our comprehensive array of trauma-informed and recovery-oriented services. Through our robust services, as well as our advocacy programs and community events, MHA is able to meet the needs of thousands of men, women, children and families each year, helping them live independent lives in the community.
MHA provides neighborhood-based, in-home and in-community services for underserved individuals in Rockland and Westchester counties in New York through Driving Towards Resilience, a new and innovative service that features two customized behavioral health mobile units. Utilizing two completely renovated RVs (one in Westchester and the only in Rockland), we aim to serve at least 500 unduplicated individuals per year, including enrolling 400 individuals into care through our behavioral health mobile units and providing Functional Family Therapy in the community for an additional 100 individuals per year. Within four months of award, we deployed our vehicles in both counties and continue to expand our community partnerships.
The mobile units are equipped with two therapy rooms and a modified living room concept for de-escalation of crises or pre-contemplative services. The mobile units are staffed by licensed and/or credentialed specialists, Peer Specialists and Care Managers, all who have the capability to also use telehealth technology to access psychiatry or other services for the population being served.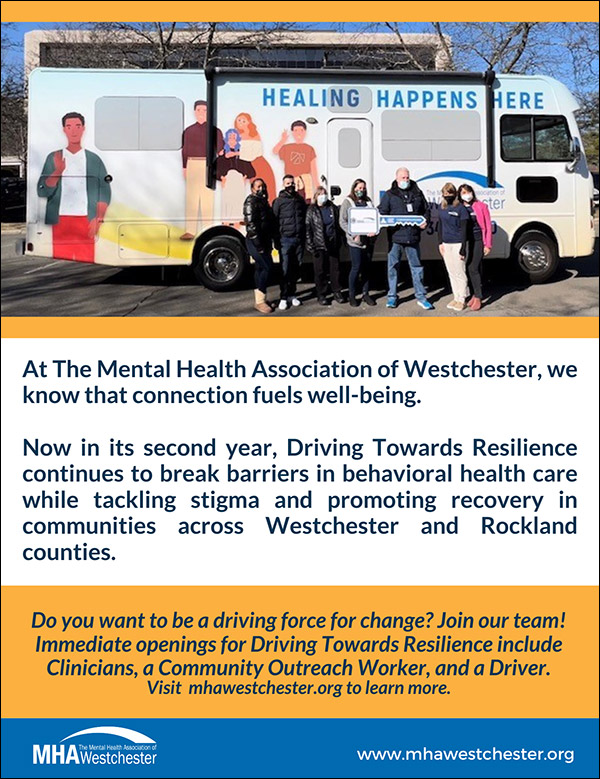 Our population of focus includes individuals adversely impacted by the COVID-19 pandemic and specifically targets economically disadvantaged neighborhoods and communities impacted by racial bias and social injustice, where there is little access to care. Our population of focus includes adults, children, adolescents, transitional aged youth, and families, the LGBTQ+ population, and racial and ethnic minorities, which often experience higher levels of stigma within their communities. We aid individuals who are often left underserved because they either lack access to insurance, have limited means of transportation, speak a language other than English, or are unable to reliably access telehealth services due to a lack of internet or cellular service. We provide in-person family and individual therapy using strategies such as Functional Family Therapy (FFT), Cognitive Behavioral Therapy (CBT), Motivational Interviewing (MI), and Seeking Safety (SS) for suicide prevention. Services provided in the mobile units include family and individual therapy, substance use disorder treatment, and telehealth services. In-home FFT services are also provided. We intend to serve individuals who have not yet been screened for behavioral health needs due to a lack of access; individuals who have a diagnosis of Serious Mental Illness (SMI) or Serious Emotional Disturbance (SED); and individuals with a diagnosis of substance use disorder (SUD) or who have a Co-Occurring Disorder (COD). Our goal is to provide high-quality, evidence-based care directly to our targeted population by bringing the care to them and by supporting specific neighborhoods, allowing us to serve previously unreached communities. We aim to continue to expand our use of FFT services by expanding our ability to provide in-home, family-trained therapists. This dynamic model also allows us to create access to telehealth services for these communities by providing such access through the BH mobile units.
We have collaborated with community agencies and secured multiple locations for the mobile units in targeted communities for both Westchester and Rockland County. Additionally, we have collaborated with the several municipalities and community agencies for continued collaboration partnerships, ensuring our efforts are meeting the needs of the community. We have developed and continue to strengthen relationships and community partnership with numerous referral sources in Rockland and Westchester. Collectively, these organizations serve the LGBTQ+ population, minority communities, individuals with co-occurring disorders, and families and individuals living in poverty, which are the demographics we have identified as having the greatest need and benefiting the most from DTR. Through these connections, we have developed a schedule for the mobile units in Rockland and Westchester counties that maximizes efficiency and reaches clients who would not otherwise have access to quality behavioral health services.
Through our behavioral health mobile units and the increased presence of mental health services delivered right within the community, we help normalize support and combat stigma related to mental health challenges and service engagement. Additionally, through the support and presence of a Peer Specialist, we help demonstrate the value of lived experience, promote a potential professional pathway for others and reduce bias about employment opportunities for individuals living with mental health challenges.
Allashia Smith-Harris, LMHC, CASAC-T, is Vice President of Community Programs at The Mental Health Association of Westchester.