On July 16, 2022, the National Suicide Prevention Lifeline announced the transition of the former 1-800-273-TALK (8255) phone number to 988, an easy-to-remember three digit-number for 24/7 crisis care across the United States and its territories.
A year after the transition, the 988 Suicide & Crisis Lifeline (988 Lifeline) has seen a significant rise in volume – routing more than 4 million calls, texts and chat messages to crisis centers – highlighting the demand for mental health services.
Data from SAMHSA showed that in May 2023 versus May 2022, calls answered increased by 45%, chats answered increased by 52%, and texts answered increased by 938%. The 988 Lifeline answered 159,040 more contacts (calls, chats, and texts) and significantly improved how quickly contacts were answered.
Access to Mental Health Services
Funded by the Substance Abuse and Mental Health Services Administration (SAMHSA) and administered by Vibrant Emotional Health (Vibrant), the 988 Lifeline is critical in being the entry point to a responsive and comprehensive continuum of crisis care nationwide. The 988 Lifeline is a network of more than 200 crisis centers that helps thousands of people overcome daily crises. Anyone experiencing suicidal, substance use and other mental health or emotional crises or distress can reach a trained crisis counselor by calling or texting 988; chat is available at 988lifeline.org.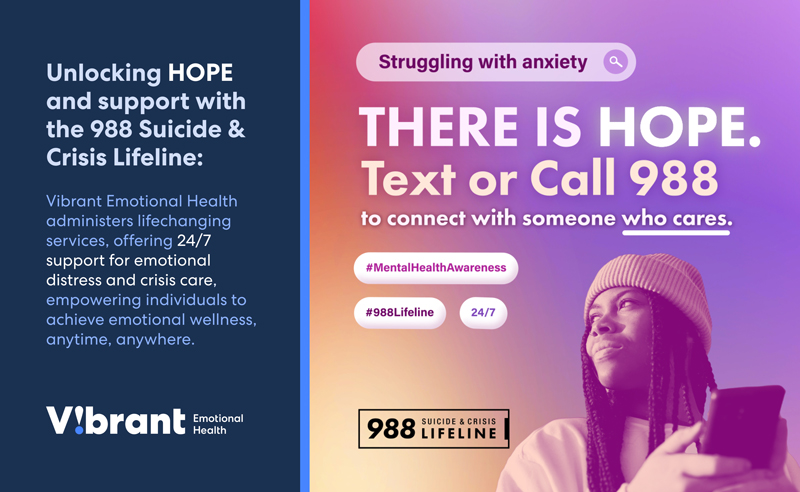 On May 3, 2023, Surgeon General Dr. Vivek Murthy released a new Surgeon General Advisory calling attention to the public health crisis of loneliness, isolation, and lack of connection in our country, and addressing loneliness is critical in order to fully address the mental health crisis in America. Numerous studies have shown that callers feel less suicidal, less depressed, less overwhelmed and more hopeful after speaking with a 988 Lifeline counselor. Counselors are trained to provide confidential emotional support and crisis counseling to people in suicidal crisis or emotional distress and connect them to resources. Too many people experience suicidal crises or mental health-related distress without the support and care they need, but the 988 Lifeline makes it easy for people to contact the line for help. These highly trained crisis counselors – actively listening and providing support throughout the call – help callers work through their feelings without judgment or criticism. They also make sure a caller is safe before they disconnect the line.
Looking Forward
Thanks to the federal government's commitment to addressing the mental health crisis in America, and the $501.6M provided by Congress for the 988 Lifeline in the Fiscal Year 2023 Omnibus Appropriations Package, the 988 Lifeline has been able to dramatically expand access to comprehensive and lifesaving services, and advance suicide prevention for all. Part of its ongoing effort to improve our nation's mental health is to provide care in the most culturally appropriate and affirming ways. Funding is being used to establish outreach, partnerships, and services to historically harmed and excluded populations at higher risk of suicide, including LGBTQI+ youth and young adults, persons from Tribal Nations, Black and Brown communities, and persons with functional disabilities.
Last September, 988 Lifeline introduced a pilot program to allow people to connect with a counselor specifically trained to address issues faced by LGBTQ youth. In November, the state of Washington launched the Native and Strong Lifeline, the first suicide crisis line for American Indians and Alaska Natives, in collaboration with and as part of the national 988 network. Vibrant is working to develop and implement expanded language access services to include Spanish chat and text services and to expand Spanish language centers within the network. Over the past year, the number of centers answering calls in Spanish grew from three to seven.
Finally, Vibrant is also working on developing and implementing a direct 988 Lifeline Video Phone option for deaf or hard-of-hearing American Sign Language users. With this option, people who are deaf or hard of hearing and experiencing distress or other mental health concerns can use their videophone-enabled device to call the 988 Lifeline.
As leaders, advocates, educators, and innovators in mental health, Vibrant and the 988 Lifeline have been raising awareness and offering support to everyone struggling. We work daily to help save lives and assist people to get care anytime, anywhere and in any way that works for them. We are unwavering in believing everyone can achieve emotional wellness with the right care and support.
If you or someone you know is struggling or in crisis, help is available. Call or text 988 or chat at 988lifeline.org.
Tia Dole, PhD, is the Chief 988 Suicide & Crisis Lifeline Officer at Vibrant Emotional Health. Dr. Dole is a licensed clinical psychologist and a long-time advocate for the rights of those with intersectional identity. Prior to stepping into the role of Chief 988 Officer, Dr. Dole was the Executive Director of The Steve Fund, the nation's only organization focused on the mental health and emotional well-being for young people of color. Additionally, Dr. Dole was the Chief Clinical Operations Officer at The Trevor Project, the world's largest suicide prevention and crisis intervention organization for LGBTQ youth. Dr. Dole oversaw all of The Trevor Project's crisis services programs as well as their volunteer community and increased their impact by a factor of four.
After completing her bachelor's degree at Carleton College, Dr. Dole received her Master's degree in Developmental Psychopathology from Columbia University (Teacher's College), and she received a Fulbright Fellowship to study Forensic Psychology in Switzerland. She then completed her doctorate in clinical psychology at Fordham University. Dr. Dole is a published author and sits on several committees. One of her passions is normalizing mental health conditions within communities of color, LGBTQ communities, and helping people get access to services. She is based in New York/New Jersey.
Vibrant Emotional Health's groundbreaking solutions have delivered high-quality services and support when, where and how people need it for over 50 years. Through our state-of-the-art technology-enabled services, community wellness programs, and advocacy and education work, we are building a society in which emotional wellness can be a reality for everyone. Learn more about Vibrant Emotional Health and the 988 Suicide & Crisis Lifeline at www.vibrant.org and follow us on social media @vibrantforall.