By definition and mission, non-profit human services organizations have been addressing the social determinants of health for over a century1 and have long understood the impact these factors have on health (mental and physical). Until about a decade ago, however, these same providers were not a part of increasingly important discussions about how to improve health outcomes while reducing the skyrocketing costs of the health care system.
While it's become more widely accepted that social and economic factors are accurate predictors of health outcomes, until recently, proposed solutions focused largely on physical health problems and interventions. Missing was a wider understanding that improving health outcomes and reducing costs requires addressing the interplay of physical and mental health and social determinants of health – defined by the World Health Organization as the conditions in which people are born, grow, work, live and age and the wider set of forces and systems shaping the conditions of life.2
We know from experience that social determinants can affect communities for generations. Anecdotal evidence backed by research suggests that about 50% of a person's health is determined by social and economic factors. That social and economic factors disproportionately impact disenfranchised communities has been long recognized. In the 1970s this became much clearer because health disparities between different communities were much more apparent because of the significant rise in poverty, homelessness, hunger and unemployment. People were becoming more physically ill self-medicating with street drugs and alcohol and many experienced their first episodes of mental illness
In the first decade of the 21st century, the rising crisis in health care made it difficult to ignore the inextricable link between physical and mental health factors and its influence on a person's health status, especially in communities with longstanding health disparities. Coming up with viable solutions to this crisis meant that health and mental health could no longer remain in their siloes.
Over the past decade, ICL has shifted to an approach to care that better serves the connection between physical and mental health. In 2014, ICL began an annual health survey to evaluate a client's health status and to understand the impact of social and economic conditions on their health – we want to know more about where they lived, whether they worked, their diets – those things that fall under the broad category of social determinants of health. To formalize this appreciation of the life experiences of people, ICL training incorporated principles of TRIP – care that is trauma-informed, recovery-oriented, integrated and person-centered.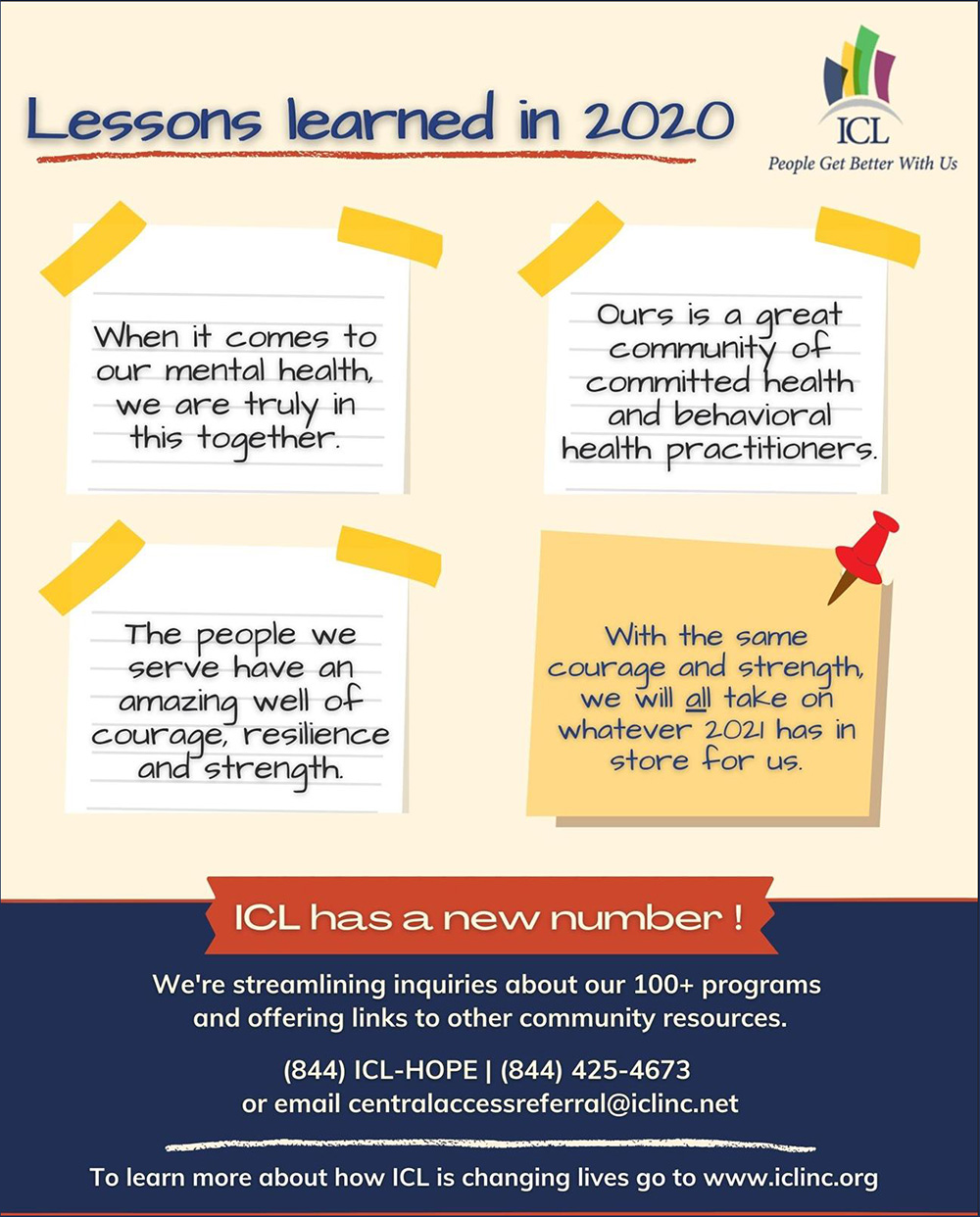 By putting these ideas at the center of the agency's approach to care, staff could be heard asking clients how their blood sugar levels were, if they'd gotten their flu shots, or if they had nutritious food in their homes. ICL was recognized for this innovative work in 2017 as one of only three organizations around the country to receive SAMHSA's award as a program achieving wellness for impacting the health of people living with mental illness and substance abuse.
Each year since the survey was introduced, we've seen a substantial rise in positive outcomes. For the second half of 2019, 97% of people receiving services at ICL feel they are doing better and are more connected to community (another predictor of longer term improved health outcomes); there was also a 64% reduction in hospitalizations for mental health reasons.
In 2018 we had the chance to apply the whole health approach in a much more expansive way. ICL opened the East New York Health Hub at the corner of Atlantic and Georgia Avenues. While ICL had served this community for years, opening a comprehensive center for health would allow us to better address social determinants of health by offering care under one roof with the concept of integrated care guiding us from the start.
Because of institutional, systemic racism over decades, communities like East New York and Brownsville, which are 90% Black and LatinX, have significantly higher rates of poverty, unemployment, rent burdens, avoidable hospitalizations, for both physical and mental health reasons, and some of the highest infant mortality and premature death rates in the country. We welcomed the chance to tackle these complex issues head on as we developed Hub programs and services.
Implementing Whole Person Health
ICL has provided services in East New York and Brownsville for 15 years. But by creating this health and behavioral health hub there, we envisioned a new kind of community health center delivering an exceptional experience of high quality, integrated, whole person care to all who walk through our doors. In CHN, a FQHC (Federally Qualified Health Center), we found a partner with shared values and a deep commitment to undoing long-standing economic and racial health disparities.
The architects designed the Hub to have open, light‐filled spaces to create a welcome feeling to all members of the community. This was more than an aesthetic choice for the 43,000 square feet of space; we knew the design would impact the use of services. In the past, mental health and much of physical health care in places like East New York reflected the marginalization of the people living there as well as the stigma of getting mental health support – services would be found in rundown buildings with little regard for the physical space.
The Hub was also designed both physically and programmatically to facilitate collaboration between ICL and CHN as well as with other community partners. This was key to combatting decades of debilitating and entrenched health and social and economic conditions.
The Hub includes a primary care clinic, Family Resource Center, behavioral health treatment programs, care coordination and outreach services. Shared space includes a cafeteria, art room, and a teaching kitchen. A washer and dryer and shower are available for use by all, and a backyard with tables and chairs provides access to green space. Walk-ins are welcome, and our doors have remained open during the COVID-19 pandemic. We rapidly shifted to providing services via telehealth, but continue to maintain a staff presence at the Hub for people who need to be seen in person or who may be finding us for the first time. A Hub navigator is seated in the front lobby to greet individuals and guide them to needed services.
The ICL Health Hub includes sixteen behavioral health programs, providing a wide range of treatment, psychosocial rehabilitation and care coordination services. This past year some 5,500 individuals were served by Hub programs. Many are comprehensive by design, such as Assertive Community Treatment (ACT) and Personalized Recovery-Oriented Services (PROS) with multidisciplinary teams, including peer and employment specialists. Attending to social determinants of health is part and parcel of the daily program activities. Our Brooklyn Treatment Apartment Programs, which provided 266 individuals with stable housing and rehabilitative services this past year, have staff offices at the Hub, facilitating increased access to behavioral health treatment, primary care, and care coordination services.
The Brooklyn Family Resource Center (FRC) provides a comprehensive range of formal and informal support services to families of children and adolescents, birth to 24 years of age, experiencing emotional, behavioral, or mental health challenges. During 2019, ICL-FRC provided services to 947 individuals in the area. Support included outreach and Information about mental health, health and community resources, self-Advocacy, self-Efficacy and empowerment, community connections, parent skill development and recreational, respite and wraparound Services.
Bridging Gaps in Services
Our care coordination program plays a vital role in our Hub model to fill the gaps in traditionally siloed healthcare and social services. They are the connectors – linking individuals to healthcare and social service providers, and providing assistance with benefits and entitlements, housing applications, transportation services, connecting to community resources and more. The program currently serves 2,300 individuals across New York City and maintains a strong presence at the Hub. There is always someone available to meet with a new referral or someone who has walked through our doors seeking support. The care coordination outreach team is also embedded in ICL's shelters to connect shelter residents with increased wraparound support.
In December 2019, with support from the Mother Cabrini Health Foundation, we opened ICLConnects. Based at the Hub, this unique care navigation program is allowing us to expand our reach in the community and offer services regardless of diagnosis or insurance status. The program also proved invaluable to local residents throughout the months of the pandemic.
By conducting outreach in shelters, food pantries, housing complexes and other community settings, we have been able to screen 300 individuals for social determinants of health needs, and provide linkage to healthcare services, housing support, food pantries, employment services, and connection to benefits and entitlements. Through use of wraparound emergency funds, the care navigation team has been able to provide direct funds for food, household necessities and rent assistance.
Carlos, a 25-year-old Latino man enrolled in treatment at the Hub, expressed feeling distressed about not having enough food to make it through the week. He had recently moved to a new apartment and had depleted his SNAP benefits. His treatment provider introduced him to an ICL Connects care navigator. He received emergency funds to purchase food and was referred to a nearby food pantry, which he now visits on Sundays for a hot meal. Prior to finding the Hub, he had bounced from group home to group home, and often disengaged from treatment. Now, he is very connected to his service providers and keeps his primary care appointments at the Hub to manage his diabetes. He felt more isolated during the pandemic but finds that riding his bike to the Hub for a check-in helps him feel healthier, hopeful and more connected.
Access to Quality Healthcare
CHN's health clinic at the Hub offers primary care, pediatrics, podiatry and nutrition services. In partnership with CHN, we have developed a model of integrated care at the Hub marked by bidirectional referral and consultation, shared intervention planning, routine case conferencing, and use of shared data to inform clinical decision-making. Support from private foundations including the Altman Foundation and New York Community Trust has been instrumental in garnering the resources to do this collaborative work.
At the Hub, many people we serve have not been successfully engaged by traditional health care. Prior negative experiences of care and traumatic involvement with hospitals, jails and other institutions have contributed to distrust in the health care system. The flexibility of CHN providers has allowed for longer visits and walk-in visits combined with skillful engagement, has been critical to establishing care. On the primary care side, CHN routinely screens patients for behavioral health and social determinant of health-related needs, and routinely refers to ICL for mental health treatment and wraparound services through a warm hand-off.
At the core of our vision of integrated care is a focus on whole health interventions. To that end, in collaboration with CHN we have provided preventive and wellness supports, open to the larger community, including diabetes and chronic disease management classes, nutritional cooking demonstrations, yoga, and meditation. Through a partnership with Project Renewal, a mammogram scan van parks outside the Hub every other month. To improve access to healthy foods, we have partnered with Corbin Hills Food Project, Project Eats and Food Bank of NYC to provide a CSA farm share, a pop-up vegetable stand and a pop-up food pantry.
The pandemic has only given more credence to the importance of bringing together health and mental health in coping with a health crisis, even one as unprecedented as this one. Some of the most critical work we've done for the nine months since Covid-19 struck is to ensure that clients have nutritious food, an ample supply of their medications, and that they are dealing with the natural anxiety this situation would bring on.
Community Engagement is Key
East New York and Brownsville have a rich history of community organizing and activism. To deeply understand and respond to the needs of the communities we serve, we have cultivated relationships with community centers, schools, shelters food pantries, healthcare providers and hospitals, and consistently seek input from the individuals and families we serve. In partnership with the New York City Health Department, we have engaged 100 local faith leaders in dialogues and workshops to support the behavioral health needs of their congregations.
While we want to continue to provide a comprehensive array of services and supports at the Hub, we recognize that to truly make an impact, collaboration is key. We are deeply invested in breaking down traditional siloes and creating and sustaining new partnerships for a healthier, more equitable New York City. The Hub's impact rests on communitywide efforts that take into account generations of health disparities. Working with local providers and other critical institutions including schools, hospitals and churches is the only way improvements in health and well-being can be achieved for the long-term.
Emily Kingman is Vice President of Integrated Care and Clinical Partnerships, Gerardo Ramos is Senior Vice President for Integrated Care, and Mindy Liss is Vice President for Strategic Communications, at Institute for Community Living (ICL).
Footnotes
Human Services Council, Commission on Value-Based Care, "Integrating Health and Human Services" 2018
World Health Organization, "About Social Determinants of Health," https://www.who.int/health-topics/social-determinants-of-health#tab=tab_1