Cozy up in your home's coveted armchair, paired with a blanket, headphones and your smart phone. Click on your telehealth link. Begin your remote outpatient therapy session from the comfort of your own home. But wait … are we referring to individuals served, therapists, or perhaps both?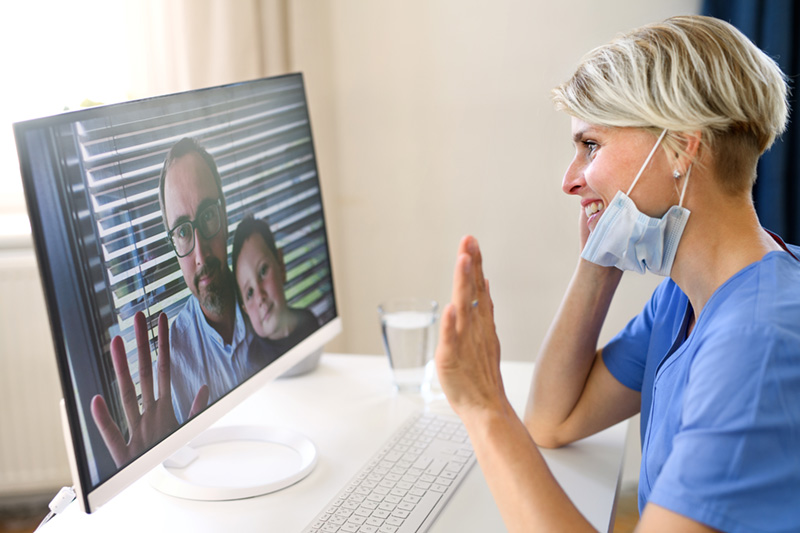 March 2020 changed the way many mental health therapists conduct their sessions. In an effort to reduce the spread of COVID-19 and ensure the health and safety of employees and families, many community mental health agencies – including Devereux Advanced Behavioral Health – transitioned to providing telehealth sessions. Telehealth sessions enabled people to continue receiving the care they needed and wanted, while adhering to the guidelines set in place by the Centers for Disease Control and Prevention.
Navigating Telehealth Obstacles
Providing services via telehealth was not a new concept in 2020. In fact, tele-mental health was a service used often with clinicians in private practice. However, many community-based providers spent years trying to navigate the licensing, credentialing and financial regulatory landscape to offer these services. The pandemic served as an impetus – propelling behavioral health providers into a new and exciting frontier. This new service delivery method allowed all behavioral health providers the ability to become efficient, timely and responsive to their clients' needs – in real time.
However, telehealth also brought with it a series of challenges and obstacles. Providers had to be nimble and create protocols and procedures to offer services and support quickly, efficiently, and ethically. At Devereux, we needed to navigate which telehealth platform would be best for our teams and families; locate and purchase the necessary technology equipment to go remote within days; develop training tools on how to deliver telehealth services; and revise our policies and procedures to ensure compliant delivery. In addition, challenges related to Wi-Fi connections for clinicians and families were rampant in those first few months because platforms experienced outages as a result of the significant volume of usage.
Keeping Individuals and Families at the Forefront
The children and families who needed regular connection, care and support were always at top of mind. Devereux was an amazing place to work during the pandemic – we saw some of the best clinical minds gathering on Zoom calls, across time zones, strategizing about what worked best. Within five days, Devereux Arizona and Pennsylvania converted all of its outpatient therapy services to telehealth. Clinicians and supervisors from different states came together to develop additional training tools, share ideas around how to engage individuals and families via telehealth, create standards of best practice when using telehealth, and reduce the spread of COVID-19 by staying safe at home.
"At the beginning of the transition, we experienced some anxiety about adjusting to a new service delivery platform, questioning whether or not it would be effective to engage our individuals in treatment. Through the course of the pandemic, I've come to the realization that telehealth is convenient and effective, and it has increased my individuals' attendance," said Charlley Labik, LPC, Devereux Pennsylvania Children's Behavioral Health Services clinician.
Telehealth Works for Me
A variety of telehealth technology platforms have been adapted to meet the needs of individuals during the pandemic in an easily accessible way. Mental health therapists have found that conducting therapy sessions from their clients' homes has even allowed for a more in-depth understanding of their clients' environments, living space, access to privacy, and safety.
Agencies and private practitioners are seeing an increase in referrals requesting mental health services. In many cases, individuals who might have completed therapy after six to 12 months are requesting to continue services due to dealing with additional stress related to social anxieties and returning to in-person learning, among others.
"Telehealth works for me. If I didn't have the ability to do Zoom sessions with my therapist, I don't think I would be able to make it to therapy because of transportation issues with my mom working more hours," said one Devereux Pennsylvania client. Parents are also seeking additional support from mental health therapists in how to parent their child who has been affected by the pandemic.
With FDA approval of the Pfizer vaccine granted and continued emergency approval of the Moderna and Johnson and Johnson vaccines, mental health therapists will continue to use telehealth as an option for therapy sessions.
"I prefer telehealth for many of my cases. It's user friendly, and I've found I can deliver great clinical services to the individuals and families I serve every day," said Labik. "I also have a better work-life balance and I don't have a commute."
The ability to pivot and quickly adapt to the needs of our individuals, families and team members has been Devereux's greatest asset during COVID-19. The use of tele-mental health services has allowed us to reach those who are often forgotten or under-utilizing mental health services, including minority groups.
As the pandemic continues, Devereux is ready and able to offer clinical therapy that meets its individuals where they are – either in an office or virtually. Because, ultimately, offering telehealth to those who may not have access in-person services, can literally save lives.
Janelle Westfall, LPC, LBA, BCBA, is Devereux Advanced Behavioral Health Arizona Clinical Director, and Molly Stubbs, LPC, is Devereux Advanced Behavioral Health Pennsylvania Clinical Supervisor. For more information about this article, please contact Janelle Westfall at jwestfal@devereux.org or Molly Stubbs at mstubbs@devereux.org.
About Devereux Advanced Behavioral Health
Devereux Advanced Behavioral Health is one of the nation's largest nonprofit organizations providing services, insight and leadership in the evolving field of behavioral healthcare. Founded in 1912 by special education pioneer Helena Devereux, the organization operates a comprehensive network of clinical, therapeutic, educational, and employment programs and services that positively impact the lives of tens of thousands of children, adults – and their families – every year. Focused on clinical advances emerging from a new understanding of the brain, its unique approach combines evidence-based interventions with compassionate family engagement.
Devereux is a recognized partner for families, schools and communities, serving many of our country's most vulnerable populations in the areas of autism, intellectual and developmental disabilities, specialty mental health, education and child welfare. For more than a century, Devereux Advanced Behavioral Health has been guided by a simple and enduring mission: To change lives by unlocking and nurturing human potential for people living with emotional, behavioral or cognitive differences. Learn more: www.devereux.org.