As the COVID-19 pandemic spread and intensified last year, the NYS Office of Mental Health and behavioral healthcare workers across the nation faced two great challenges: First, ensuring our patients could access the treatment and services they needed without increasing the risk of exposure; and second, providing support and assistance to the many New Yorkers who were overwhelmed by the anxiety, isolation, stress and depression caused by the pandemic.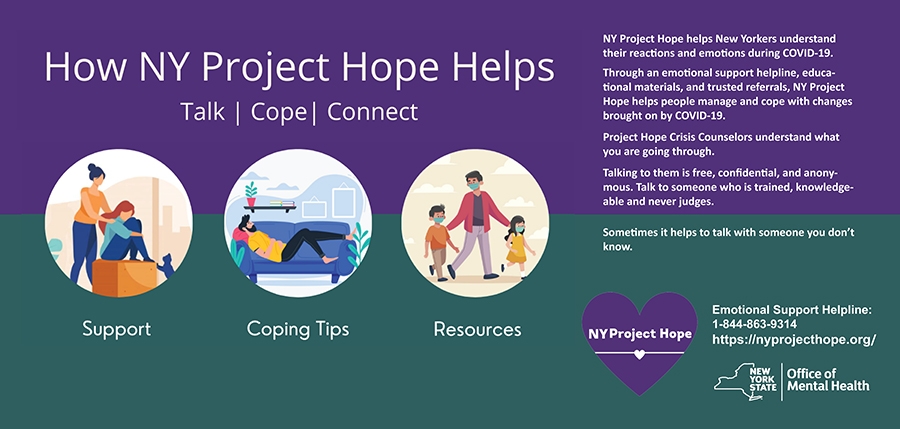 Technology, and in particular telehealth, played a major role in helping us address these challenges. OMH acted quickly in early March 2020, waiving certain regulations to allow rapid approval for the use of telehealth, and providing regulatory and billing flexibility to encourage the expansion of telehealth during the COVID-19 Disaster Emergency.
That effort was a great success, as more than 800 additional sites were approved to provide telemental health services in 2020, bringing the total of approved sites in NYS to 1013.
Streamlining the regulations allowed providers to utilize telehealth services if they certified they were properly licensed to practice in New York, that their communication lines were dedicated and secure, and that they would take the necessary precautions to protect patient confidentiality as required by the Mental Hygiene Law and HIPAA.
Telehealth allowed for the continuity of care while reducing in-person contact and helped address patients' concerns and anxiety about leaving their homes during the pandemic. It also helped providers create an emergency plan in the event of a quarantine that prevented staff and patients from leaving their homes.
Telehealth was also extremely popular with our patients. In fact, OMH surveyed more than 6,000 service recipients to determine the impact the pandemic has had on their lives and access to care.  The survey found that 89 percent of the respondents participated in telehealth services and 85 percent found that telehealth was easy and effective.
Most respondents said they had the same amount of contact with their providers when using telehealth. Overall, the findings show that access to care, including medications and physical health care, was largely uninterrupted. We also found that telehealth was quickly and widely utilized by licensed OMH clinics, as telehealth claims increased from 35 percent of claims in March 2020 to 90 percent of claims in April 2020.
Telehealth has proven to be so powerful a tool that Governor Cuomo has proposed legislation to permanently adopt telehealth innovations in order to expand access to physical health, mental health and substance use disorder services.
These reforms will adjust reimbursement incentives to encourage telehealth, eliminate outdated location requirements and other regulatory prohibitions, and provide training programs to make patients and providers more comfortable using telehealth.  These proposals have encouraged more providers to incorporate telehealth into their services, ensuring greater access to care and the potential to improve patient outreach and reduce healthcare costs.
As the telephone became people's most common and safest form of communication, OMH also launched the Emotional Support Helpline, (1-844-863-9314) which to date has handled more than 53,000 calls from New Yorkers who are feeling overwhelmed, anxious and/or depressed by the impact of the pandemic.
The Helpline was first staffed by mental health professionals and volunteers specially trained to help people cope with the typical stress reactions brought on by emergency and crisis situations.  The volunteers provided tips on managing anxiety, dealing with loss and strengthening coping skills.  They also provided referrals to help people connect with mental health services in their communities.
Today, the NY Project Hope Emotional Support Helpline is staffed by trained crisis counselors who continue to provide free, confidential, and anonymous counseling to all callers, including non-English speaking individuals and people who are deaf or hard of hearing.
We promoted the Helpline through a series of awareness campaigns and used social and digital media to provide New Yorkers with coping tips, as well as anti-stigma messaging to encourage them to reach out for help. While the campaigns were state-wide, we focused in particular on those communities that were hardest hit by the pandemic, including many Black, Hispanic, low-income and immigrant communities that are often medically underserved.
Following up on the success of and demand for the Emotional Support Line, we launched "Coping Circles" — a free, virtual group support facilitated by volunteer licensed mental health professionals.  The six-week program was open to any NYS resident over 18, who also had the option to join specific groups for health care workers, first responders, those who lost a loved one, and those who were unemployed due to the pandemic. Coping Circles ran from June through August of 2020 and provided 187 Circles for more than 900 participants.
The COVID-19 pandemic demonstrated very clearly that there are significant inequities in our healthcare system. It has also shown that technology – and in particular telehealth — can help address those inequities, expand access to care and lower the costs of providing behavioral healthcare.
Telehealth helped us to maintain continuity of care throughout the pandemic. Expanding telehealth services and integrating it into our existing healthcare system will ensure every New Yorker, regardless of their circumstances, has the support they need to access physical and mental health care.