The suicide rates for youth, especially between the ages of 15 and 19, have increased dramatically. Suicide is now the second leading cause of death for the ages 10 to 24. It is believed that this reflects a higher level of psychological distress in today's youth. The suicide rates are even higher for marginalized youth such as black and LGBTQ (lesbian, gay, bisexual, transgender and/or queer) teens. LGBTQ youth have a two to seven times greater risk of suicide than cisgender/heterosexual youth.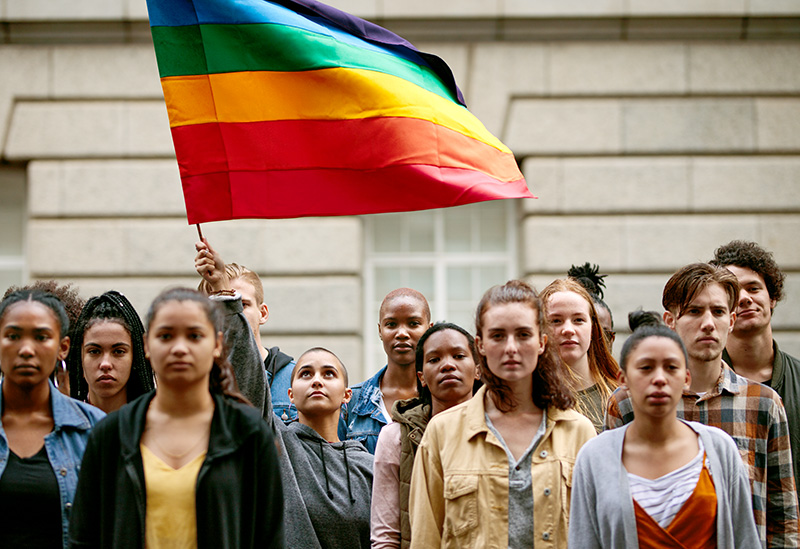 As much as 24% of suicide attempts may be LGBTQ youth. We know this is greater than the 11.8% rate per 100,000 that we see in youth in general but we are not able to calculate an exact rate because we do not know the total population of LGBTQ youth. Additionally, there is an increased rate of non-suicidal self-injury (NSSI) among LGBTQ youth. We also know there is a greater risk of suicide when youth engage in NSSI.
What is driving these rates? We know that some of the risk factors for suicide and NSSI include a perception of not belonging. LGBTQ youth report twice as much bullying on school grounds than their peers and see a great deal of cyberbullying. Both are known risk factors for suicide. Eighty percent of lesbian, gay and bisexual youth and 60% of transgender youth report being harassed. Their families and/or peer groups might not accept their choices and lifestyles. Family rejection increases the likelihood of a suicide attempt by eight times. Minority stress theory highlights the impact of discrimination and prejudice and hypervigilance due to the expectation of prejudice and discrimination. It is also common to see internalized prejudice. All of these factors can increase the risk of suicide.
Anti-LGBTQ attitudes in our society can become internalized which is also another risk factor for suicide. The simple act of "coming out" can increase the allostatic load on youth and increase risk factors. Girls have less coming out stress than boys but are more likely to experience depression and suicidal ideation. Attitudes toward gay men is more hostile than attitudes toward lesbian women and boys are more likely to experience physical aggression. Those identifying as bisexual may experience greater prejudice even within the LGBTQ population as it may be seen as a "cop out" rather than a true identity. Transgender youth also experience a great deal of societal rejection and are more likely to experience depression and anxiety. With wide-spread acceptance of same sex marriage and more tolerant attitudes toward the LGBTQ population, we have, in fact, seen a decrease in suicide rates.
The likelihood of a suicide attempt is highest when these risk factors are present or escalating and protective factors and health coping skills are diminished.
Identifying as a sexual minority may go beyond just acceptance and we may see bullying and even physical aggression. 75% of LGBTQ youth report verbal harassment and one in seven reports physical attacks. As we have already said, youth in general are at an increasing risk of suicide. Throw identifying as LGBTQ into the mix and we see an even greater risk.
Protective factors from suicide include good parental relationships. Another protective factor is feeling connected at school and belonging to a supportive group of peers. Access to LGBTQ inclusive medical and mental health care that can address the unique needs of this population is also a protective factor.
For LGBTQ youth, all of these protective factors might be missing.
Within the LGBTQ population, we still see differences based on how individuals identify. Those identifying as bisexual and/or transgender are at even greater risk. Of those identifying as transgender, 30% to 40% have reported suicide attempts.
As stated above, we have actually seen a decrease in suicide in the LGBTQ population as the tolerance for these lifestyles has improved. However, we have not seen a decrease in NSSI. LGBTQ youth are three times more likely to engage in NSSI. In a Youth Risk Behavior survey, 67% of reported NSSI was by students identifying as LGBTQ. Same sex attraction before identifying as LGBTQ can increase the risk of NSSI. When asked to explain their NSSI, young people often say it is a coping mechanism that helps to relieve unbearable emotions and reduce internal tension. The majority of LGBTQ youth report that NSSI is due to feeling empty or numb. When asked to identify triggers youth responded that they included distressing emotions, a sense of isolation, relationship difficulties, or school/work difficulties. Minority stress, mentioned above as a risk factor for suicide, is also a risk factor for NSSI.
NSSI is seen as a risk factor for suicide attempts but less than 50% of students reporting past NSSI reported accompanying suicidal ideation. In fact, NSSI as a coping strategy may be a protective factor against suicide. Again, within the LGBTQ population we see difference in sub-cohorts. Bisexual women and transgender men are at the greatest risk of NSSI.
So how can we help LGBTQ youth? Perhaps the most important is to increase family and school support. We know that negative family attitudes and rejection after coming out can increase the risk of NSSI. Alienation from family can increase the risk of suicide. Schools can provide safe environments, promote equal rights, and reduce stigma. School-based interventions have been shown to help decrease suicidal ideation and suicide attempts. We know that non-discrimination clauses in things like healthcare have helped decrease the rates of suicide.
Helping youth to develop positive coping skills is vital. Positive coping skills have a negative relationship with suicide. Conversely, self-distraction, substance use, venting and self-blame were negative coping skills that had a positive relationship with suicide. Twenty-eight percent of LGBTQ youth have had therapy in the past year compared to 16% for the general population. The difference highlights the mental health needs of this cohort, but therapy is a positive coping skill and should be promoted. Psychosocial interventions can help youth be more accepting of themselves, develop positive coping skills and ease any gender dysphoria that youth may be feeling. We can also help LGBTQ youth to develop resilience to deal with the impact of stress on their lives. We do this by validating the individuals and fostering supportive relationships.
Our society has come a long way in accepting the LGBTQ population but the crisis with our LGBTQ youth suggests there is still much to be done.
If you identify as an LGTBQ-IA youth and are in crisis, or know someone who is, call The Trevor Project: 1-866-488-7386.
If you are an adult in crisis, call the National Suicide Prevention Lifeline: 1-800-273-8255.
Thomas R. Grinley is Director, Office of Consumer and Family Affairs, Bureau of Mental Health Services, Division for Behavioral Health, NH Department of Health and Human Services. For a list of references please contact the author at: Thomas.Grinley@dhhs.nh.gov.