Putting advanced technology to work at Odyssey House was underway before COVID-19 disrupted our work and personal lives forcing us to change how we interact with each other. We have consistently invested in ways to make our administrative and program management tasks more efficient with remote meetings, online services, and cloud-based data management systems.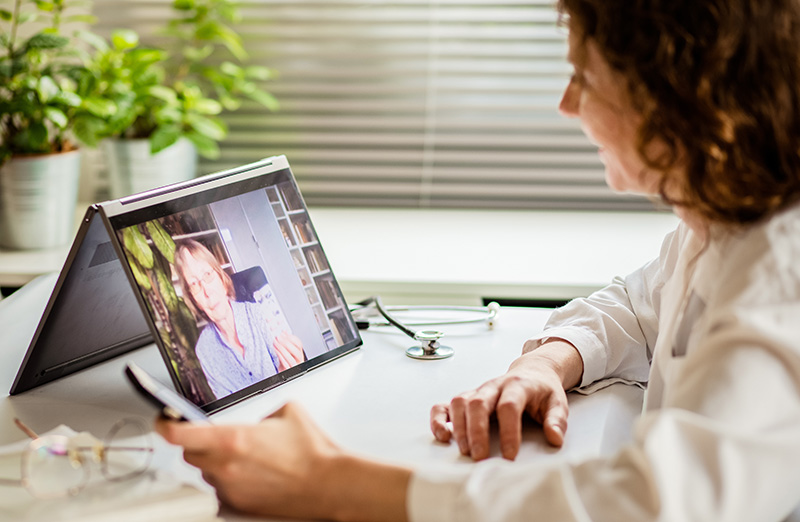 But what changed dramatically, in a year of so many unforeseen challenges, were rapid transitions of selected client services from in-person to virtual interactions and all-remote administrative functions.
Our ability to quickly set up virtual counseling, medical and court appointments, and other previously in-person-only services, made it possible for clients to progress in treatment while following public health directives on face coverings, physical distancing, and limiting exposure to others. And, of course, what worked to keep clients safe also protected our workforce.
When we implemented coronavirus containment measures, such as social distancing and reducing group sizes while continuing to provide essential services to clients, the role of virtual care expanded within the residential, outpatient, and housing programs.
Adapting Technology to Treatment
As the information technology (IT) staff worked in the background to provide remote technology, the clinical program and housing staff had to adapt quickly to the demands for infection control. This was an especially urgent need in residential programs and supportive housing programs, where hundreds of clients and tenants now had to be kept safe from a highly contagious virus while living in congregate living conditions.
For Jeremy King, Senior Manager, Director of OASAS Residential Programs, this meant incorporating telehealth into a treatment regime based on in-person peer support and group engagement. Mr. King explained this was particularly helpful for individuals new to treatment and not ready to leave the program unsupervised for extended periods.
"Telehealth technology allowed clients, where medically appropriate, to receive primary and specialty medical services, including psychiatric care and medication management, in the safety of the treatment program."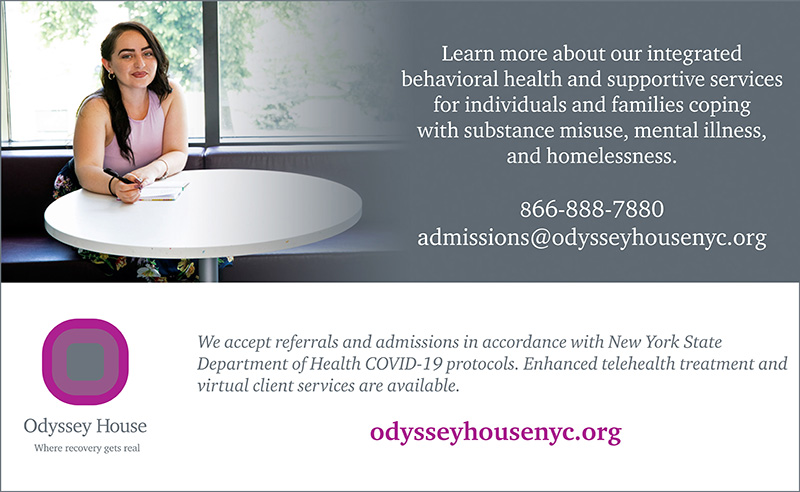 In future, when court-mandated child visits are required, Mr. King believes a responsible middle ground may be facilitating these visits remotely while the mother stabilizes in her recovery process.
"We use telehealth technology to facilitate Administration for Children's Services (ACS) conferences with judges, preventive workers, case managers, lawyers, and family advocates all present in the same digital space, which allows our clients to attend conferences without leaving the program.
"In the past, we wrote letters advocating for the rights of our clients, but secure virtual platforms allow us today to advocate for clients' parental rights and needs in real-time and to a live audience – an advance that clients have reviewed positively," added Mr. King.
And for individuals co-enrolled in external Opioid Treatment Programs (OTPs) while in residential care, telehealth technology can help clients receive individual counseling and medication management services within the facility, a benefit Mr. King believes could help a population that is at high risk for relapse and overdose.
Mr. King does, however, recognize there are some drawbacks to using technology in a therapeutic setting. One example he gives is in family services, where the connection a child and a mother develop while physically being together is a vital, tactile experience that cannot be replaced by technology. But he believes when used carefully in a therapeutic setting the benefits, such as enrolling clients in virtual adult basic education classes and vocational training, serve to enhance essential residential services.
Outpatient Services Online and Onboard
The impact of COVID-19 on outpatient services was immediate. Though some services, such as managing the medication-assisted treatment (MAT) program, needed to remain on-site, the bulk of individual and group treatment sessions transitioned to online and telehealth services. Not knowing how long the health crisis would last, the program and administrative teams moved quickly to ensure clients suffered minimal disruptions, stayed connected to their familiar support systems, and had 24/7 access to a crisis telephone hotline.
But the transition was not as smooth for clients without access to basic technology – a cell phone or Wi-Fi service. For these individuals and families, thanks to a grant funded by Columbia University School of Business, we were able to provide a low-cost data plan and cell phone that made it possible for them to connect with their counselors and recovery network.
According to Mary Callahan, Senior Director of Outpatient Services, the effort paid off – telehealth services are proving to be a hit with the clients. "Our daily numbers are better than we expected. The clients, and staff, are really latching onto this as a resource."
Tech Supports for Housing
Supportive housing at Odyssey House ranges from transitional housing with on-site counseling and medication management services, to scattered-site independent housing. Integration of technology within these services prior to COVID-19 focused on managing tenants' entitlements, funder reporting requirements, and staff assignments.
For Janice Glenn-Slaughter, VP, Director of Mental Health & Housing Services, the impact of COVID-19 brought home the essential role on-site staffing has in supportive housing. "The majority of our tenants live alone and the challenges they face living with mental and physical health disorders require hands-on support. COVID-19 presented a real threat to their lives.
"Key for their survival," she added, "was keeping our essential employees safe with personal protective equipment and outfitting them with access to online services so they could work remotely, as appropriate.
"Nothing will replace the need for in-person care, but extending what we can do with technology gives us flexibility."
IT Investment Pays Off
For several years, we have invested in digital client and administrative management systems. With data and administration functions already secured on the cloud, our priority over the past year was clear: ensure staff could access these systems remotely.
While essential program staff worked on maintaining contact with clients, reassuring them the recovery services they rely on will continue, Renas Tili, Director of Information Systems and Technology, worked behind the scenes to ensure each staff member was quickly set up for remote work. He provided employees with a virtual private network (VPN), equipped them with remote desktop services (RDS), and installed high-level security protocols.
According to Jeff Savoy, VP, Director of Clinical Support Services, while there have been some barriers to facilitating remote services, such as ensuring the treatment experience is not distorted by technology; complying with confidentiality and regulatory guidelines; and training staff in providing virtual treatment, he sees "the flexibility and connectivity that technology provides for patient-centered care paying off and continuing as we pivot from this public health crisis."
As a human services organization, while nothing will replace hands-on care, we see a growing role for technology in supporting client services, arming staff with the resources they need to succeed in their roles and helping us stay prepared for future health and economic challenges.