Like many psychiatric hospitals, Montgomery County Emergency Service (MCES), located in Norristown, PA, serves adults with primary serious mental illness many of whom also have a co-occurring substance use disorder (COD), sometimes involving opiates. This "double trouble" puts them at greater risk of poor treatment adherence, relapse, frequent involuntary hospitalization, and, of course, overdose.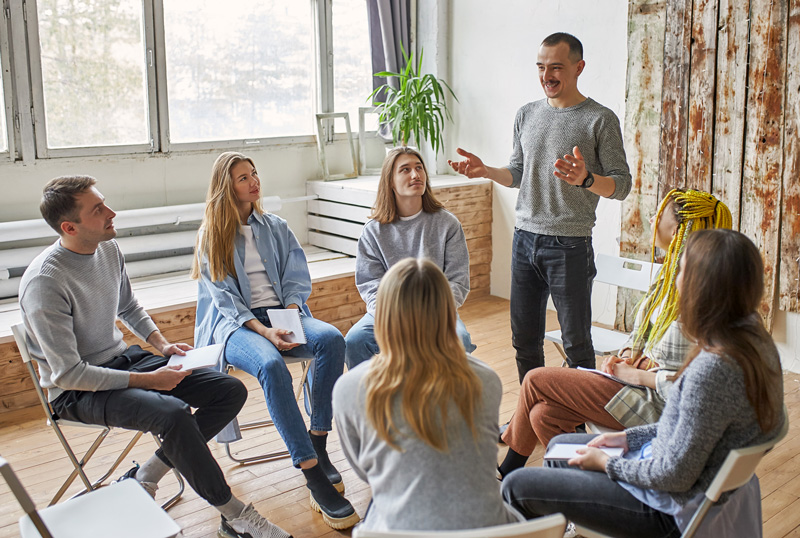 COD patients needing inpatient care may often receive it sequentially. They are treated initially at a psychiatric or addiction facility depending on their primary diagnosis and are then transferred to another facility to address their secondary diagnosis. It falls to the patient to align the often-divergent treatment modalities and philosophies.
COD patients may be resistant to care or unable to adhere to a dual disorders aftercare program. They often resume substance use, discontinue mental health treatment, and experience a return of symptoms of serious mental illness such as depression, suicidal ideation, self-injury, and psychosis. Family members, providers, police, or emergency department physicians may seek involuntary psychiatric care on their behalf and the cycle begins anew.

In the mid-1990s, MCES noted that seventy-five percent of admissions involved a secondary substance use disorder (SUD) diagnosis. The majority of these patients were involuntary and had experienced a potentially life-threatening crisis. Moreover, this patient population had a high level of recidivism marked by several stays yearly within weeks of each other.
MCES's initial effort at inpatient COD care blended mental health and substance use care principles and staff with experience in both fields. The program helped patients understand how mental illness is affected by substance use, how mental illness impacts sobriety, and why treatment for both must be simultaneously maintained. It incorporated drug and alcohol rehabilitation treatment concepts and techniques. Individual and group counselling, recovery and educational groups, and AA and Narcotics Anonymous meetings were part of the program strategy.
At the time, the program was seen as innovative and had success deterring repeated hospitalizations. However, relapse within weeks of discharge remained a problem for many COD patients.
In early 2002, a multidisciplinary group of MCES staff formed a task force to deter relapse among MCES patients. Over several months they assessed the relapse prevention needs of MCES patients, reviewed the literature on relapse, and evaluated available relapse prevention resources. They produced a strategy for COD patients and staff to work together to identify the risks, the signs, the triggers, and the steps to be taken to avert relapse.
COD patient engagement and self-help were essential. A booklet entitled My Action Plan for Relapse Prevention (MAP) was created to facilitate this process. This excerpt states its purpose:
This work-book is designed to encourage you to take an active role in your wellness. This workbook is designed to assist you to recognize early signs of relapse and to independently develop and apply behavioral skills to reduce the risk of relapse. This book will help you recognize relapse as something that can be in your control.
The booklet was a tool to assist the COD patient in developing a personal action plan to prevent relapse. The plan was put together in individual and group sessions during their inpatient stay at MCES. The completed booklet-based plan was designed to be used actively after discharge. It was to be reviewed daily for a week or two and then at regular intervals. Patients learned that using the plan developed in the MAP booklet prepared them to spot the subtle signs of relapse.
The MAP program enabled COD patients to take a tangible relapse prevention resource home with them and apply what they had learned during their hospitalization. While MAP was often initiated in inpatient groups, it was a self-help tool that could be used independently in any setting. This is demonstrated by the requests for copies that MCES has received for the past twenty years from all over the US, including several each year from inmates at correctional facilities.
The weeks after discharge from a psychiatric hospital are a high-risk period for patients, especially for those with COD. Stressors and challenges are effectively on-hold in an inpatient setting. At discharge there is an abrupt transition from a highly structured and supportive environment to one much less so. Resilience and coping skills may be inadequate, and patients experience a recurrence of mental illness symptoms leading to self-medication and relapse.
Adherence to the discharge plan and their MAP helped many COD patients manage to return to community living. However, some patients needed a strong framework to keep them on track to recovery and sobriety on a day-to-day basis, at least temporarily. This led to the development of the Ongoing Abstinence Recovery Schedule™ (OARS), a voluntary program offered by our Allied Therapy Department to guide and support patients in preparing a personal daily/weekly recovery schedule to sustain a sober lifestyle after discharge.
During their stay, MCES COD patients complete an individualized OARS covering:
Their triggers and how to deal with them
101 sober enjoyment options
Planning spiritual/quiet time
Daily/weekly activities
OARS guides patients in developing a personal daily and weekly hour-by-hour recovery schedule while at MCES that can be followed at home or in an outpatient setting. Patients going to rehabilitation are advised to defer OARS during that treatment but include what they learn.
OARS enables patients to organize their day in terms of:
Medication times
Outpatient times
Peer support times (e.g., AA, NA meetings)
Spiritual/quiet times
Sober recreation/relaxation times
These elements are blended with family time, meals, sleep hours, work hours, childcare, shopping, and other activities. OARS subtly reinforces social connections, minimizes downtime that may affect sobriety, and keeps a focus on necessary tasks and obligations.
OARS aids in retaining the benefits of inpatient treatment and facilitates continuing progress in recovery after discharge. OARS fosters a structured lifestyle and self-discipline. MAP is a tool for managing the substance use side of their co-occurring disorders. OARS gives patients a means to manage their daily living in a manner conducive to promoting recovery, sobriety, and wellness.
OARS requires a considerable investment of effort and commitment by patients. MCES acknowledges the effort patients make participating in OARS. An important component is recognition and reinforcement of patient commitment, enthusiasm, and success. Patients who complete OARS receive a certificate of accomplishment, and their achievement is celebrated in recovery groups and at awards ceremonies.
OARS graduates have fewer re-hospitalizations and longer intervals between readmissions. MCES has incorporated OARS parameters into its electronic medical record system so it can measure OARS performance and outcomes over time. The MCES COD Committee, which includes both clinical and administrative staff, oversees the OARS program and related services.
Going forward, MCES plans to try to do more follow-up in the community after discharge with OARS graduates to directly support their recovery and reduce their risk of readmission. The latter will benefit us as our payers increasingly use performance-based reimbursement approaches incentivizing fewer and less frequent readmissions by high utilizing patients.
Tony Salvatore, MA, is Director of Development at Montgomery County Emergency Service. Montgomery County Emergency Service is a nonprofit mental health crisis service founded in 1974. More information is available at www.mces.org. Questions about this article may be directed to Tony Salvatore at tsalvatore@mces.org or 484-754-2447. Tony wishes to thank Mike Melcher, Karen Gribosh, and Tom Siolek, Jr., among the many individuals who contributed to MCES's COD efforts over the years, who reviewed this article for accuracy.