Mental Health News Education, Inc. (MHNE), the nonprofit organization that publishes Autism Spectrum News and Behavioral Health News, will be honoring four outstanding champions of the autism and behavioral health communities at its annual Leadership Awards Reception on June 30, 2020, at the NYU Kimmel Center in NYC from 5:00 pm to 8:00 pm. Learn more and register here!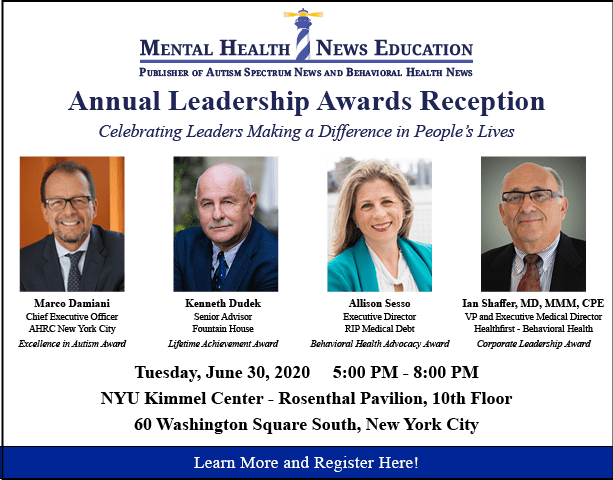 Debbie Pantin, MSW, MSHCM, President and CEO of Outreach, and MHNE Board Chair, made the announcement stating, "MHNE has selected four prominent leaders from well-known New York organizations who represent some of the very best in the fields of autism and behavioral health. We are honored to pay tribute to them in recognition of their many years of dedicated service to the autism and behavioral health communities"
Ira Minot, Founder and Executive Director of MHNE stated, "We are so pleased to have this opportunity to recognize these champions of the communities MHNE serves. I am also pleased to announce that Anita Appel, LCSW, Senior Health Care Consultant, at Sachs Policy Group, and Matt Loper, CEO, of Wellth, who are both MHNE Board Members, will serve as Event Co-Chairs for our 2020 Leadership Awards Reception."
David Minot, Associate Director of MHNE stated, "Our 2020 Leadership Awards Reception is attended by over 200 recognized leaders from the autism and behavioral health communities who gather to share comradery and network with each other before the summer. This year's event will be an evening to remember, as we pay tribute to our distinguished honorees, their friends, family and colleagues.
Proceeds from this event will go towards expanding and developing the nonprofit educational mission of Autism Spectrum News and Behavioral Health News.
Marco joined AHRC New York City with a varied and progressive career in the field of intellectual and developmental disabilities (I/DD), behavioral health and general healthcare as a clinician, consultant and agency executive. Founded in 1949, AHRC NYC is one of the largest organizations in the nation supporting 20,000 people with I/DD and their families. AHRC NYC has over 5,500 dedicated staff, an annual budget well over $300 million and provides a broad range of programs, services and supports across the lifecycle. Marco's career began at FEGS as a direct support professional and clinician, shortly after the implementation of the landmark Willowbrook Consent Decree and progressed through the years with positions in New York State government to Executive Vice-President at YAI Network where he led a broad and expansive portfolio of health and behavioral healthcare, research/program evaluation and a large community-based support, information and referral program, to Executive Vice President at Cerebral Palsy Associations of NYS, to his most previous position as CEO of Metro Community Health Centers, a network of 5 Federally-Qualified Health Centers in NYC devoted to supporting patients of all abilities.
In addition to his executive leadership positions, Marco was previously Chair of the Manhattan Developmental Disabilities Council and Chairman of the Alliance for Integrated Care of New York, the first Medicare Accountable Care Organization in the nation focused on individuals with I/DD. Marco is a Mayoral Appointee of the NYC Community Services Board I/DD subcommittee, a Board member of the Inter-Agency Council of I/DD Agencies, New York Disability Advocates and Care Design NY, an I/DD Health Home, and is also an Appointee to the New York University College of Dentistry Dean's Strategic Advisory Council. In recognition of Marco's contribution to the work of its school and to the field of oral health, and for his leadership and advocacy in promoting healthcare innovation models for people with disabilities, the NYU College of Dentistry awarded Marco with the College's highest honor, the Kriser Medal.
Marco earned a BS in Psychology from Manhattan College, a Master's Degree in Developmental Psychology from Columbia University and pursued doctoral studies in Educational Psychology at New York University. He attributes his success to the extraordinary collective work and shared vision of his many colleagues over the years, their enduring commitment to promoting social justice for people with disabilities and his never-ending quest to being more than just a so-so guitar player.
A recognized leader in the mental health field, Kenneth J. Dudek has directed Fountain House and the development of clubhouses since 1992. He has pioneered programs that address the housing, employment, educational, and health needs of people living with the most serious forms of mental illness. Kenn retired as President of Fountain House in September 2019 but continues as a Senior Advisor.
During his 27 years of service, Kenn created and implemented a strategic vision that positioned Fountain House as a leader in the global search for cost-effective, humane and successful solutions to the ongoing humanitarian crisis of serious mental illness. Through public-private partnerships, Kenn developed cutting-edge programs that respond to the evolving needs of people with serious mental illness and to changing social trends.
During Kenn's presidency, Fountain House became the first mental health organization to receive the largest and most prestigious recognition of humanitarian efforts, the Hilton Humanitarian Prize. The organization is lauded by academics, researchers, practitioners, psychiatrists, government officials, and others in the mental health field in the US and internationally.
Kenn has never lost touch with his roots as a social worker and established relationships, comradery, and trust with Fountain House members – people living with serious mental illness. Kenn is modest and unassuming but full of passion for the underserved and marginalized. His confidence in the capacity of members has empowered many individuals with serious mental illness to represent the organization and advocate for issues impacting their lives in the broader community.
Kenn's work deserves special recognition because it focuses on the most seriously mentally ill. This differentiates what he does from the majority of mental health programs. Kenn focuses on those who need help the most. Many have no family, no friends, no social network, no housing, and no treatment until they join Fountain House.
Kenn is highly regarded as a dedicated, tireless, leader by the Fountain House Board, staff and members, and within the larger sphere of programs based on the Fountain House model locally here in New York, and globally.
Prior to joining Fountain House, Kenn was Director of Community Support at the Massachusetts Department of Mental Health where he created 25 model clubhouses and many other community-based mental health programs.
Allison Sesso has served as the Executive Director of the Human Services Council of New York (HSC) since March 2014 and previously served for many years as the Deputy Executive Director. HSC is an association of 170 nonprofits delivering 90% of human services in New York City.
Under her leadership HSC has pioneered the development of nationally recognized tools designed to illuminate risks associated with government contracts, including an RFP rater and government agency grading system known as GovGrader.
During her tenure at HSC she has led negotiations with government on behalf of the sector and partnered on the development of policy and procedural changes aimed at streamlining the relationship between nonprofits and government. In 2017, Allison led the Citywide "Sustain our Sanctuary Campaign," which successfully pushed for investments in human services contracts totaling over $300 million to address the nonprofit fiscal crisis.
When the largest human services nonprofit in NYC abruptly filed for bankruptcy, she turned tragedy into opportunity by organizing a coalition of experts to evaluate the systemic operational challenges facing human services nonprofits; resulting in a nationally recognized report, New York Nonprofits in the Aftermath of FEGS: A Call to Action, with nine recommendations viewed widely as a roadmap to long-term sustainability of human services nonprofits.
Allison also organized and led a commission of experts focused on social determinants of health and value-based-payment structures that recently completed a highly anticipated report, Integrating Health and Human Services: A Blueprint for Partnership and Action, examining the challenges of operationalizing relationships between health and human services providers and offering seven recommendations. She also served on the New York State Department of Health's Social Determinants (SDH) and Community Based Organizations (CBO) Subcommittee helping to formulate recommendations around the integration of CBOs into Medicaid managed care.
Allison has overseen disaster recovery and preparedness efforts on behalf of the nonprofit sector, including coordination with government and was tapped by the Mayor to serve on the Hurricane Sandy Charitable Organizations and Houses of Worship Recovery Task Force and served as its chair. She was also appointed to the OneNYC Commission; responsible for developing a comprehensive plan for a sustainable and resilient city that addresses the profound social, economic, and environmental challenges ahead.
Sesso's past professional experiences include working at a prominent investment bank, at the New York Public Interest Research Group, and as the coordinator of a program for victims of domestic violence and sexual abuse. She holds a Master of Public Administration degree from Baruch/CUNY's School of Public Affairs.
Allison is the Board Chair of the nonprofit Hollaback!, a global movement to end harassment powered by a network of grassroots activists. Additionally, Allison serves on Fund the People's Advisory Council, a national group that aims to encourage investments in the nonprofit workforce as the best way to increase performance and impact across the social sector.
Allison's work on behalf of the human services sector has led City & State to recognize her as number 8 on the Nonprofit Power 50 in 2018, and as one of the 25 most influential leaders in Manhattan in 2017 and New York City's 100 "Most Responsible" in 2016.
Ian Shaffer, MD, MMM, CPE, is Vice President and Executive Medical Director, Behavioral Health for Healthfirst responsible for behavioral health program management. Prior to this he was Vice President Behavioral Health Program Design and Research for Health Net Federal Services responsible for behavioral health program design and research with a specific focus on the military and veteran populations and their families. Previously at Health Net, Inc., Shaffer was MHN's Chief Medical Officer, responsible for setting the company's clinical policies and guidelines and ensuring clinical excellence. Dr. Shaffer oversaw MHN's quality improvement and disease management units and was accountable for the coordination and quality assurance of clinical care.
In addition, Dr. Shaffer has overseen quality and outcomes monitoring for the Military & Family Life Consultant Program services and collaborated with his Health Net Federal Services colleagues to ensure optimal care and service delivery for TRICARE beneficiaries.
Prior to joining MHN in 2003, Dr. Shaffer served as executive vice president and chief medical officer of a national managed behavioral health organization, working closely with several Fortune 100 companies. He three times served as chairman of the Association for Behavioral Health and Wellness (ABHW) (formerly the American Managed Behavioral Healthcare Association – AMBHA), and he has also served on several federal government committees, including a three-year term on the National Advisory Committee for the Center for Mental Health Services arm of SAMHSA. He remains involved in national behavioral health policy issues, including parity and autism.
As the President of Behavioral Health Management Solutions, LLC Dr. Shaffer has provided consultation to a variety of startup and ongoing behavioral health programs that have been redesigning to meet the changing needs of health care delivery and reimbursement.
Dr. Shaffer, a Life Fellow of the American Psychiatric Association, is board-certified in psychiatry and addiction medicine, and has received fellowship training in child psychiatry. He received his medical degree from the University of Manitoba and psychiatry and child psychiatry training at the University of Southern California. Dr. Shaffer, a Certified Physician Executive also holds a Master's degree in Medical Management from Tulane University.