The Institute for Community Living (ICL), a premier nonprofit innovator of whole health care that serves more than 15,000 New Yorkers each year, is pleased to announce that Jody Rudin has been named President and Chief Executive Officer. Rudin has over two decades of experience in the social services sector, working with nonprofits and in government.
"I have long admired and respected ICL as a leader in the field. I'm excited to join the organization and work with its incredible staff and Board to build on ICL's strengths and continue to be a model of best practices in integrated care. I can think of no more important work now than ensuring people get better, and that's what ICL does day in and day out," said Rudin.
Most recently, Rudin served as Executive Vice President and Chief Operating Officer at Project Renewal, where she led over 1,000 employees and administered a $120M budget. While at Project Renewal, she oversaw a 15 percent increase in revenue and stewarded significant programmatic growth — the organization's housing and shelter capacity is on track to grow more than 50 percent over the next five years. Prior to her work at Project Renewal, Rudin was Executive Vice President and COO at Damian Family Health Centers, where she led day-to-day operations for a multi-site health center network with 15 locations across the five boroughs. In both these positions, Rudin nurtured positive and inclusive cultures for clients and staff.
Rudin also worked as a Deputy Commissioner at the New York City Department of Homeless Services (DHS) where she directed 500 employees and 150 contracted DHS programs. In her 12 years with DHS, she was promoted five times, a testament to her record of delivering results for the agency and its clients. Her creative approach to addressing street homelessness, which was based on significant input of people with lived experience, resulted in a 40 percent reduction over the course of five years. Through her inclusive approach, the agency was able to help place more than 4,000 chronically homeless people into permanent housing, redesign the city's homeless outreach services, and place 500 veterans into housing over a two-month period, resulting in the effective end of chronic veteran homelessness in the City of New York.
Rudin began her career in public service as a legislative aide to Council Member Christine Quinn, then worked for Housing Works, an HIV and housing services organization. She is a graduate of Emory University in Atlanta and has a Master's in Public Administration from NYU's Robert F. Wagner School of Public Service.
"We are incredibly excited to welcome Jody to ICL," said Mary Harrison, chair of ICL's board. "Jody's career has been fueled by holistic care for people who have experienced trauma. Her personal relationships with individuals who have faced the challenges of HIV, housing insecurity, and incarceration have taught her that service that does not centralize the needs of the client can actually create additional harm. We are looking forward to having such an accomplished, compassionate leader at the helm of ICL."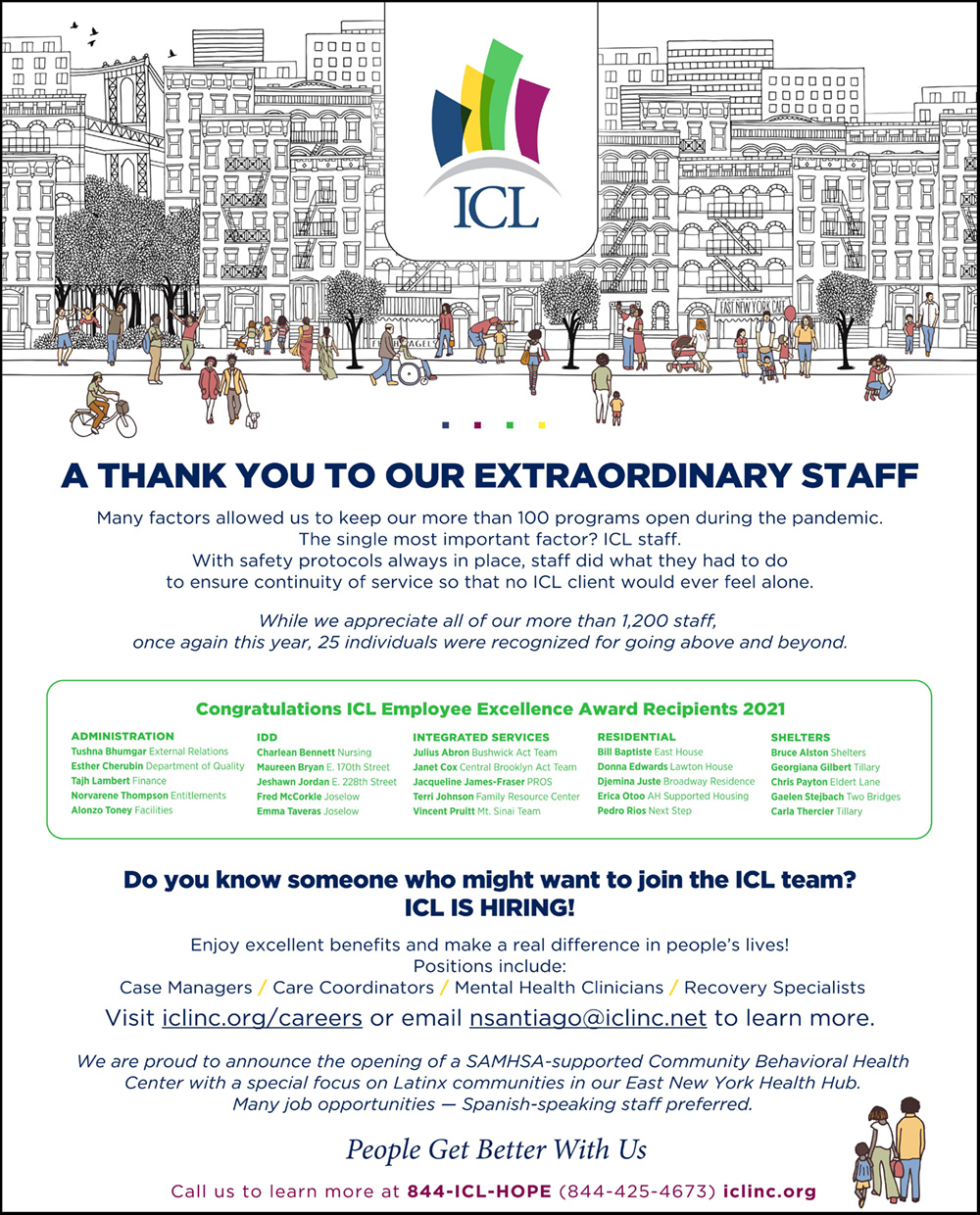 Rudin assumes the top leadership post of an organization renowned for its success in meeting the needs of our most at-risk community members. In recent years, ICL has secured millions in federal grant dollars from the United States Department of Health and Human Services Substance Abuse and Mental Health Services Administration to attack disparities in mental and physical health outcomes in East New York and surrounding neighborhoods.
ICL's groundbreaking East NY Health Hub, opened in 2018, provides comprehensive and integrated health, housing and employment services in that same area, one of the most underserved in the city. According to ICL's Healthy Living Survey, 96% of client's report feeling better about their prospects for improving mental and physical health thanks to ICL's programs, and ICL clients saw an 83% reduction in hospitalizations for mental health reasons after being in the organization's care.
Rudin succeeds David Woodlock, who is retiring after a nearly 50-year-career in mental health services. Woodlock joined ICL in 2013 and has been a pioneer in innovating impactful strategies in the mental health field. Under Woodlock's leadership, ICL has seen both improved healthcare outcomes for clients and reduced healthcare costs as well as an expansion of available resources for those that need them the most.
About ICL
ICL provides trauma-informed, recovery-oriented, integrated, and person-centered care through supportive and transitional housing, counseling, and rehabilitation services for adults, children, veterans, and families with mental health challenges and those living with developmental disabilities. We serve more than 15,000 people each year; every night 3,200 New Yorkers call ICL home. Our goal is to help people achieve better health and the most fulfilling life possible. Referrals can be made by calling 844-ICL-HOPE.