Innovation – the new buzzword in behavioral health. What is it and do you need this in your organization? Why is everyone discussing the need for it in behavioral health? If we look at the definition of innovation by the Merriam-Webster dictionary it's "a new idea, method, or device; the introduction of something new." The healthcare landscape is rapidly changing, and in order to succeed, behavioral health organizations need to embrace innovation at all levels. You need a group of innovative disrupters who can look at the organization through a different lens and provide solutions that move you forward.
The Mental Health Association of Westchester (MHA) created a division dedicated to innovation a little more than two years ago. The team's mission is to increase engagement, facilitate integration with primary and multi-specialty care, and increase quality. We are responsible for leading the identification and cultivation of new data-driven technology solutions that support differentiation and growth, which align with and leverage MHA's predictive analytics to help drive value and innovation within the agency. Although technology is important for innovation, innovation is more than just that, it's a philosophy or way of doing things that can be incorporated into all departments and at all levels.
Our team is currently led by three individuals who oversee several departments within this division. Under the leadership of our Chief Innovation Officer, Vice President of Innovation and Director of Special Projects, the department oversees Practice Management, Clinical Informatics, Compliance and Privacy, and Quality Improvement.
What MHA's Innovation Has Accomplished
Interoperability has been a new concept for the agency culture. We have recently enhanced our workflows to, with consent, share essential clinical information with members of the MHA care team and other providers to ensure continuity of medical and behavioral health care. To non-behavioral health providers, these processes may not seem innovative, but the rollout of interoperability in our world takes longer as we breakdown traditional silos of care and navigate challenges related to regulation and privacy laws. This technology will allow us to improve our client's experience, save documentation time, reduce errors, and lower costs.
Automatic appointment reminders are one way in which we are utilizing technology to better communicate with our clients, increase engagement and better leverage staff resources. Historically, front desk staff would personally call all clients to remind them of appointments – a time consuming and ineffective task. The benefits experienced since incorporating automatic reminders have been plentiful and are a reminder of how innovating standard practices keeps us moving forward. Clients are able to opt in (or out) for phone, text and email reminders in either English or Spanish. At the end of the reminder, clients are able to either confirm or cancel the appointment. Front desk staff can now better utilize their time by logging into a portal and rescheduling appointments as needed. This combination of new technology and practice management has been crucial to ensuring a successful innovation implementation.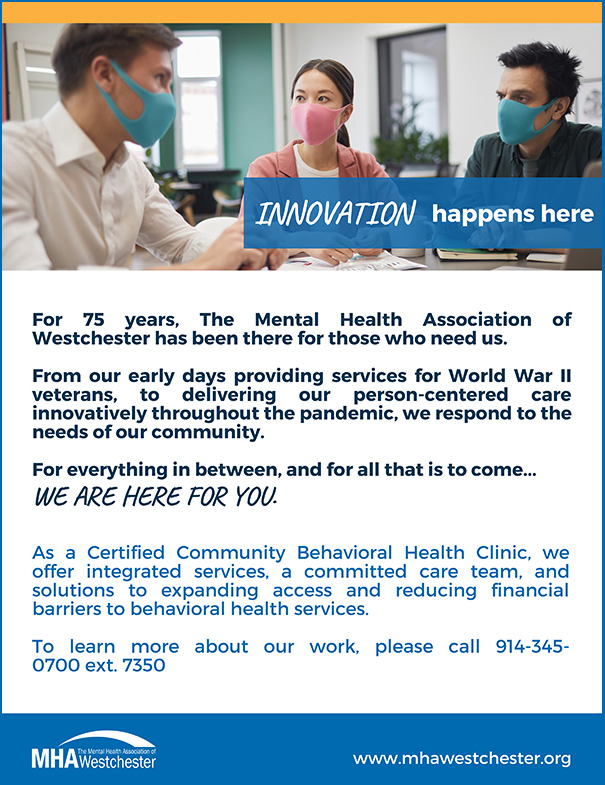 We introduced myStrength™, a digital health platform that promotes mental and physical wellness, which we offer to our clients, their family members, staff, and the larger community. All members have access to an extensive digital library of self-care resources to manage and overcome challenges with depression, stress, substance abuse, and a myriad of other conditions. myStrength™ allows users to track their moods, provides resources for managing feelings, and offers access to hundreds of articles and activities, such as guided meditations. Our clients and staff have found this to be a helpful resource to use between visits, and we are working on how to further incorporate this into our day-to-day workflows.
In 2020, we implemented a client portal, allowing clients to access their clinical record 24/7, request medication refills, request appointments, set individual notifications and message their care team. The portal is available to clients through a web browser or via a smartphone app. The client portal utilizes technology to increase client engagement and has also increased staff efficiency, allowing them to focus on assisting with their clients' most urgent care needs.
What MHA Hopes to Accomplish Moving Forward
MHA is in the process of incorporating measurement-based care (MBC) into our existing core values of providing the highest quality of person-centered and trauma informed care. MBC is the practice of basing clinical care on client data collected throughout treatment – or more simply, incorporating data into the treatment process. Up until now, MBC has primarily focused on assessing symptoms (e.g., depression, anxiety), but MBC can also be used to assess valuable information about functioning and satisfaction with life; stages of/readiness to change; and encourages the active involvement of clients in the treatment process (e.g., session feedback, working alliance). One way in which we are operationalizing measurement-based care is by piloting a client facing app where clients can enter data that is utilized by their clinician.
We are also working on launching a data warehouse, i.e. a data management system that centralizes and consolidates large amounts of data from multiple sources, allowing MHA to make more strategic decisions with real time data and provide more opportunities for measurement-base care. As we share more data, we hope to empower the care team to have all of the information needed to assist them in identifying potential issues before they become exacerbated. This will also allow the team to have a comprehensive view on the client's health status, social determinants of health and other influencing factors that could pose a risk.
"While the benefits of introducing innovative practices are extensive, it is important to be mindful of the potential risks." Our team often asks two questions when working on an identified problem: do we understand the need of clients and staff, and does the solution we have created address those needs? If we fail to understand those questions then the product, workflow, or solution we are proposing will ultimately fail. It's important to take the time to listen and ask questions of what is being asked before investing time into developing a plan to appropriately address the need.
Additionally, an organization needs to be mindful of what we affectionally call "Innovation Overload." This occurs when numerous solutions or workflows are rolled out without allowing the client or staff to have time to react and adjust. The MHA team is aware of this and has recently created an Innovation Think-tank Team, which will help us determine the schedule of roll outs, as well as provide a safe space to bring ideas, feedback and solutions to the table.
The question is no longer whether technology will change the behavioral health field, but rather when and how it will occur. The need for innovation has been exacerbated by the pandemic; its repercussions will require further innovation.