In the vital world of recovery services, there are many details to an individual's history and health that should be considered in order to provide a comprehensive care plan. One detail in particular isn't typically prioritized when it comes to environmental impact of an individual's recovery: sexual orientation and gender identity.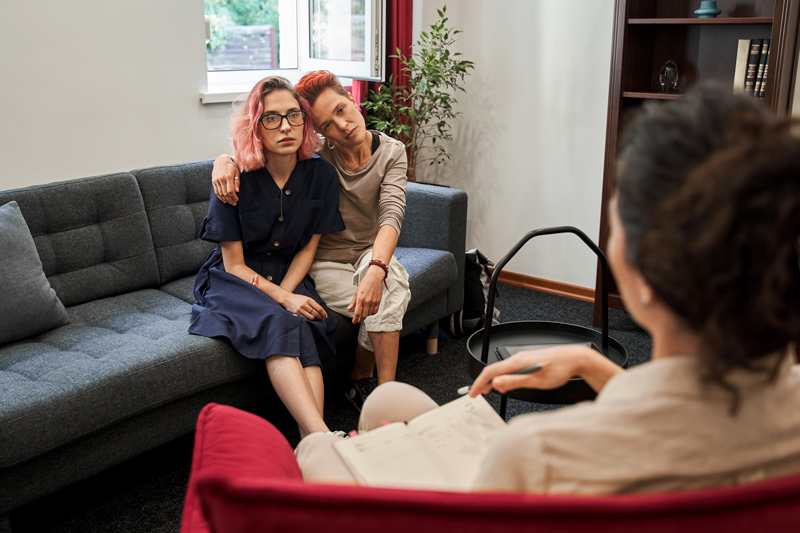 Federation of Organizations' (Federation) substance abuse recovery programs create a safe, inclusive, empathetic space for anyone looking to receive or educate themselves on recovery treatment. Over the last year, Federation initiated a program for LGBTQIA+-focused addiction services, which extends beyond the intake form to create a sense of belonging and address the important intersection of identity, mental health, and substance abuse. Substance abuse does not discriminate, and neither should treatment.
This is a common trend for Federation when it comes to providing recovery services; Federation aims to break any barriers that may prevent an individual or community for seeking or receiving the care they deserve. Treatment and services are highly tailored to the individual or participant's needs…and if there isn't a service constructive enough for the participant, Federation will adapt.
"In the mental health field, with a person-centered approach, you have to look at everything about your participant. When I first started working in the field, there was a strong heteronormative assumption, merely because no questions were asked," comments Colleen Jeffus, LCSW, and Federation's Associate Director of Clinical Services. "Over the last few years, it has become much more apparent how important this is. There are more suicides, more substance abuse disorders, and more coming out stories in environments that have yet to prioritize inclusivity. As an LGBTQIA+ clinician, I knew that this had to be addressed in treatment."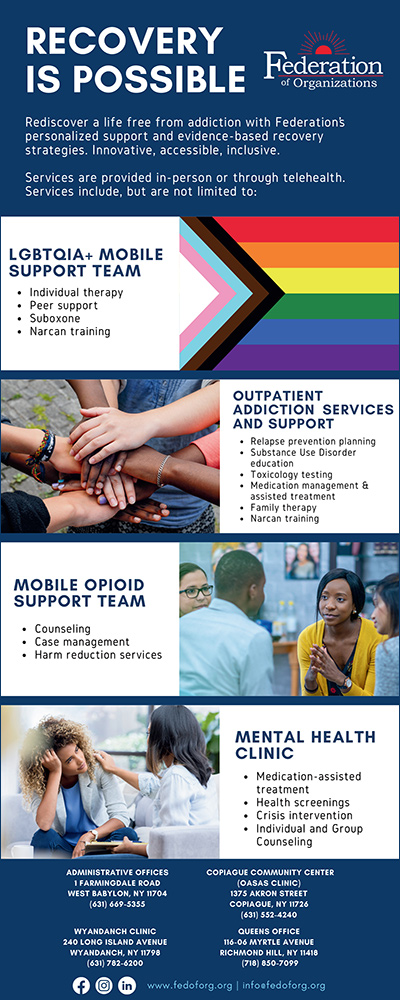 Those who identify as lesbian, gay, bisexual, transgender or questioning often face social stigma, discrimination and harassment, and are at increased risk for substance use disorders. According to the National Institute on Drug Abuse1, this population has higher substance use rates than the general population.
Federation's mobile teams travel to community sites and homes to provide outreach and services to LGBTQIA+ individuals, including counseling and support, as well as Narcan kits and training and other harm reduction services. They are steadily building relationships with other community organizations that serve the LGBTQIA+ population to help spread the word about their many services and reach more individuals.
"Federation's help has put me on the right track from the start. I needed a push towards getting better, and I could tell the team was passionate about my recovery," comments a recent participant. '"Life Isn't Binary' is their gender expansion group; they open the floor for anyone that does not identify as cisgender so they can have a safe place. This was the first time I felt seen as a trans woman."
For over fifty years, Federation has served Long Island and New York City individuals, focused mainly on mental health services as well as residential and homeless services. However, amidst the harrowing peak of the opioid epidemic, Federation demonstrated unwavering dedication to its mission of healing and support.
To help combat the crisis, New York State certified Federation of Organizations as an Opioid Overdose Prevention Provider, enabling access to unlimited Narcan kits and training. As a growing addiction recovery service provider, Federation's OASAS (New York State Office of Addition Services and Supports) Clinic in Copiague, New York, provides group, individual and family therapy, psychiatric evaluations and medication management, medication assisted treatment, peer services, Narcan training and many more services, based on each individual's needs.
Amongst other Federation centers, the Wyandanch Clinic, also on Long Island, provides person- and family-centered integrated care services for individuals with mental health issues and co-occurring substance use disorders. Services include a wide range of therapies as well as crisis management, a 24-hour crisis hotline, care coordination and assistance with vocational, housing, rehabilitation, and benefits/entitlements services, among others.
In furthering Federation's efforts for health equity, the nonprofit launched a new MOST (Mobile Opioid Support Team) in Suffolk County. They have begun deploying mobile teams to high-opioid use areas and will have two exam rooms, counseling, case management education, and more. Why is this so innovative and crucial? The more people you reach, the more you can help. There is no one-size-fits-all treatment solution and Federation literally comes equipped with all of the necessary tools.
"We have had many people come to our clinic for court-mandated substance use disorders services. They may sit with their arms crossed, denying they have a problem. But we'll talk to them and start to peel back the onion. We might see the wheels turning as they come to realize, 'Maybe I do have a problem that needs to be addressed.' Similarly, when our outreach teams are in the field, many of the individuals they encounter are not ready to seek help," Jeffus comments. "But our counselors are able to engage them in conversation and, after several of these conversations, some people feel more comfortable taking the leap to enroll in more intensive services."
Federation's impact continues to grow across Manhattan, Bronx, Queens, Brooklyn, Suffolk County and Nassau County. With multiple new programs in development, expanding existing programs, as well as the upcoming unveiling of two residential buildings in Brooklyn and Far Rockaway in Queens, Federation of Organizations consistently proves their influence as agents of change in the ever-evolving social landscape. To learn more, please visit www.fedoforg.org.
Samantha Matcovsky is Director of Marketing and Communications at Federation of Organizations.
Footnotes
"Substance Use and SUDs in LGBTQ* Populations," National Institute on Drug Abuse, https://nida.nih.gov/research-topics/substance-use-suds-in-lgbtq-populations