About ten years ago, one of our NYS ED/BPSS licensed instructors for Microsoft Excel Certification came to me. She was frustrated that more and more of her students weren't paying attention; they didn't look at her, fidgeted, kept turning their backs to her to play with their computers, etc. Nothing she did would hold their attention. Whatever was the cause, our stand-up lecture teaching model was .not working. We needed a new method of instruction. We tried different instructors, frequent breaks, snacks, money, awards, positive reinforcement, nothing worked. We stopped teaching. When I was a business consultant, and we wanted to get to the bottom of a problem – we asked people. So, we asked our students.
What's the best way for you to learn? How do you want the instructors to teach? What should we do? They told us to "Stop lecturing us," "I can't remember what you're telling me," "You talk to fast," "I can't relate your words to the computer program." "I'm bored."
Students were demanding to be in charge of their instruction, to be hands-on and at their pace. They would tell us when they had a question. Stand by.
One of our Instructors balked at the idea of a "flipped" classroom: "I have a Master's in Special Education, and ten years teaching experience at a public high school in the Bronx. I can't teach until all the students are quiet and attentive. I'm in charge of the class. "We need discipline and Ritalin." We realized what we had was a battle for power and we were losing.
We surrendered to the students. We had them face the computers and gave them a series of tasks to complete at their pace. We were available to help them when they were stuck. Class times dropped to half for an average of twenty-five (25) weeks, passing rates increased from fifty to ninety-five percent (95%), Then in March of 2020, COVID came, and the Center closed. After a few weeks; all our instruction went online. ZOOM, first as a test, then, permanently. We were able to offer one-two hour sessions, any day and time convenient to the student; Monday–Saturday; 9 am- 2pm.
Because we were training on the computer, the switch from onsite to online instruction was minimal. We only had to loan out five (5) computers. What was new was the one-on-one instruction and the class time. With a class size of ten, each student received an average of six minutes of 1:1 instruction. Online, the student received all sixty minutes and at their pace.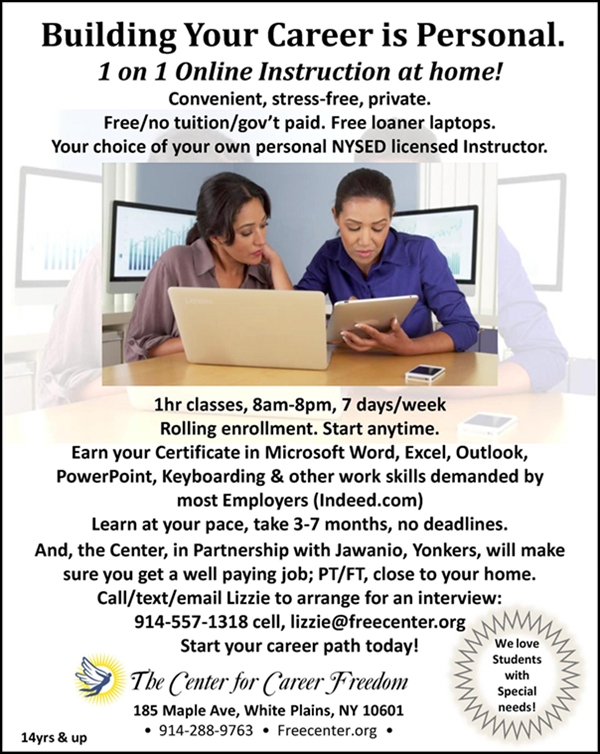 Again, class times dropped, and certification rates improved. We couldn't wait to ask the students which instructional methods, onsite or online, they preferred and why? Online was preferred by over 80% because:
It was live, not prerecorded.
It was private; they felt free to ask "dumb" questions and not feel embarrassed.
It was at their pace; they didn't feel lost.
It was sufficient: the time was more than enough to grasp the full lesson and to review the material.
They could stay up to 1am, play video games and still make their 12 noon class.
No more getting dressed and having to take the bus, especially in poor weather, and it was cheaper.
Their teacher was like a friend they could share stuff with.
Following Microsoft Certification, the next step is a six-month Internship to familiarize them with the world of work – first at home. The Internship concentrates on strengthening their "hard skills," data entry, peer instruction, job shadowing. It is paid (about $15.00/hr. for about 400 hrs.). Thanks to ACCESS-VR or OPWDD – self direction – the supporters of our training program.
With the support of Mike Spano, Mayor of the City of Yonkers, and School Superintendent Dr. Quezada, several public high schools in Yonkers have partnered with the Center to adopt our instructional model to their 11th and12th grade students in Special Education.
Our Microsoft Certified students have been able to teach their fellow students Word, Excel, PowerPoint, Outlook, etc. and strengthen their resumes and job prospects using our Microsoft Certified students as volunteer instructors. This enables the school to re-create the Center's instructional model with minimal disruption and at no cost – that's one hurdle.
A second hurdle for folks on SSI is to raise the earning cap. Currently, SSA holds back one-half (1/2) of all gross earned income over $85/mo. It doesn't pay for folks on SSI to go to work.
There's hope, Senators Warren and Schumer included a bill that just passed the House that raises the earnings cap from $85/mo. to $700/mo. This would remove a second hurdle to achieving self-sufficiency.
It's wonderful to realize folks on the autism spectrum are leading the innovation in education and employment.
For more information, visit the Center for Career Freedom.