David Woodlock, President and CEO of the Institute for Community Living (ICL), recently announced his retirement after a career in the mental health field spanning nearly five decades. Woodlock, who served as Deputy Commissioner for Children and Families at the New York State Office of Mental Health, is a leading national advocate for whole-person health, an approach to care that addresses an individual's full range of emotional, social and physical health needs. Over the course of his career with the State and ICL, he introduced innovative behavioral health programs and developed projects that led to meaningful improvements in care for adults and children facing serious mental health challenges. ICL's Board of Directors has conducted a national search for a new CEO.
"Since I began my career almost 50 years ago, working to move people suffering with mental illness out of psychiatric hospitals, we've made great strides to help people facing serious challenges live healthier, happier, more independent lives," said David Woodlock, President and CEO of the Institute for Community Living. "While we still have a long way to go, I am incredibly grateful to have had the opportunity to serve the people of New York State, and lead an organization like ICL that provides essential, life-changing services to 10,000 New Yorkers every year. I want to thank the ICL board for the opportunity to lead this organization over the past nine years and our wonderful staff for their dedication to our clients."
Woodlock joined ICL, a premier innovator of whole health care, as CEO in 2012. He has led ICL in pioneering the use of person-centered, integrated care that leads to improved health outcomes and reduced health care costs. In 2018, this work culminated in the opening of one of the country's largest and most comprehensive whole health centers, the East New York Health Hub. Today, the Hub serves 5,600 people annually with 19 different programs. Under his leadership, the agency has become one of the country's leading innovators in helping people with serious mental illness and substance use issues.
"For over almost five decades, David Woodlock has been a tireless advocate for adults and children facing serious challenges, and an innovative leader in behavioral health," said Mary Harrison, Board Chair of the Institute for Community Living. "Since joining ICL, David has taken our organization to another level, expanding the scope and reach of our programs. David's leadership has improved the lives of our clients, the communities we serve, and his forward-thinking advocacy has had a profound impact in New York and throughout the country. We thank David for his service, and wish him and his wonderful family all the best in retirement."
During his three decades at the New York State Office of Mental Health (NYS OMH), including four years as Deputy Commissioner for Children and Families, Woodlock was responsible for securing the largest annual appropriation for children's mental health services in New York State history. At NYS OMH he spearheaded an early intervention strategy that focused on schools and primary care and led in the development of the first-ever statewide Children's Plan, a multi-agency effort to help kids in health care and other settings such as schools and the juvenile justice system.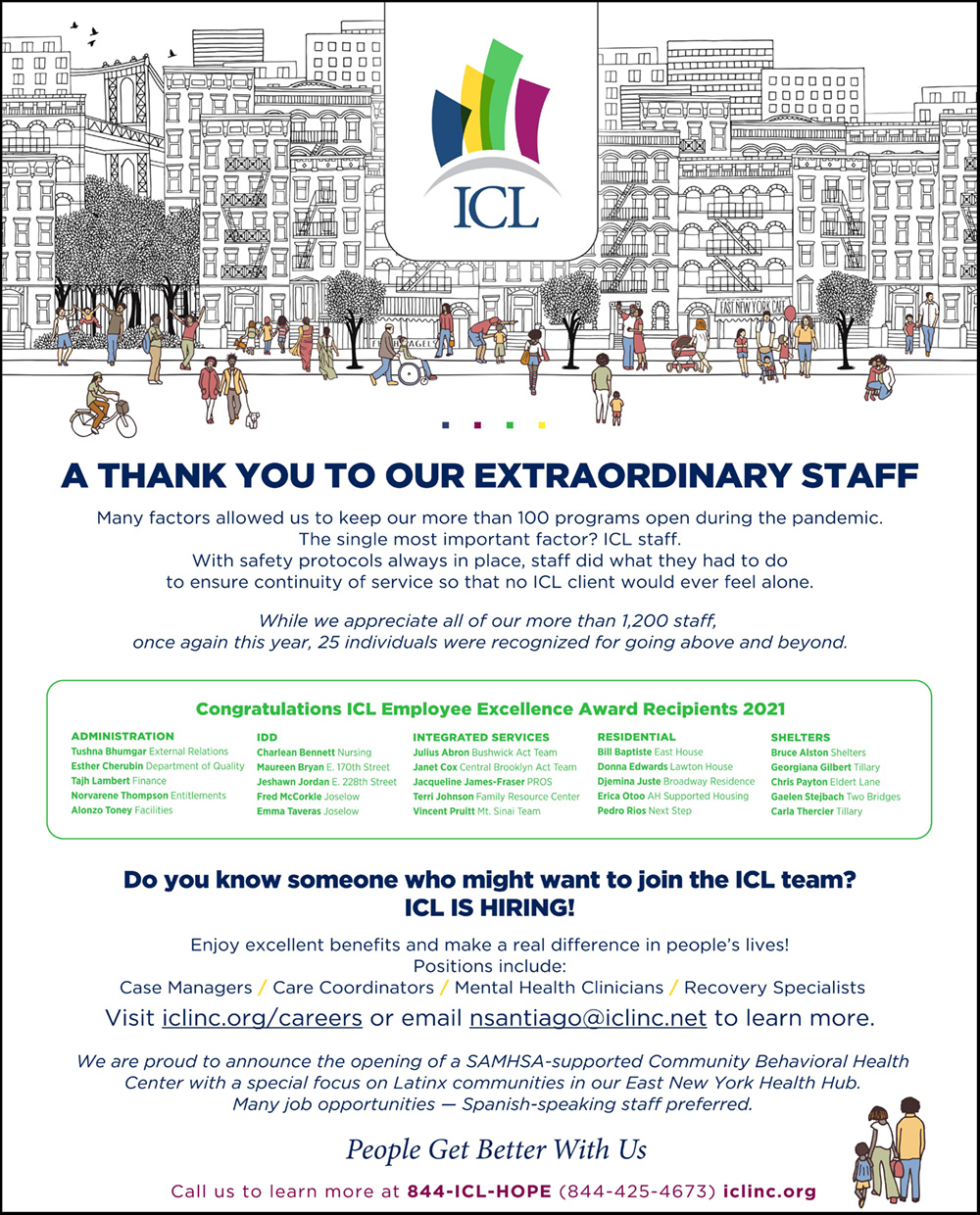 In addition to his work in government and the nonprofit sector, Woodlock served as CEO of Four Winds Hospital/Saratoga, a private psychiatric system in upstate New York. He is the author of the 2017 book, The Emotional Dimensions of Healthcare, and is the recipient of numerous awards, including the Visionary Leadership Award from the National Council on Behavioral Health, Extraordinary Leadership Award from New York State Coalition of Children's Mental Health Services, Special Congressional Recognition Award, and the Social Justice Award from Syracuse University.
New York State Office of Mental Health Commissioner Dr. Ann Sullivan said, "David's remarkable career is distinguished by the number of people he has helped over the last 50 years. Thousands of individuals and families have received the support and assistance they desperately needed, thanks to David's efforts. As a deputy commissioner here at the NYS Office of Mental Health, as CEO at Four Winds Hospital, and as President and CEO of the Institute for Community Living, David's focus has always been on improving health outcomes for people with mental illness, substance abuse issues or developmental disabilities. It has been an honor and a pleasure to partner with him and I wish him the best on this next phase of his life."
"It's been my pleasure to know and work with David Woodlock over my career. In addition to serving as the CEO of ICL, David is the Vice Chair of The Coalition's Board. I have deeply appreciated David's leadership, strategic thinking, and extraordinary counsel on a variety of issues. I congratulate David on his retirement and wish him the best in his next chapter," said Amy Dorin, President and CEO of the Coalition for Behavioral Health.
"David's been a source of inspiration for me personally and professionally. His tireless work on behalf of physical and mental wellbeing has significantly improved millions of lives in New York and beyond. Congratulations on your retirement and a job well done, David!" said National Council for Mental Wellbeing President and CEO Chuck Ingoglia.
About ICL
ICL provides trauma-informed, recovery-oriented, integrated, and person-centered care through supportive and transitional housing, counseling, and rehabilitation services for adults, children, veterans and families with mental health challenges and those living with developmental disabilities. We serve 10,000 people each year; every night 2,500 New Yorkers call ICL home. Our goal is to help people achieve better health and the most fulfilling life possible.