Harm reduction is a decades-long, well-established, effective tool in reducing illnesses, deaths, and other negative consequences of problematic substance use (Jones et al., 2022). This approach has never been more important as in the current overdose crisis (Perera et al., 2022). Harm reduction practices have evolved over time in their complexity and person-centered approach, as practitioners, support service providers, and other professionals can attest, harm reduction in action means providing whatever support the individual needs to survive until healing is possible (Lopez et al., 2022). For many in care at a large NYC nonprofit organization, this means helping New Yorkers get into and stay into housing as the centerpiece to their healing journey.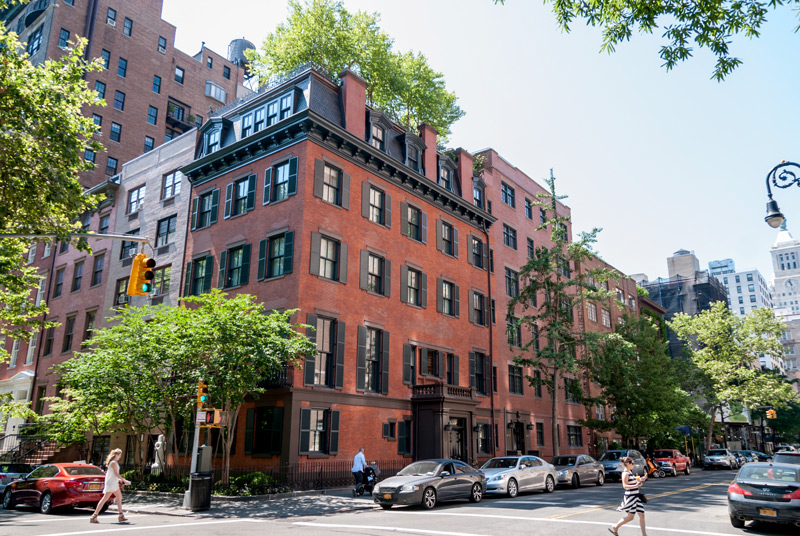 Services for the UnderServed (S:US) is large NYC nonprofit providing crisis, supportive, permanent housing and care to adults and families with serious mental illness, intellectual and developmental disabilities, HIV/AIDS, substance use challenges, and sometimes all the above. Our entire workforce is dedicated to helping New Yorkers live with autonomy, respect, and dignity, and to achieve their goals. Harm reduction is central to our mission. Leadership and supervisors have worked hard to create a culture shift in recent years so that this practice can be implemented from the front door through staff supervision. As one of the largest supportive housing providers in New York State, and with 11 shelters across New York City, harm reduction has had to move beyond the walls of our clinic and clinical staff. S:US recognizes that there are many pathways to stability for people who use substances, and that the road can often include ongoing struggles. Rather than using an abstinence-based approach, we work with individuals to identify their goals for recovery and help them take the steps to get there.
S:US has integrated harm reduction practices across the spectrum of care and housing through a combination of concrete and free tools, education, and approaches to interacting with persons served. Throughout shelters and supportive housing, individuals are trained in using and sharing Narcan kits, fentanyl tests strips, and most recently, S:US was one of the first organizations in NYC to begin distributing xylazine test strips. S:US also partnered with the health department to open the first public health vending machine in the city. These free life-saving materials are easily accessible and New Yorkers have been traveling from across the city to access safer substance use, sex, and health products.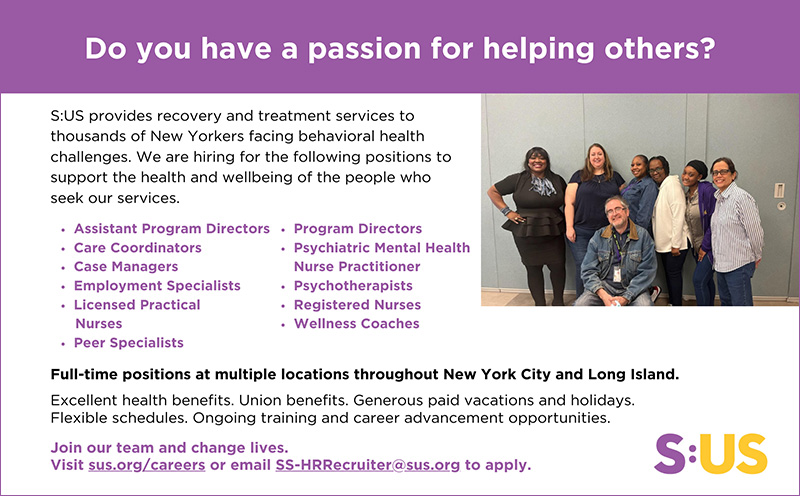 Our clinic staff are trained in harm reduction approaches, education, and how to address personal internal biases that could get in the way of nonjudgmental support for those we serve. We have Medication Assisted Treatment teams across Brooklyn, Harlem and the Bronx which provide dedicated services for people with substance use challenges who want to explore medication in addition to treatment. We offer a flexible model for New Yorkers, including light touch, traditional therapy, case management, and ongoing medication support.
We also recognize that not everyone who would benefit from substance use treatment is engaged in it. For this reason, S:US engages in daily harm reduction support in shelters and supportive housing. Dedicated harm reduction and health educators share tools and training with residents and staff, and many of our most effective trainers leverage their lived experience to help both the workforce and persons served. This unique experience allows education to move beyond basics of testing and overdose response and allows for complex conversations around how to manage monthly income to both safely use and also pay rent and other costs of living. This allows our residents to remain stably housed, so that case managers and wellness coaches can continue to engage those who might benefit from additional treatment and support. Harm reduction becomes not an approach but a conversation, where those we serve feel heard and seen with compassion. Such meaningful conversations allow people served to share the depths of their experience honestly, and from that place begin their healing journey. These are the interactions that stick with us as we turn our lives around, for those of us who have been where we see others in our care. While tools help us survive while using, it is the compassionate interactions that let us see that another reality is possible for us too.
The opioid epidemic has been devastating. For many of us, this has meant losing friends, colleagues, and loved ones. Everyone in the field has been affected by this loss. When we share our recovery stories, so many of us call out the moments of kindness we received, sometimes in the very depths of our pain. It pierces through and helps guide us. This is where we are working to raise awareness about harm reduction at S:US.
At S:US we are committed to empowering the people we serve through person-centered, holistic care. Harm reduction can look different from one instance to the next. For those in supportive housing, it can be working with case managers and wellness coaches to successfully pay for rent and living costs each month, rather than lose their housing due to using all their money for substances. Every New Yorker has a right to dignity and respect in their care. Helping individuals use safely and with fewer negative consequences is central to this care.
By Rebecca Linn-Walton, PhD, LCSW, is Chief Strategy Officer at Services for the UnderServed (S:US).
References
Jones, C. M., Houry, D., Han, B., Baldwin, G., Vivolo‐Kantor, A., & Compton, W. M. (2022). Methamphetamine use in the United States: epidemiological update and implications for prevention, treatment, and harm reduction. Annals of the New York Academy of Sciences, 1508(1), 3-22.
Lopez, A. M., Thomann, M., Dhatt, Z., Ferrera, J., Al-Nassir, M., Ambrose, M., & Sullivan, S. (2022). Understanding racial inequities in the implementation of harm reduction initiatives. American Journal of Public Health, 112(S2), S173-S181.
Perera, R., Stephan, L., Appa, A., Giuliano, R., Hoffman, R., Lum, P., & Martin, M. (2022). Meeting people where they are: implementing hospital-based substance use harm reduction. Harm reduction journal, 19(1), 1-7.