One enduring effect of the COVID-19 pandemic is its intense illumination of the need for more accessible mental health and substance-use services in our community (a patchwork of towns east of New York City). During the pandemic, CN Guidance & Counseling Services—born in 1972 to fill a gap in mental healthcare—needed to further elevate its tradition of innovation and adaptability to keep all programs running and available. We pivoted almost instantly to deliver a nimble combination of face-to-face, online (telepsychiatry), and mobile services—meeting each client in a place comfortable and accessible to them. Many of our COVID-era innovations are now adopted as permanent improvements to the choices and effective modes of service we offer individuals and their families.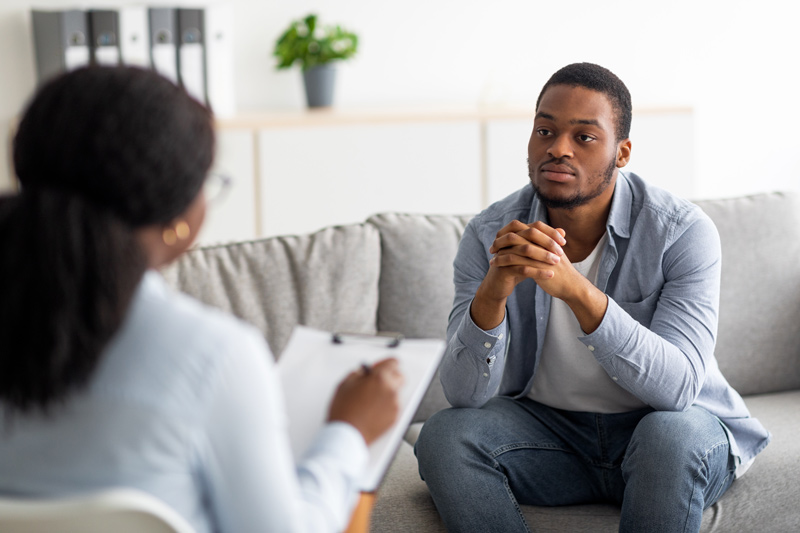 In July 2022, CN Guidance added another important resource and tool to our community's arsenal in the fight to address mental illness and substance use, Long Island's first Intensive Crisis Stabilization Center.
Built on a platform of expanding community partnership, CN Guidance's Long Island Intensive Crisis Stabilization Center, designated for launch at the end of 2023, will be a welcoming place for individuals and families from diverse backgrounds and neighborhoods on Long Island when they are experiencing mental health and/or substance use-related crises. The carefully tailored setting will embody 24/7-accessible help from trained/experienced, supportive, and empathetic clinical professionals and peer specialists. Our Crisis Center mission will be rooted in providing the best crisis de-escalation and therapeutic care possible during the critical hours when a person/family needs help most, linking them to pivotal longer-term services, and following up methodically to support their progress. From the start, our partnership-enhanced approach has been culturally informed and customized to fit the needs of varied individuals/families in crisis, so each person ('guest') served by the new Crisis Center can get back to a life that is informed by their values, goals, and individualized view of recovery.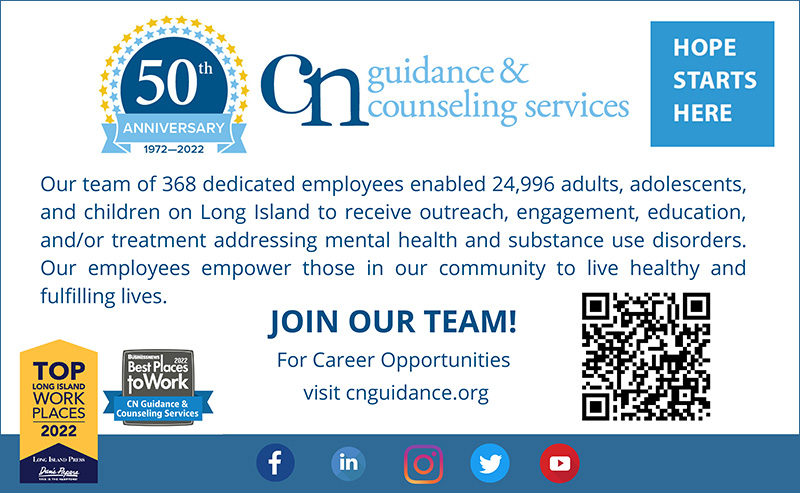 The new Crisis Stabilization Center will target individuals from marginalized and disproportionally underserved communities across Long Island with the aim of reducing inpatient admissions, emergency room visits, and crisis-services usage, while uplifting personal wellness and family functioning (fostering stability).
All services to Crisis Center guests will be provided by an on-site multi-disciplinary team, using a strengths-based, recovery-oriented, trauma-informed, and evidence-based approach, so each guest and their family have enhanced capacity to sustain healthy interactions, healthy emotional attachments, and functional relationships.
The overall goals of the emerging Crisis Stabilization Center are to: (1) improve rapid access to crisis care; (2) stabilize individuals experiencing acute mental health/addiction crises (while supporting affected family members); and (3) provide short-term (up to 24-hour) intensive behavioral health intervention to individuals who are experiencing acute psychiatric or addiction crises but who do not require immediate inpatient services. Individuals served will be linked appropriately to the type and level of care they need (and choose) toward their goal and vision of their long-term recovery. The results will be reduced Emergency Department visits, reduced inpatient hospitalizations, reduced incarceration, reduced re-arrests, and reduced involvement of persons with behavioral health crises in the criminal justice system.
This emergent Intensive Crisis Stabilization Center will comprise part of Long Island's newly revamped crisis response system, including mobile crisis providers, crisis residences, law enforcement, EMS, and other community treatment and support services.
Any person on Long Island facing a behavioral health crisis will be able to walk into the new Crisis Stabilization Center – or be brought in voluntarily by family, friends, police, or mobile crisis unit any time of day or night – and receive instant, customized access to an array of instantly accessible services, including: triage, screening, and assessment; peer support; psychiatric diagnostic evaluation and planning; psychosocial assessment; medication management; Medication for Addiction Treatment / Medication-Assisted Treatment (MAT); mild to moderate detoxification services; and discharge, aftercare planning, and follow-up. The center will operate 24 hours per day, seven days per week, and 365 days per year.
The physical features of the Crisis Stabilization Center will be both welcoming and functional. The space will include: A separate entrance and reception from the rest of the adjoining clinic at the same address; Comfortable reclining chairs in a large living-room type area; Warm decorations with live plants, soothing lighting, cheerful walls, and gentle music; Showers and personal laundry facilities for people in need; Comfortable rooms where families, clients, and therapists can meet; Cabinets and counters with snacks, coffee, and water; A nurses' station (for physical/primary care screenings); A separate play and/or therapy area for children/families (distinct from an adult area); and a separate entrance for police (to expedite screening while respecting clients).
We have found that collaboration is a key to progress when embarking on these initiatives. Dozens of providers across Long Island have pledged their support to this critical endeavor. In addition, four key regional providers will play a more central role in ensuring the center's success. They are: (1) Northwell Health hospital system, (2) EPIC/South Shore Child Guidance Center, (3) EAC Network (a social service agency that Empowers, Assists, and Cares for people in need), and (4) Family & Children's Association. Each will work toward amplification of vulnerable residents' streamlined access to the Center and/or provision of needed supports corresponding to their respective domains of expertise and specialization, often addressing the social determinants of health.
In my 30-year career, this is the first time I can remember such a meaningful, multi-stakeholder focus on behavioral health—backed by committed partnership and action. With new financial resources infused into the system, our government offices (federal, state, and local) are making long-term investments in ensuring that people in crisis have someplace (catalytic) to turn. As we co-create an imaginative solution that: (a) expands accessible mental health and substance-use services in our community; and (b) welcomes our community's most vulnerable residents, helping to propel them from crisis to stability to recovery/thriving, CN Guidance is excited also to play a role in transforming a larger system that has been needing substantial attention. From the shadow of COVID, a bright new partnership-driven resource for our region is emerging.
Jeffrey Friedman, MA, BS, is Chief Executive Officer of CN Guidance & Counseling Services. To reach Mr. Friedman at Central Nassau Guidance, email jfriedman@centralnassau.org, visit, cnguidance.org, or call 516-396-2834.