Since 2018, Concert Health has been using technology to make high-quality behavioral health services available at the primary care level using the Collaborative Care Management (CoCm) model. CoCm has been proven to significantly improve depression and anxiety outcomes compared with traditional primary care. Concert's team of Behavioral Care Managers and psychiatrists provides patients immediate access to evidence-based behavioral health support as part of their primary care team and supports providers in effectively diagnosing and treating these conditions to improve both physical and mental health.
Patients are typically identified for CoCm through the use of the Patient Health Questionnaire-9 (PHQ-9), a depression screening tool that asks about recent suicidal ideation in Question 9. As a result of implementing this screening tool, many patients at risk for suicide are identified in primary care settings, necessitating further assessment, care, safety planning, resources, and treatment.
Primary care providers are uniquely positioned to identify suicide risk and intervene. Roughly 45 percent of people who die by suicide visit a primary care provider in the month before their death, while only 20 percent have contact with mental health services. Primary care providers have access to patients at risk for suicide during a crucial window for intervention and can capitalize on longstanding, trusted relationships with their patients.
Concert Health developed and utilizes an innovative population health suicide risk registry to identify and manage suicide risk among approximately 3,700 primary care patients enrolled in CoCm across seven states. Approximately seven percent of patients at Concert Health meet criteria for inclusion on the registry. Inclusion criteria include endorsement of suicidal thoughts or behaviors on the PHQ's Question 9, Columbia- Suicide Severity Rating Scale (C-SSRS), or spontaneous report. Variables include:
Date of first, highest, and most recent PHQ-9 administration and scores, including how the patient answered question 9
If a positive screening for suicide risk resulted in appropriate assessment using the Columbia-Suicide Severity Rating Scale (C-SSRS)
Provision of evidence-based interventions for suicide including the Safety Planning Intervention and Lethal Means Counseling
Date of last safety plan review and/or update
Date of last consultation with psychiatric provider
If a member of the care team has connected with the patient in the past seven days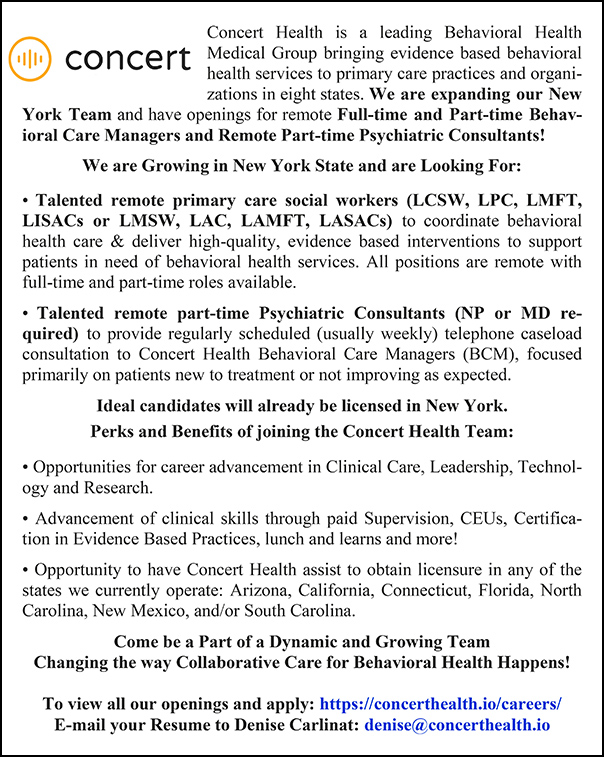 The registry's use allows for substantially higher access to needed services through CoCm than would be received as part of a traditional mental health referral. It facilitates more flexible and comprehensive follow up than treatment as usual, despite outpatient mental health being viewed traditionally as a "higher level of care."
Behavioral care managers can utilize the registry to manage their panel of at-risk patients and managers can report by patients assigned to their supervisees, practice, or larger geographic area to ensure the care provided is consistent with the organization's suicide safe care practices and policies.
References
i. Archer, J., Bower, P., Gilbody, S., Lovell, K., Richards, D., Gask, L., Dickens, C., & Coventry, P. (2012). Collaborative care for depression and anxiety problems. The Cochrane database of systematic reviews, 10, CD006525. https://doi.org/10.1002/14651858.CD006525.pub2 
ii. Luoma JB, Martin CE, Pearson JL. Contact with mental health and primary care providers before suicide: a review of the evidence. Am J Psychiatry. 2002;159:909-916