The behavioral health community can take enormous pride in the societal evolution of attitudes toward mental health challenges (to avoid the repeat of the word "treatment"). Psychological treatment is no longer discussed only in hushed tones but is now more accepted and supported than ever. But as significant as getting someone into treatment is, it is only a first step towards truly helping that person move forward. For community-based mental health agencies, like Westchester Jewish Community Serviced, which assist those with the greatest challenges, providing high quality mental health services is not only a product of what happens within the four walls of a clinic (or the four sides of a video connection). It also requires linking clients to a range of other services that address the social determinants that hinder their quality of life. These other services are vitally important in determining the success of treatment. Being able to address and help resolve unemployment issues, childcare challenges, lack of access to food and other essentials is a huge undertaking for any community-based behavioral health agency. But these agencies are best positioned to do so. And doing so is essential to improve the lives of those we serve.
Studies have shown that social determinants determine a large part (up to 80%) of the success of any health intervention. In many ways it seems obvious. As engaging as therapy can be, and as tireless as social workers are, if someone leaves the session and is immediately confronted with challenges of struggling to pay rent, finding childcare and feeling safe in their home, the impact of the therapy will quickly fade.
There have been attempts recently to analytically measure the impact of social determinants on health. CMS recently published a study analyzing the use of Z codes, ICD 10 indicators that allow health care professionals to capture in health and billing records the social determinants faced by their patients. These codes can be used, for example, to note a client who is struggling to find a job, who is homeless or one who is underachieving at school. In a January 2020 publication, CMS reported the Z codes have been used in the cases of over 400,000 Medicare fee for service beneficiaries in both 2016 and 2017. While this is almost certainly a significant undercount of the total over 33 million Medicare recipients, this data does provide a metric to see the impact of social determinants on health conditions. CMS stated there was a far greater incidence of serious health conditions among those with a Z code reported than those without. For example, 57% of all Medicare fee for service beneficiaries in 2017 suffered from hypertension but 72% of those who had Z codes had hypertension. The biggest difference between those with Z codes and those who did not was for depression. CMS detailed that 18% of Medicare beneficiaries in 2017 without Z codes suffered from depression while 53% of those with a Z code had depression.
Addressing social determinants requires a multi-faceted approach. Certainly, advocacy is needed to call attention to the structural issues which continue to hold low income people back. Equity in educational funding, racial justice in our criminal justice system, greater economic opportunity and more affordable housing will all address critical social determinants. But tackling those broader issues will take time and the clients of community-based agencies cannot wait.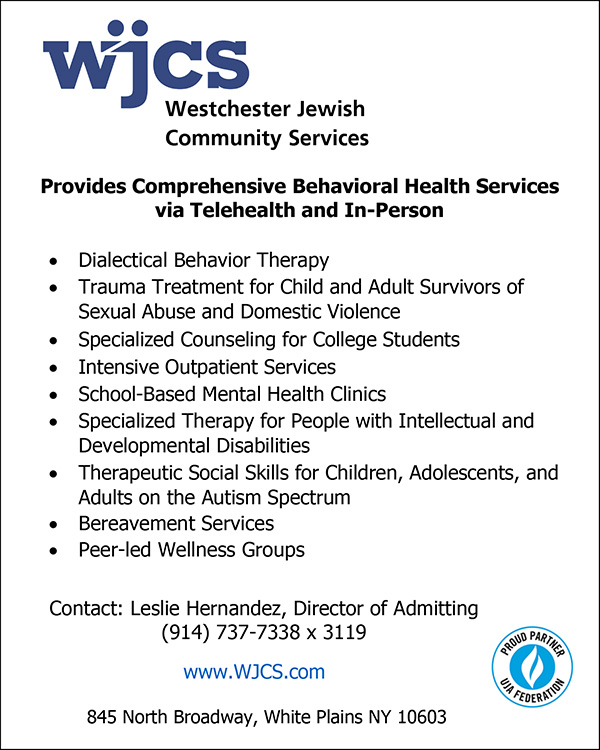 Community-based mental health agencies are well positioned to help their clients now with the full range of services they need to improve their mental health. Most have deep roots in the community and have a tradition of linking their clients to other social services. At Westchester Jewish Community Services, we seek to provide many of the services beyond therapy our clients need. For example, many of those served in our Yonkers behavioral health clinic go directly into a program to help them obtain their high school diploma, a key to gaining economic self-sufficiency. A transgender youth in one of our mental health clinics who is suffering from social isolation will be linked to our Center Lane program, which provides support and group activities for LGBTQ youth. And a young parent receiving counseling from us in our Mt. Vernon office can enroll her child in a summer program we run in a local park.
Work on social determinants is not limited to community-based mental health agencies, but these agencies have success because they understand the long, often painstaking work, required to connect people to services. Other organizations may make referrals, but referrals often require clients to navigate cumbersome, overwhelming systems on their own. The result can be a link on paper only. Community agencies know that true connection to needed services requires being there to assist the client to gather documents, talk with workers and understand what needs to be submitted.
While the work of applying for needed benefits and services is often arduous, technology has made it easier in recent years. Online portals can assist workers in the offices of community service agencies to apply for benefits with the clients present. Often similar documents are needed for multiple programs so a worker sitting with a client could in one sitting help her access a range of supports. Instead of having clients run from one office to the next on their own, turning the offices of community agencies into mini all-in-one-stops would not only better ensure the connections are made but would more closely bind clients to agencies resulting in stronger compliance and attendance at appointments.
The big question, of course, is how to fund these connections. All involved in the health care system know social determinants are critical, but funding to connect clients to services is often nonexistent. The Z codes Medicare now uses, for example, do not carry an enhanced reimbursement for services. Community-based agencies who connect people to food stamps or legal resources are largely self-funding that work. To make a true impact on social determinants, resources must be put behind the effort or we will never be able to take it to the scale needed to make a true impact.
One potential resource can be found in value-based agreements. These contracts, which base pay on outcomes as opposed to only delivering services, hold the promise of broadening the funding for community-based agencies. Instead of being paid for appointments only, an agency would be paid for an outcome, such as improvements in PHQ-9 scores, needing less intensive treatment after some period and staying out of the hospital. These outcomes would measure a true improvement in health, an improvement that carried with it a reduction in long-term health care spending. Having success on those broader measures would require agencies to not only provide treatment but to address social determinants. Payments would be calculated with that view of investing in treatment and supports now so costs for the individual would decrease over time.
For community-based agencies, often challenged with inconsistent cash flows, value-based payments can be a scary proposition. But with the likelihood of separate spending for social determinant work unlikely, value-based contracting offers the best opportunity for clients to receive the services that every actor in the health system knows they need to succeed. There must be a period of careful study to make sure the bundled payments for value correctly measure the costs and outcomes involved. But let us move aggressively in that effort now to help our clients make clear improvements in their lives.
Seth Diamond is CEO at Westchester Jewish Community Services (WJCS).