While the reasons for stigma around mental illness are complex and vary by community – we know its prevalence prevents many from seeking treatment – from finding help and building a better life.
At the Institute for Community Living (ICL), we offer an array of support services for people living with mental illness. Since its founding in 1986, ICL has helped thousands break the isolation and go on to feel more connected to community and able to overcome their struggles.
Services provided at our more than 100 programs across New York City are grounded in a whole health approach and the integral relationship between physical and mental health. This approach takes us beyond traditional counseling and supportive services, incorporating a variety of interventions and tools that aid in healing and recovery. One very effective tool for addressing mental health challenges are programs that nurture creative expression by people with mental illness.
Today at ICL, there are a range of art initiatives at many of our transitional shelters and supportive residences. In addition to aiding in recovery and improved mental health, an unexpected but promising result of the encouragement of artistic expression is how it is helping to break the stigma of mental illness. This stigma is often the result of misunderstanding – even by family and friends – what mental illness is and who the people living with mental illness are. As we often say, people are not their diagnoses. When you view the art being created throughout ICL, you begin to understand just how true that statement is.
The connection between art and stigma is becoming more and more central to the discussion about mental illness. In an article, "The Art of Ending Stigma" in Champions of Science, Dr. Eric Kandel, a renowned neurologist explains, "Creating a dialogue surrounding mental illnesses through works of art and creative expression can destigmatize mental illnesses and cultivate empathy."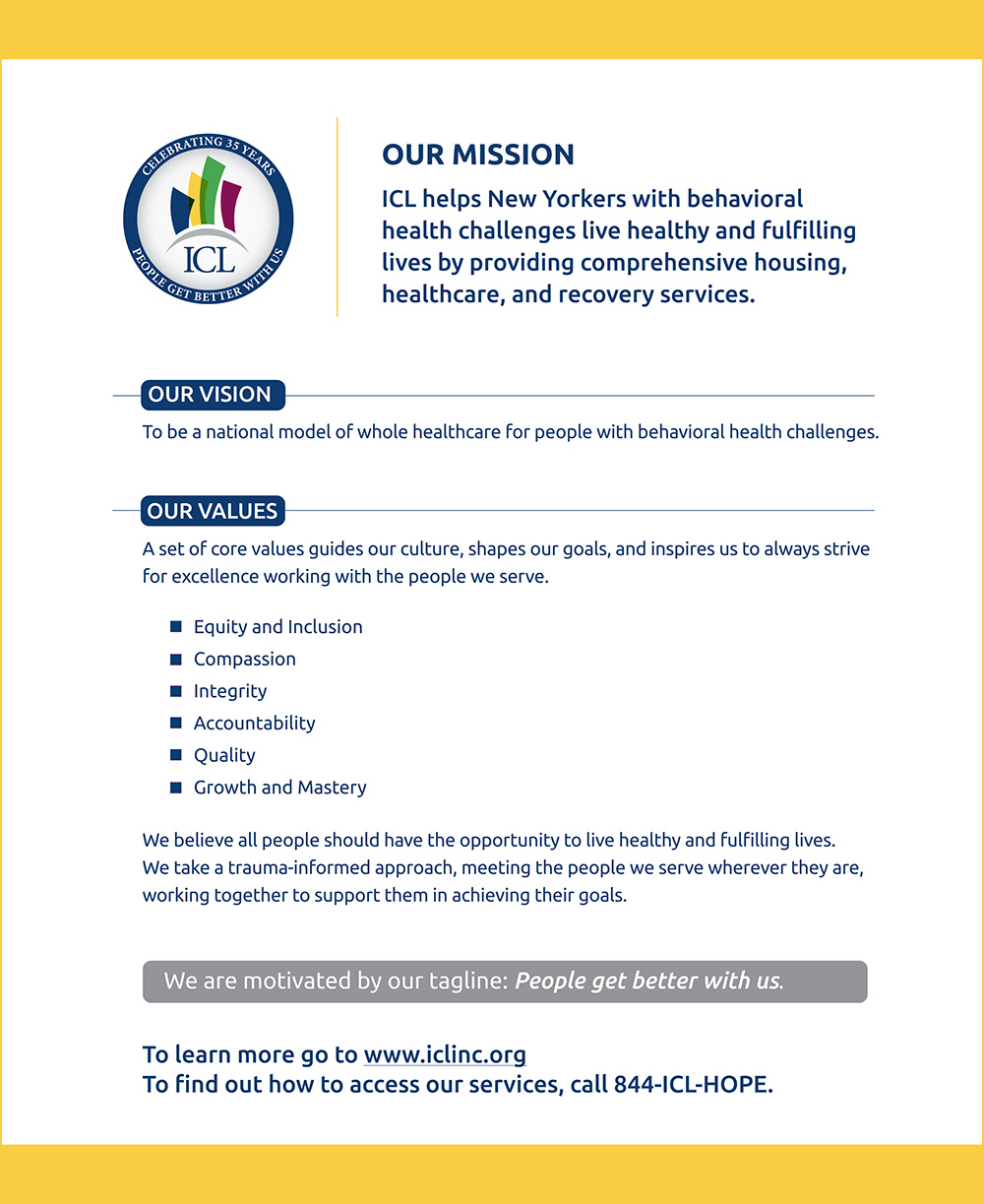 Why de-stigmatization happens when art comes into play is less clear. One explanation is simple – viewing this art shows the viewer someone who is an artist — not just someone with a mental illness often only otherwise seen as someone to fear and shun and wish to be hidden away.
At ICL, we see this breaking of stigma happen every day. When you walk into the ICL East New York Health Hub, one of the first rooms you see is a light-filled art studio with people are hard at work on a piece, on a canvas set on an easel or on a sketch pad trying out a new idea.
For many artists at the Hub, the seeds for their passion for drawing and painting were sown in a special collaboration between ICL and the Brooklyn Museum that first began 15 years ago. Every month, ICL artists visit the Museum where a specially trained docent provides in-depth tours of special exhibits. Each year the program culminates in an exhibition by ICL artists in a museum gallery of works often inspired by what they viewed on their Museum visits. Having this show at one of the world's most respected museums is an incredible honor. There's an exciting opening of the show where guests are struck by the extraordinary talent they're witnessing, listening intently as the artists explain the works they've created.
Art as Lifeline
Art proved to be an especially important lifeline during the 2+ years of the pandemic for the people served at ICL – for whom loneliness and disconnection were particularly acute. When it was safe, many of the artists came to use the Hub art room they had become comfortable working in. They worked on their art socially distanced, wearing masks. Being there with their fellow artists helped break the isolation and allowed them to give expression to all the emotions the pandemic had brought on.
In spite of the pandemic forcing the closure or shift to remote operation of their ICL programs – and the shut-down of much of the world – these individuals showed a prolific dedication to their artistic process.
Once the Brooklyn Museum reopened, plans were made for an exhibit of this work created during the pandemic as well as new work done since Museum visits had been re-started. Teaching Artist Dylan Stanfield, who leads the Hub art studio as well as a program at ICL residences for developmentally disabled, helped the artists regroup to get the visits up and running again. One exhibit they had the chance to view was A Crack in the Hourglass: An Ongoing COVID 19 Memorial by artist Rafael Lozano – Hemmer. Viewing this work inspired a collaborative piece in memory of a fellow artist from ICL who passed away from COVID-19 early in the pandemic. Trying to make sense of the world, the artists used their creativity and imagination to craft a visual poem about these times. Many found this process to be a lifeline in a time of great uncertainty.
An opening reception was held last June for the newest show Creating a Lifeline; still-masked artists and friends gathered to celebrate the unlikely production of work. This dedication to making art under these circumstances demonstrates how important the artists feel about their creative expression, and the role it plays in their ability to live a spiritually, mentally, and physically healthy life.
All who had the chance to view the work over the course of the exhibit's four-month run likely came away with a new understand of what it means to live with a mental illness and to struggle to lead a full and productive life.
ICL helps New Yorkers of all backgrounds and ages living with serious mental illness, substance use disorder, and developmental disabilities achieve greater health and independence. From housing to care coordination to office- and school-based support, our innovative whole health approach addresses behavioral and physical health as well as the social determinants of health such as housing and food security.
Mindy Liss is VP for Communications at the Institute for Community Living.