The stigma surrounding mental illness can take a huge toll on children, youth, adults, and families with mental health concerns. Addressing stigma not only helps the individual, but the entire community. Eliminating discrimination that is caused by stigma can lead to improved opportunities for housing, education, and employment among others. Eliminating the negative repercussions that stigma has on policy development, access to care, and insurance reimbursement is a primary goal for the Office of Mental Health.
The COVID-19 pandemic has had a great impact on mental health. Not only have we seen an increase in the number of individuals who are experiencing mental health concerns, but also an expanded awareness of mental illness and the resulting challenges. During the pandemic 40% of individuals reported having an adverse mental health condition – many experiencing symptoms of depression or anxiety. While this increase has required us to focus on ensuring access to services for those affected, it has also provided the opportunity to have an honest conversation about mental health. This is one of the most effective ways of addressing stigma. Changing the culture of schools, colleges, and workplaces by encouraging discussions on mental wellness and self-care – as well as taking action and making accommodations when individuals need to address mental health concerns – is vital to ensuring the best opportunity for everyone to be healthy and successful.
Many studies report that over half of individuals with mental health concerns do not seek treatment. Many times, it is to avoid being labeled with a mental illness. That avoidance can have a negative impact on family relationships, the ability to sustain romantic relationships, as well as all other areas of life – reinforcing feelings of sadness and low self-esteem that can accompany mental health issues. We must change this narrative on mental health by incorporating mental health education into school curriculums, locating services within schools for early access, and addressing the need for culturally appropriate care that reaches into all our communities.
Teach the Children
Perhaps the most effective way to dispel the stereotypes and decrease the stigma of mental health and illness is to reach children and young people before they have been inundated with misleading, inaccurate, and negative messages.
Many of us grew up learning these stigmas from an early age and accepting them as reality. Trying to alter that reality for adults is difficult and often met with resistance. But having positive conversations about mental health with children will allow them to better understand that their psychological well-being is an important part of their overall health, and that sharing their worries, feelings, and fears, and seeking out help is not a sign of weakness.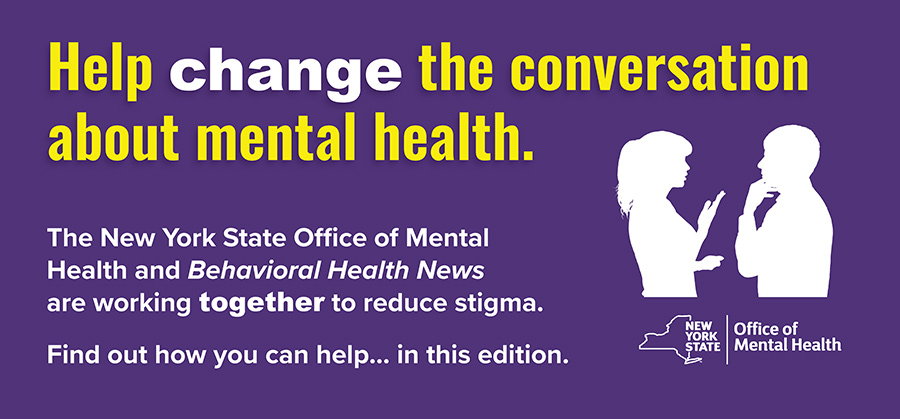 In 2018, New York State passed a law requiring that all public schools include mental health education as a fundamental part of their school curriculum. These affirmative, age-appropriate lessons give us the opportunity to dispel the myths, break down the stigma, and provide a positive impact on the overall health of children by enhancing their understanding of mental health. Many schools are also incorporating a deep culture of social emotional wellness that actively promotes a supportive learning environment that enables mental wellness, prevents bullying, and fosters positive social connections.
Last year, the State invested $2.5 million to create and support a Mental Health Resource and Training Technical Assistance Center for Schools. The center supports all New York State public and private schools and helps them to provide mental health education and social emotional wellness as part of the K-12 health curricula. This is another very positive step toward reducing the stigma surrounding mental health and illness.
I believe the current generation of school-aged children is the most knowledgeable about the importance of mental health, especially here in New York State, thanks to the innovative programs we've implemented. Children today are more open, and more willing to discuss their mental health concerns than past generations. Children are leading adults to think about mental health and wellness in new ways. This gives me great hope that we can decrease and even eliminate the stigma of mental illness; but only if we continue to provide our children, and all residents of New York State, with honest, accurate and positive messages about the importance of mental health and ensure that help is there when needed.
To increase access to mental health services and provide children and youth with positive messages about their mental health, the New York State Office of Mental Health (OMH) has licensed more than 1,000 mental health clinics in schools across the state. These clinics are especially important now, in the wake of the COVID-19 pandemic. A new study from the Centers for Disease Control and Prevention (CDC) indicates that more than one-third of high school students reported that they experienced poor mental health during the pandemic, and nearly half (44%) said they persistently felt sad or hopeless during the past year.
Governor Kathy Hochul last year announced $50 million in funding for school districts to improve student access to mental health resources and assist students who have experienced trauma that has impacted their education. And in her recently announced 2023-24 Executive Budget, Governor Hochul proposed an additional $20 million to expand school based mental health clinics.
School-based clinics have been shown to have a positive impact on grades, attendance, and student self-esteem. They also enable parents and teachers to be more aware of students' behavioral health issues and have easy access to the help they need.
Culturally Relevant Outreach
The work of addressing and decreasing stigma is challenging. Public awareness campaigns that use ineffectual or culturally incompetent messaging are often ignored, and some well-meaning public service announcements can actually reinforce negative stereotypes and increase the stigma associated with behavioral health issues.
In a diverse state like New York, there is no "one size fits all" anti-stigma message that will resonate with every community. New York has the benefit of being home to people from many different countries and cultural experiences. Along with the valuable contributions to society, there are challenges in the varied beliefs about mental health and viewpoints pertaining to mental illness. People in marginalized communities who face systemic discrimination often do not trust our systems and avoid seeking care. In many communities, seeking mental health treatment may be viewed as a sign of weakness, which brings shame and dishonor to an individual's family. Families may also be understandably reluctant to seek mental health care because of a long history of racism and mistreatment at the hands of providers in the U.S, as well as currently existing biases and inequitable treatment.
OMH's Office of Diversity and Inclusion (ODI) is a national leader in implementing strategies to improve equity, diversity, and inclusion for mental health treatment and services. One of the most effective ways to reach and engage people is to learn from individual communities and respond to their needs with culturally appropriate care, ensuring that it is delivered by a diverse workforce which is reflective of the community being served. Encouraging the practice of cultural humility in which there is an openness, and awareness of various experiences and biases is also important. The ODI offers written resources, educational opportunities, and individualized consulting to help health care providers build a workforce that is diverse and inclusive, with the ability to reach underserved communities and help reduce health care disparities.
OMH has also partnered with the State University of New York and the City University of New York to provide scholarships aimed at expanding the diversity and cultural competence of the clinical workforce in mental health programs. The program, funded through federal dollars, provides students with direct financial assistance to help support their degree completion.
OMH is committed to ensuring that the services we fund, and our practice and policies all work to reduce disparities and stigma. The ODI is working to strengthen the internal and external structures responsible for the reduction of disparities in New York's public mental health system by implementing a number of initiatives designed to ensure that entities funded by the OMH adhere to certain standards. And they also partner with local providers to conduct culturally relevant and appropriate education and outreach. The office recently helped determine award recipients for OMH's 2022 grants from the Mental Illness Anti-Stigma Tax Check-Off Fund, which were targeted to agencies recognized for their work serving underserved and under-represented minority and immigrant communities. The awardees were selected by proposing innovative, culturally relevant approaches to reducing stigma in underserved populations.
OMH receives valuable input from the Statewide Multicultural Advisory Committee (MAC) which is made up of mental healthcare recipients, policy makers, researchers, and experts in the field. The MAC provides input and advice to OMH on policy, programs, procedures, and activities addressing disparities in access, quality, and outcomes for members of historically underserved, disadvantaged, and marginalized populations. Culturally relevant outreach and engagement is absolutely essential if we are to overcome the stigma of mental health in all our communities.
Normalizing Mental Healthcare
Finally, incorporating mental healthcare into routine medical care is a critical way to normalize mental health and reduce stigma. HealthySteps is an evidence-based program that is being expanded in this year's budget and provides mental health services for youth and their families in a pediatric health care setting offering universal access. In addition, the NYS Collaborative Care Medicaid Program has been a leader in bringing much needed behavioral health services to primary care practices across the state by administering depression screenings and treatment as a routine part of care. Practitioners are increasingly screening and often treating depression, anxiety and substance use in their practices, just as they treat hypertension and diabetes.
An example of health care policy that perpetuates stigma is the lack of parity in financing mental health services. Mental health must have equal importance to physical health in our systems of care and how we pay for services. Parity reforms and recent insurance reimbursement provisions within Governor Hochul's proposed budget are aimed at guaranteeing payment by all insurers for mental health care in school-based services, crisis services, and intensive outpatient mental health services.
In summary, OMH continues to develop new approaches to address the many forms of mental health stigma that influence the lives and health of New Yorkers. We are committed to building on the increased awareness and interest in mental health since the COVID pandemic by teaching children from a very young age through culturally appropriate education and messaging that mental health is important in a way that will hopefully make a lasting impression and create generational change. We are working to ensure that throughout all our diverse communities we are able to effectively reduce stigma and enable access to needed care. And finally, we are always working to normalize mental health in our healthcare delivery system, provide parity for mental health services and change policies that have for too long perpetuated stigma.
Ann Sullivan, MD, is Commissioner of the New York State Office of Mental Health (OMH). For more information, visit https://omh.ny.gov/.