In 2022, preliminary data released by the CDC indicated that more than 100,000 people had died from drug overdoses (CDC). This total marks a new annual record in nationwide drug overdose deaths and is twice the size of 2015's record, underscoring the alarming escalation of this crisis (NPR, Times Union).
With CDC provisional data projecting drug overdose death yearly rates to maintain at these levels and the 2021 SAMHSA Survey on Drug Use and Health indicating approximately 9.2 million adults nationwide currently experience co-occurring substance use and mental health disorders, there is an even more urgent need to adopt evidence-based, accessible, and person-centered care. (CDC, SAMHSA).
To effectively achieve person-centered care that targets the broad range of physical and emotional symptoms associated with substance use and co-occurring disorders, research emphasizes the importance of collaborative professional care. According to the National Institute of Mental Health (NIMH), this involves creating treatment plans that "blend the expertise of mental health, substance use, and primary care professionals" (SAMHSA, CDC). In this capacity, an integrated behavioral healthcare framework serves as an exemplary model in the field of behavioral health – one that The Mental Health Association of Westchester (MHA) continually aims to implement in our practice.
Integrated behavioral health care describes a model of care that fosters collaboration between behavioral and medical health providers and resources. Research demonstrates that when practices apply this framework, improved health outcomes result (Kwan et al., 2015). This is due to a practice's increased ability to accommodate an individual's whole health needs. Instead of only addressing an individual's presented condition, providers under this model are better equipped to detect and account for all the potential needs of an individual. This approach stands as an alternative to a historically separated behavioral and medical care system, which research demonstrates to be largely insufficient in providing accessible behavioral health care and successful diagnosis and treatment of mental health conditions (Mental Health America).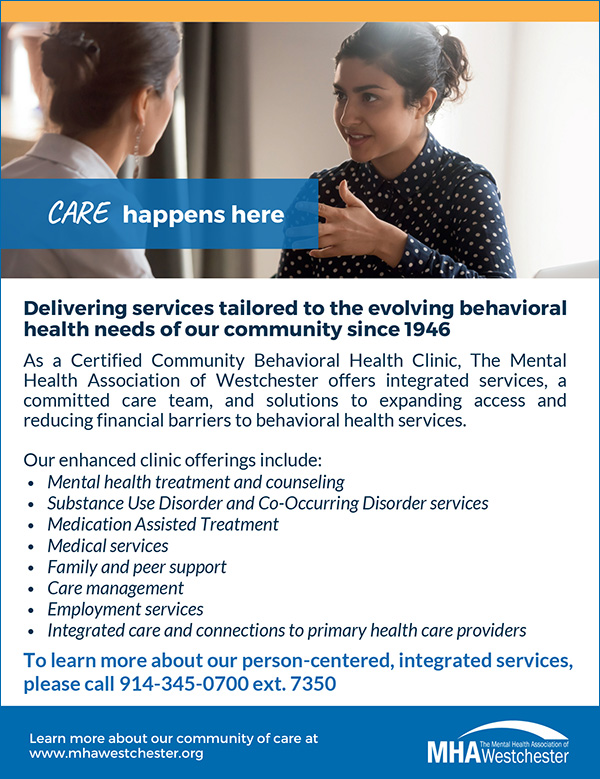 Given the complexity that comes with treating and diagnosing substance use and co-occurring disorders, the ability to provide person-centered care tailored to an individual's needs is essential for effective treatment. This approach is a fundamental principle of integrated behavioral health care, and thus the reason for integrated behavioral health care's well-documented ability to better detect and treat substance use and co-occurring disorders (NIH – Prom et al., 2020; NIH). Within an integrated behavioral health care model, increased screening for mental health and substance use disorders, as well as medication-assisted treatment (MAT) services and recovery support can be incorporated into the established guidelines and procedures of a behavioral health practice (HRSA).
Furthermore, an integrated approach increases the convenience and accessibility of care. In an integrated setting, individuals can access care within the same network of a provider they trust, which can lessen the stigma associated with behavioral health care (NIH – Prom et al., 2020). Access to all care modalities in a single location can also mean long-term cost reductions associated with seeking care from multiple providers (Overview). Additionally, a network of collaborating providers can increase the efficiency in a professional's workflow, which is an important consideration as workforce shortages of mental health clinicians have only worsened as a result of the COVID-19 pandemic (ICSI, 2021). Workforce shortages have also impacted the availability of substance use treatment and medical professionals across the disciplines.
At MHA, integrated care is a leading principle of our practice. As chronicled in a previous Behavioral Health News article from MHA, our commitment deepened in 2018 with the acquisition of New York State Delivery System Reform Incentive Payment (DSRIP) program funds to provide integrated treatment to those with co-occurring disorders in our mental health clinics. The following year, MHA was awarded substantial grant funding from SAMHSA to further enhance and refine our integrated substance use disorder services through a Certified Community Behavioral Health Clinic (CCBHC) model. With this grant and subsequent rounds of funding, we were able to expand accessibility to MAT services and add Certified Alcoholism and Substance Abuse Counselors (CASACs), Care Managers, Employment Specialists and Peer Counselors to our staffing structure. This funding also enabled us to infuse integrated substance use treatment services beyond Westchester into our expanding Rockland clinic presence. That same year, MHA was awarded a Statewide Health Care Transformation Grant through the Department of Health, which provided vital funding for us to open our first co-located clinic dedicated to integrated, whole person health care.
Our new location at 360 Mamaroneck Avenue in downtown White Plains, New York is home to complementary, integrated health care services, including substance use disorder treatment and recovery services, mental health outpatient treatment and rehabilitative services, and primary and dental care. This comprehensive health center reflects MHA's dedication to providing integrated care that is professional, respectful and strengths-based in approach.
Culminating this June, this multi-faceted project includes MHA's first substance use disorder recovery and treatment clinic licensed by the New York State Office of Addiction Services and Supports (OASAS). A multidisciplinary team of care providers with different skill sets and training in evidence-based practices through a harm reduction approach are able to serve community members ages 12 and older, offering both group and individual care. Our robust staffing pattern includes Certified Recovery Peer Advocates, prescribers specializing in MAT, nurse practitioners, CASACs, care managers, employment specialists and clinicians. Our staff are also sensitive to the needs of special populations, including individuals who are pregnant and use opioids.
Across the hall, MHA's Office of Mental Health Article 31 licensed clinic offers mental health outpatient treatment and rehabilitative services through our Certified Community Behavioral Health Clinic model. We offer a variety of supports and services on a sliding scale, including therapy, intensive outpatient treatment (IOP), care management, peer support, employment services and more. We also offer the Encompass Program, a comprehensive integrated treatment program tailored to the needs of adolescents and young adults affected with co-occurring mental health and substance use disorders.
Our new location is also home to Sun River Health, a Federally Qualified Health Center providing primary and dental care services one floor away from MHA's clinic spaces. Through close collaboration, both organizations are better able to provide a warm hand-off in referrals to additional services that promote whole person health. Additionally, MHA fosters a network of partnerships with community-based external treatment providers, physicians, hospitals, specialty clinics, behavioral health practitioners, housing supports for the homeless and other vital entities.
Recognizing the importance of integrated care in reducing barriers to behavioral health and substance use disorder treatment, we continually strive to enhance our commitment to this model and believe it is critical in addressing whole person health and each individual's unique recovery journey.
Darcy Tyler is Communications and Development Assistant at The Mental Health Association of Westchester.