Behavioral Health News Community Events Calendar
Promote Your Behavioral Health Conference, Open House, Workshop, Training, Webinar, and More!
Interested in listing your event? Please contact us.
All paid event listings will be shared to the BHN social media channels.
We reserve the right to deny event listings promoting unsafe/unproven treatment practices.
---

FREE WEBINAR: LAMB Insurance Services – Actions for Organizations to Take in the COVID-19 Environment
February 3, 2021 @ 1:00 pm - 2:00 pm EST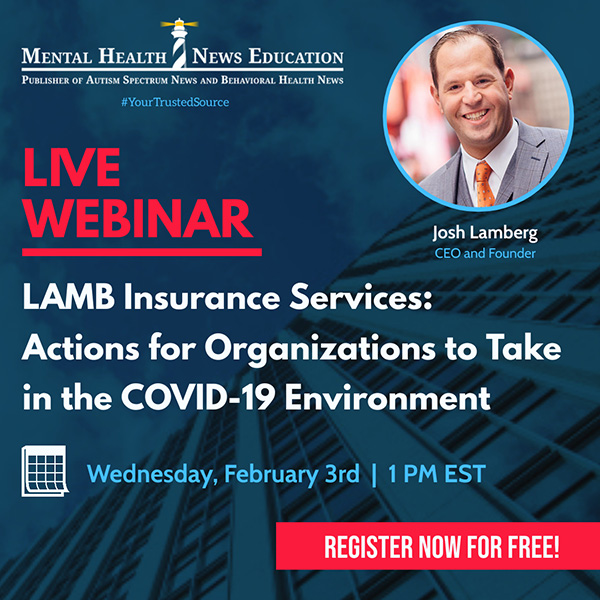 Registration: https://us02web.zoom.us/webinar/register/WN_CAGbWdfXT9CWRaEsH4p4wA
CEO Josh Lamberg breaks down the critical actions that you need to be taking to protect your organization in the COVID-19 environment.
After watching this webinar, you'll know:
How and when to submit claims related to COVID-19
How and when to request credits related to COVID-19
How to create documentation to protect your organization during COVID-19
About the Speaker
Josh Lamberg is the founder and CEO of Lamb Insurance Services, the nation's largest insurance broker dedicated exclusively to social service organizations. Prior to founding Lamb Insurance Services, he worked for insurance carriers- Philadelphia Insurance Companies and Liberty Mutual. Before starting his career in the insurance industry, Josh had a short career as a professional baseball player; a catcher with several different teams including a short minor league stint with the Cincinnati Reds organization.
The values and ethics that created his success as a professional athlete are the foundation of the character embraced by every Lamb employee. Attitude, Effort, and Preparation are the core elements of his company's success. Grit, relentless drive, and continuous improvement are Lamb's best practices.
Josh is a graduate of the University of Richmond with a degree in Rhetoric and Communications.
For more information, visit www.lambis.com.